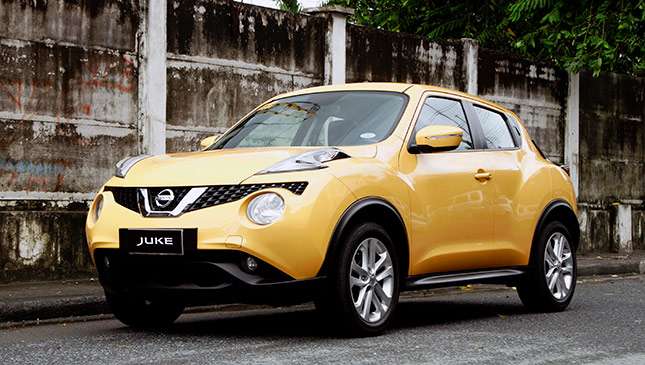 I'm smitten with the Nissan Juke. Not only do I love its funky looks, but after a solid month with it, I can say that its beauty isn't only skin-deep. Let's just say that if you are looking for a subcompact crossover that is efficient and fun to drive, this is it. Sure, it has its share of haters, but we don't give a damn what they think. We drive what makes us happy, and the Juke can deliver the smiles per gallon.
Under the hood and mounted down low is a 1.6-liter mill that is good for 114hp and 154Nm. These are conservative figures on paper, but when you're behind the wheel and on a road trip, it doesn't seem that way at all. Must be because every component in this model complements all the rest. Just to be clear, I'm not expecting supercar performance from the Juke. But even I was surprised by how much I enjoyed driving it.
Continue reading below ↓
Recommended Videos
The interior, which matches the traffic-stopping looks, is built to a very high standard. Fit and finish is excellent, and as you will see, you get a whole array of unexpected features that belong on more expensive models. This standard variant is priced at P980,000, while the N-Style and the N-Sport go for P1.096 million and P1.069 million, respectively. The entry-level Juke already suits what I am looking for if I were in the market for a car like this.
But first, I have to address the perceived weakness of the Juke: It has been said that there's some a lag when you put the pedal to the floor. Admittedly, the feeling is similar to the 'rubber-band effect' already mentioned in our previous review of the Juke. Forward drive doesn't quite correspond with the sound that the engine is making as the revs climb. But if you develop a feel for the gas pedal and don't treat it like an on/off switch, you can get up to cruising speed with the same alacrity as a car with similar displacement.
The sensation does take some getting used to, and I do agree with contributor Carlo Chungunco's prior observations, but I have to point something out: The beauty of Nissan's version of the CVT, dubbed the Xtronic, lies in how efficient it makes the whole package. That same rubber-band effect can be used to your advantage. How? Get up to cruising speed, and once you let off the gas pedal, the transmission immediately drops into overdrive mode. You can cruise at 100kph with the tach reading just a few notches over 1,500rpm. That's pretty amazing. And when you switch to cruise control, you've got a highway machine that will effortlessly and efficiently eat up the kilometers.
I managed a fantastic 13.5km/L average during my extended time with the Juke. Where did I go with it? Two round trips to Baguio and one to Los Baños. Oh, and a drive to Lingayen as well. I easily did 1,300km, which also included my trips around the city through some hellish traffic. Neat that you can monitor your mileage and how much fuel is in that impressive 52-liter tank using the fuel-economy/drive-mode display on the center of the dash.
When the Dynamic Control System isn't displaying the A/C controls, the drive-mode selector can show elapsed fuel consumption in Economy mode, and the power and torque output in Sport mode. Switching back and forth between air-conditioning and drive-mode menus is as simple as pushing a button. What might be seen as a gimmick is actually a clever way to utilize dashboard space.
One of the best characteristics of the Juke is that it behaves like a car that was built for having fun. The ride is firm but not jarring, and tackling the sharp corners of Kennon Road and Marcos Highway is a joy. The suspension was tuned with the driving enthusiasts in mind. I can honestly say that the ride and handling quality belongs in a car that costs twice as much. Body roll is minimal, even if you ride higher up. The 17-inch wheels shod with low-profile rubber must have something to do with the fantastic cornering capability. Let's just say that the engineers created a good balance between comfort and sportiness. Even massive potholes can be taken in stride.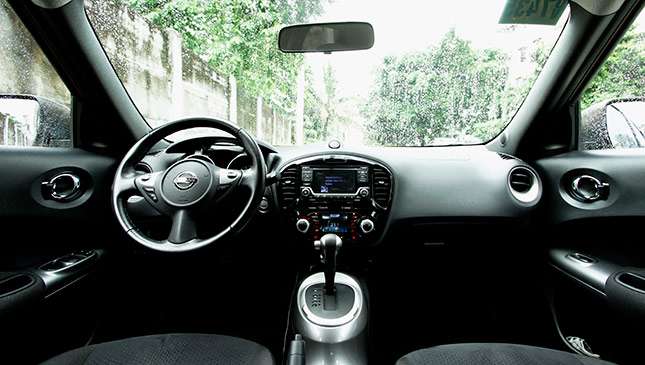 The steering isn't super-light either--something we fully appreciate in a world where turning the tiller on most cars requires little or no effort at all. And when it comes to stopping power, the brakes inspire confidence. The pedal offers great feedback and response, and even during spirited drives up and down the mountain, there was no indication of impending brake fade. Again, the engineers did an amazing job.
And mind you, this driving bliss isn't just during fair weather. I did most of my traveling during typhoon season; the downpour on Marcos Highway was very heavy. I appreciated the added ride height because this gave me confidence in the pitch blackness, even if all around me it was raining sheets. The three layers of lights up front were a huge help, and the pair of round ones in the middle pierced through the darkness.
Here are my niggles: The greenhouse is quite small. The glass doesn't have all that much area to see out of, and those A-pillars are massive! You also have to be mindful of cars that creep alongside you in traffic because the Juke has a very high hip line. At least rearward visibility isn't compromised. With this in mind, shorter drivers should raise the seat level for a better view of the road ahead and moving traffic from the side.
And then there's the issue of cargo space. Not the best in the segment, that's for sure. Thankfully, the 60/40 split-folding rear seats can be folded down. There's also added storage underneath the cargo floor and above the spare. Besides, this cargo limit is something that I'm willing to live with. I envision the Juke as a more of fun personal transport than a ride for a big family, anyway.
There's no news about a refresh, but we are paying very close attention to the rumor mill. And even if the model is growing long in the tooth, it's still worth checking out because it can hold its own against newer crossovers in the segment. Plus, its sub-P1-million price tag is just so enticing. It's amazing that this model, which was first introduced in Japan in 2010, still looks so fresh today. Love it or hate it, the Juke is here to stay. Props to Nissan Philippines for bringing in a model that caters to folks who dare to drive something different.
And did I already mention that Juke's air-conditioning is super cold?
SPECS: NISSAN JUKE 1.6 CVT
Engine: 1.6-liter DOHC I4 gasoline
Transmission: CVT
Power: 114 @ 5,400rpm
Torque: 154Nm @ 3,200-4,400rpm
Layout: FWD
Price: P980,000
Seating: 5
Score: 17/20
UPDATE as of June 9, 2018: With four new vehicles and the GT-R Nismo launched this year, Nissan Philippines is heating things up. The Japanese carmaker has revealed its new price list for 2018. Big news for Nissan was the recent launch of its midsize SUV—the Terra. The Terra's body is modeled after the Patrol, and it shows. Up front, it has Nissan's signature V-Motion grille accompanied by boomerang headlamps. Muscular haunches run along the sides, while the rear also gets boomerang headlamps. Unlike the China-spec five-seater, our market's edition gets seven seats. And like all new Nissans, it comes with the Nissan Intelligent Mobility suite of safety features like lane departure warning, blind spot warning, intelligent around-view monitor, moving object detection, smart rear-view mirror, hill descent control, and hill start assist.