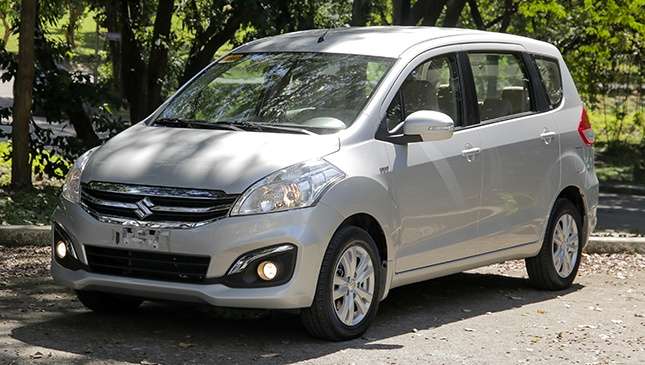 There was a time when categories were simple. A van was a van. A sedan had four doors and a trunk. A hatchback had five doors. And then they were all categorized according to size. Then it all went to hell when carmakers discovered the word "niche" and began filling "market needs."
Frankly, the amount of segments sprouting up in the local market is getting ridiculous. Compact this, subcompact that; as much as we dig all the cars coming in, it can really be tiresome categorizing them all. Thankfully, seven-seaters are still pretty straightforward as far as price points and expectations are concerned. But despite this, there's one car which we think hasn't garnered as much attention as it should have.
Continue reading below ↓
Recommended Videos
Okay, we'll admit it. We didn't really notice the Suzuki Ertiga's underrated nature until a test unit first rolled into our parking garage just two weeks ago. There's a respectable number of them plying the streets amongst all the Avanzas and Mobilios, and as far as first impressions go, things looked pretty good. Would the sentiment remain after a week with the vehicle?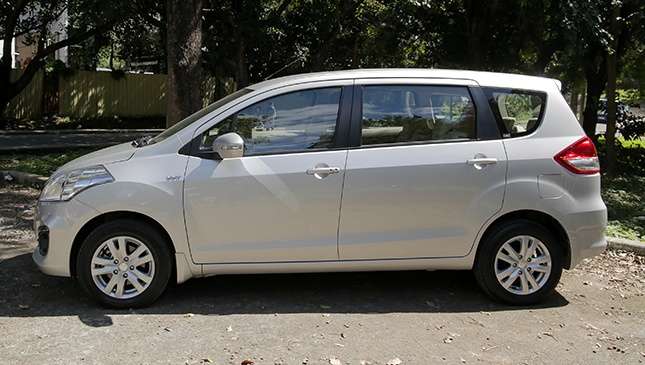 STYLING
The Ertiga is easily one of the nicest-looking seven-seaters out there. Its sleek, swept-back headlights—reminiscent of the current-gen Suzuki Swift—as well as a modern front fascia provide it with just a hint of sportiness, while the rest of the design conveys a clean, practical demeanor. This allows the vehicle to look youthful despite the high roofline (all the way to the rear), and typical MPV or AUV proportions.
Large windows and minimal A-pillars provide the driver with excellent sightlines, while its relatively compact size makes it a breeze to park and maneuver through traffic. Other bits? There's just the right amount of chrome to go around, and it runs on 15-inch alloy wheels. It's a straightforward look and we like it.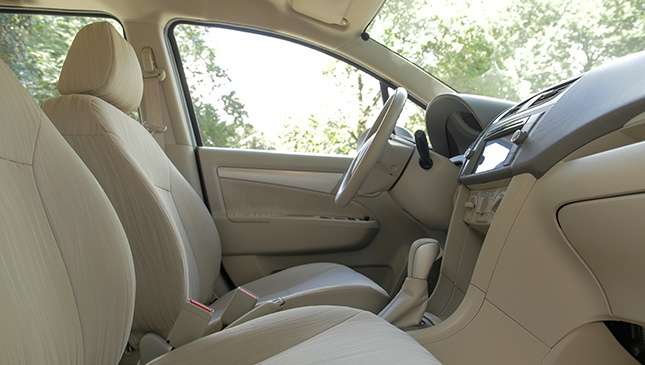 INTERIOR
The interior is on the cozy side, dominated by fine plastics (buttons and dials are pleasant to the touch), nice fabrics and a light ambiance which conveys a sense of spaciousness. It has a refined look and feel, and—according to passengers—provides an almost hotel-like environment. Headroom is excellent all the way to the rear. I'm borderline 5'10", and there's definitely room to spare atop my noggin.
The only part where this cabin falls short is either legroom or luggage space. While four to five passengers shouldn't pose a problem, a person more and you're forced to choose between sacrificing one or the other. On a short drive to Zambales, the vehicle provided barely enough space for six occupants and one night's worth of luggage. This is killer if you plan on taking extended road trips. Bummer, considering configuring the seats was a breeze, too.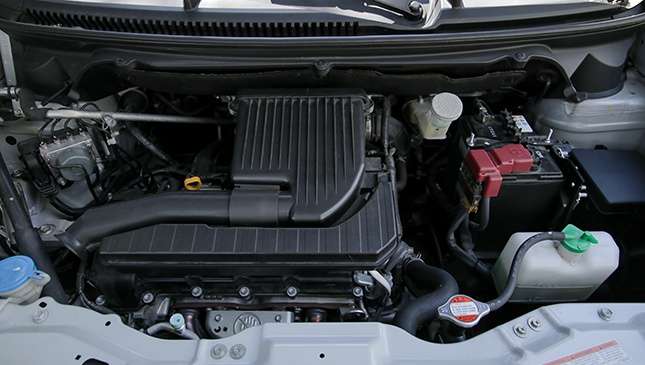 ENGINE PERFORMANCE
Underneath this car's hood is a 1.4-liter DOHC gasoline engine capable of 95hp and 130Nm of torque. Yes, its lack of on-paper power immediately causes you to raise doubts regarding its ability to ferry a maximum load of seven occupants. Unfortunately, your doubts are well-founded. With six adult passengers, performance becomes iffy and getting up to speed becomes noticeably sluggish. Overtaking PUVs on provincial roads was a struggle during several instances.
While a full load can be a burden, the engine shows no issues carrying four people. Throttle response is good, and reaching the speed limit on expressways is achieved at a decent rate. Again, the problem is traveling at full capacity. Fuel efficiency? We averaged 10.7km/L in city and highway conditions. Pretty good, actually.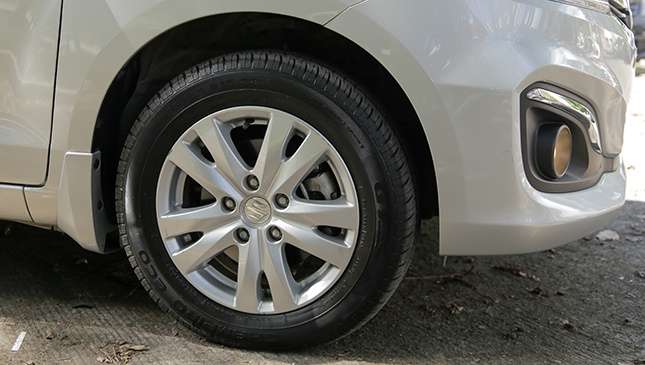 RIDE AND HANDLING
Manning the Ertiga is a charm as it strikes a fine balance between an assisted and physical feel. Again, the car is easy to maneuver in cramped spaces and city roads. Taking into account its great sightlines, second takes when backing up and during parallel parking should be a rare occurrence.
The ride can be stiff at times, but the car's suspension handily absorbs typical road imperfections and body roll is kept to a minimum as long as you don't traverse twisties like an asshole. It performs admirably on the highway too, providing a planted drive even at the speed limit.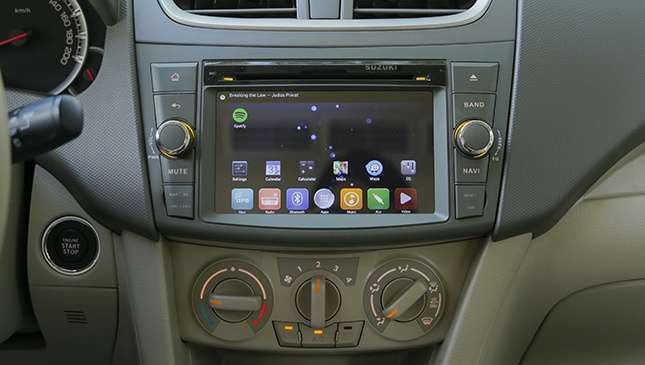 EXTRA FEATURES
Man, if only Suzuki had endowed the Ertiga with a bit more space and power, we'd have a pretty great road trip car on our hands. Apple Carplay and Android Auto-equipped infotainment systems are still relatively hard to come by, and the Ertiga comes with the latter. Entertainment and navigation duties can be handled by Spotify and Waze via its touchscreen (or whatever other app you choose to install), provided you have an Internet connection.
Other goodies? The car comes with a push/start button, rear parking sensors, rear AC vents, steering wheel controls, Bluetooth capability and plenty of storage compartments (including back at the third row).
THE VERDICT
We've got mixed feelings about this one. Taking into account the car's sleek, practical design, well-refined interior, admirable city performance and maneuverability, and feature-filled package, it's a winner. We love the car, yes—provided you don't pack it with seven occupants.
That might be deal-breaker with families dazzled by the marketing promise of bringing mama, papa, kuya, ate, lolo, lola and ate's ex who's still trying to work it out. 'Seven seats' is practically a magic word in our market because of the way our (extended) families are set up.
Under full load conditions, things change a fair bit. Despite convenient seating options, you'll either embark with very limited luggage space or a cramped environment. Not to mention things get a little iffy underneath the hood.
Overall, the car's practicality will depend on how many passengers you try to fit inside it. Small families of four to five will find it to be a great daily driver, while big barkadas looking for a weekend road trip escape best look elsewhere. The Ertiga is a good vehicle, but not-so-good seven seater if you're going on a long drive. If you don't plan on hauling though, the car is well-worth considering at its price point.
SPECS: SUZUKI ERTIGA 1.4 GLX AT
Engine: 1.4-liter DOHC I4 gasoline
Transmission: 4-speed automatic
Power: 95hp @ 6,000rpm
Torque: 130Nm @ 4,000rpm
Drive layout: FWD
Seating: 7
Price: P918,000
Score: 16/20
Suzuki Ertiga