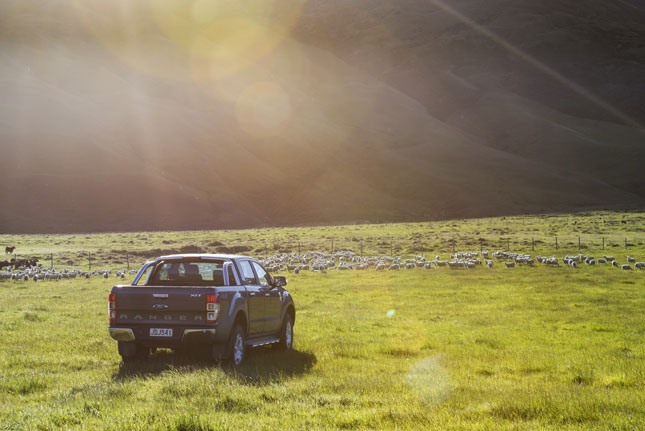 New Zealand doesn't readily strike me as a go-to place for my next vacation. Rather, it's a must-see place I should experience at some point in my life just because it's abundant in natural beauty.
But it's a place that could be easily taken for granted until you see it yourself. The destination will automatically leave an impression. It's vast and mountainous. The smooth thoroughfares include twisties heading up the mountains like The Crown Range, where "Mad Mike" Whiddett drifted his Mazda RX-7 for a Red Bull promotion. This highest main road in New Zealand takes you to the town of Wanaka from Queenstown, and it will make car guys want to drive a sports car around here.
But the thrust of this trip is to take the road less traveled in an appropriate vehicle. By road less traveled, we mean unpaved dirt surfaces to low-range 4x4 terrain. And by appropriate vehicle, we mean the Ford Ranger.
The location? Minaret Station. It's a working farm with an area of 50,000 acres--27km wide and 27km deep--surrounded by Lake Wanaka. It's only accessible by helicopter or by boat. Imagine the view!
This place not only has the perfect backdrop for our two-day 4x4 activity, but pretty much everything to exhibit the Ranger's capabilities. Minaret has steep inclines that highlight the pickup's approach and departure angles, along with hill launch control and hill descent control; uneven terrain to demonstrate axle articulation; streams and rivers that validate probably the Ranger's most popular feature (its 800mm wading depth). The 237mm ground clearance likewise helps the Ranger's cause. These obstacles are part of Minaret Station's natural landscape.
Continue reading below ↓
Recommended Videos
There are also mud pools, where we give the truck a proper mud bath (a pair of huge bulls don't look amused to see us invading their territory), as well as a sandy bed surface by the lake on the other side of the enormous property, where we throw the truck around before learning how to fly-fish. Even if you catch nothing, trying is actually time well spent.
The main attraction are the animals roaming around. The farm is home to roughly 10,000 deer. We witness a farmer feed a mob from a distance. There are also about 1,000 cattle, as well as 7,000 sheep, giving us a chance to see how the farmer and his working dogs keep the herd of sheep together, with two dogs pushing while another pair leading the flock to a specific area.
Not only do I get to push the Ranger in its natural habitat, I'm also fortunate to experience New Zealand in a very special way--the breathtaking view, the rich farm life, and sleeping under the stars. Even some of the locals don't get to experience these things.