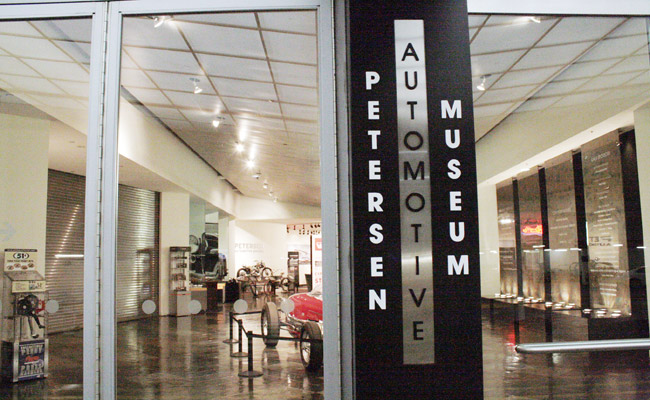 In late September, I went to West Hollywood in California to drive the all-new, sixth-generation Ford Mustang. During that media event, I got to see another icon in the car industry apart from Dearborn's famous pony car. For the first official dinner, I was whisked away to the must-see Petersen Automotive Museum in Los Angeles. As it turned out, my visit was well-timed, as the motoring museum was due to be dismantled on October 19 for an ambitious $125-million renovation project.
Already two decades old, the museum certainly needed some refurbishing. The plan was to install "a stunning new exterior design by Kohn Pedersen Fox Associates that will wrap the museum with long ribbons of stainless steel."
Now, this renovation may take a while--most likely months, even a year--so I was glad to see the facility's old version before it was torn down. I had been to many car museums before, but I have to say the Petersen offered the widest variety of motor vehicles, not least because it wasn't exclusive to a particular brand.
Having said that, at the time of my visit, the Mustang took center stage inside the museum. I understand that this was a special arrangement made by Ford to celebrate the car's 50th anniversary.
Continue reading below ↓
Recommended Videos
Besides the Mustang corner, there was a Hot Wheels nook as well as a section for Hollywood featuring popular movie cars. The latter was particularly interesting to me because it provided bits of automotive trivia I knew nothing about. For instance, even if I had always been a huge Elvis Presley fan, I wasn't aware that the guy was genuinely into cars. I had always known about his association with pink Cadillacs, but that was it. At the Petersen, I learned that he owned other desirable cars such as a 1971 De Tomaso Pantera.
Or what about the dazzling 1962 Rolls-Royce Phantom V landau limousine owned by the flamboyant American entertainer Liberace? Rolls-Royce cars seemed like the preferred mode of transportation among top-tier artists from many decades ago, as Fred Astaire also had a 1927 Rolls-Royce Phantom I town car, also on display in the museum.
Needless to say, staple movie cars were on exhibit, including the Mach Five and Tim Burton's Batmobile.
But even without the show-business cars, the real-world classic rides alone (including "the world's greatest sports coupes") were worth the ticket. In one section, there was a group of poster-worthy automobiles personally handpicked by well-known celebrities. Here sat a 1967 Ford GT40 Mk III chosen by Cars creator and director John Lasseter.
Jaguar design boss Ian Callum's choice? The 1961 Aston Martin DB4 GT.
And if you were a fan of Ferrari, you didn't have to make a separate pilgrimage to Maranello to get your fix--the Petersen (at least the old one) boasted several legendary Prancing Horses.
The Petersen Automotive Museum should be on the bucket list of every car enthusiast. Plan a visit when the much-improved facility opens its doors for business. In the meantime, if you're wondering what the display cars of the old facility looked like, here are dozens of photos. Enjoy.
Photos by Vernon B. Sarne