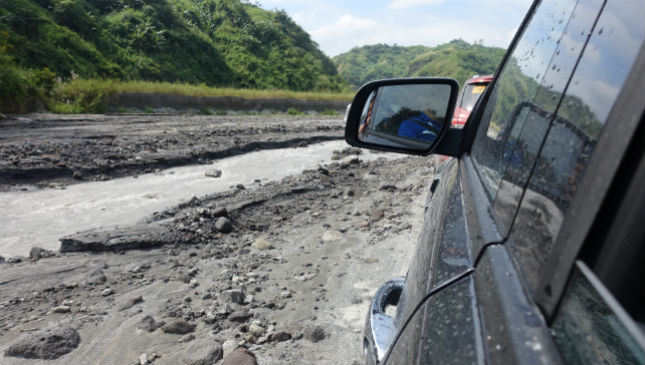 With everyday driving on city streets, you can usually get away with winging it and hoping for the best possible outcome. Not so if you're traversing off-road trails. If you don't know exactly what you're doing behind a 4x4 in the great outdoors, you could end up in a lot of trouble. In short, off-road driving is not for the faint of heart.
ADVERTISEMENT - CONTINUE READING BELOW ↓
From a pair of self-confessed off-road newbies, here are some of the important things we've learned about driving on the roads less traveled:
1) Always follow the lead car's line. In an off-road convoy, the lead car should have a skilled driver in charge who's familiar with the terrain. Off-road driving might have wide open spaces sometimes, but it's always better to follow the safe path. You don't always know what dangers lurk underneath.
2) Use the appropriate vehicle settings. In modern off-road vehicles, there are different driving modes you can choose from depending on the terrain. Always make sure you use the correct setting at the appropriate time to best adapt to your surroundings.
3) Supplies are king. On a regular road trip, supplies are just one gas station or convenience store away. When you're bonding with nature though, you don't always have easy access to the things you need. Your best bet is to pack them in your vehicle before you set off.
ADVERTISEMENT - CONTINUE READING BELOW ↓
Recommended Videos
4) Sometimes, you can't slow down. There are some off-road surfaces, particularly muddy ones, where you can't afford to hit the brakes. Otherwise, you run the risk of losing your momentum and possibly sinking. Always stay above the minimum recommended speed if this is the case.
5) Bigger isn't always better. There will be instances where bigger wheels and heavier, more powerful engines won't save you. Local guides say that under many conditions, small, humble Suzuki Jimnys and modified owner types outclass their larger counterparts due to their lighter weight.
6) Know your (and your vehicle's) limits. When the lead car or guide says it's time to head back, you better believe him. Worsening weather and terrain conditions can lead to a myriad problems far worse than being stuck in the mud. You don't want to be caught in a flash flood no matter how big your ride is.
7) Learn from the experts. Keep your ears open for any tips your instructor or guide might throw your way. They know their cars, they know their terrain and—most important—they know how to get out of sticky situations. Hey, these dudes aren't just there to pull your sorry ass out of the mud, you know.
ADVERTISEMENT - CONTINUE READING BELOW ↓