We're in San Felipe, Zambales, where Ford Philippines has brought us to test its new toy—the new Ford Ranger Raptor. This model needs no introduction, and we even chose it as our Top Gear Philippines 2018 Car of the Year. The truck was launched here three months ago to much fanfare, and now we get to test it out in its natural habitat out in the boonies. Here in the Zambales lahar beds, Ford has carved out a playground to show off just what this menacing truck can do.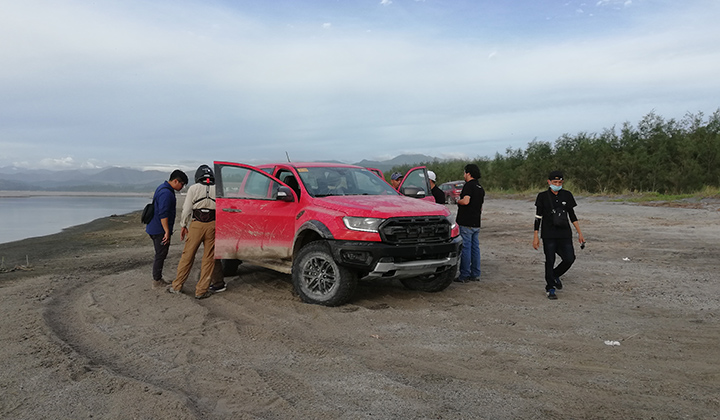 Honestly, when the Ranger Raptor first came out, I was rather skeptical about the package. I thought the upgrades were purely cosmetic. How wrong I was! This is a full-on, all-terrain, high-performance machine. It's meant to go fast in the roughest of surfaces. Here's a quick recap of the parts that make the Ranger Raptor special:
Continue reading below ↓
Recommended Videos
bucket seats with aggressive side bolsters
sequential bi-turbo 2.0-liter turbodiesel with 210hp and 500Nm
10-speed automatic transmission with paddle shifters
2.3mm thick aluminum skid plate
Fox Racing coilover suspension
Raptor-specific forged-aluminum suspension control arms that widen the truck's track by 6 inches
flared fenders that widen the body by 150mm to accommodate the wider track
17-inch, 285mm-width BF Goodrich all-terrain tires
strengthened ladder chassis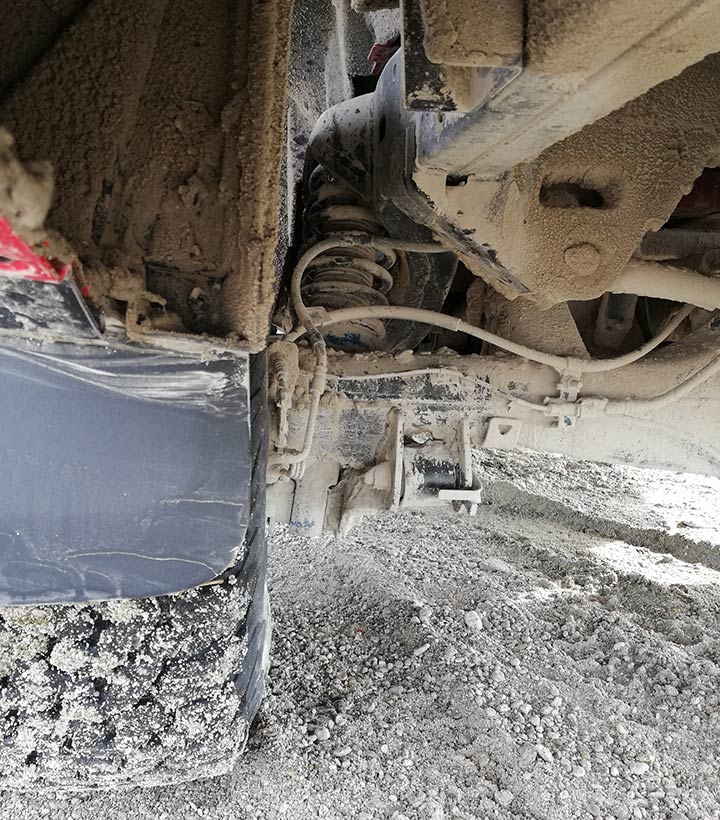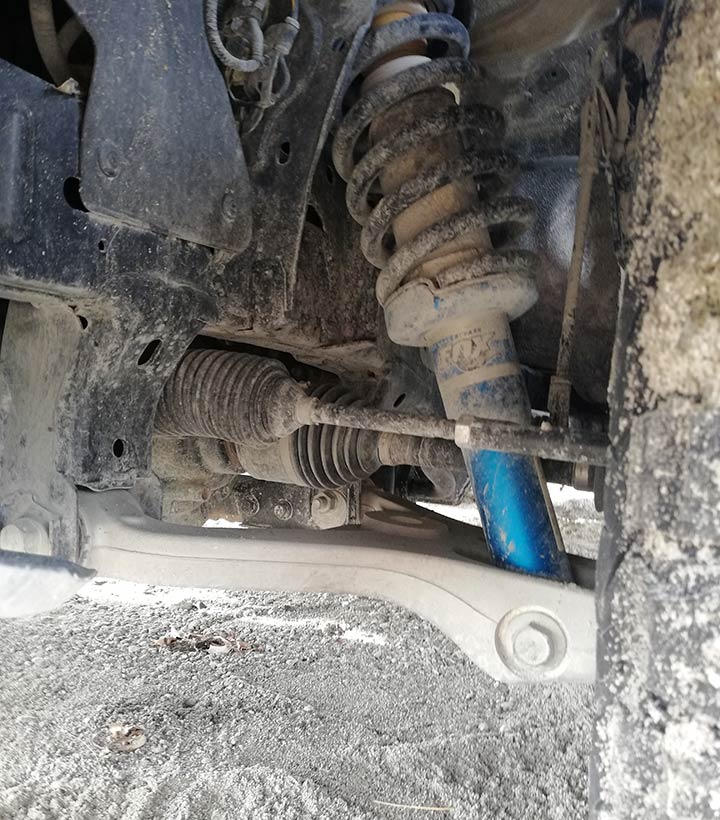 The suspension uses coil springs all around, instead of the rear leaf springs on the standard Ranger. The Fox Racing coilovers give a softer ride for improved traction on loose surfaces, and to withstand high-impact hits while off-roading. However, the softer suspension does have the disadvantage of lower payload capacity and towing capability compared with the standard Ranger's setup. You can only carry 758kg in the bed, and tow a maximum of 2,500kg.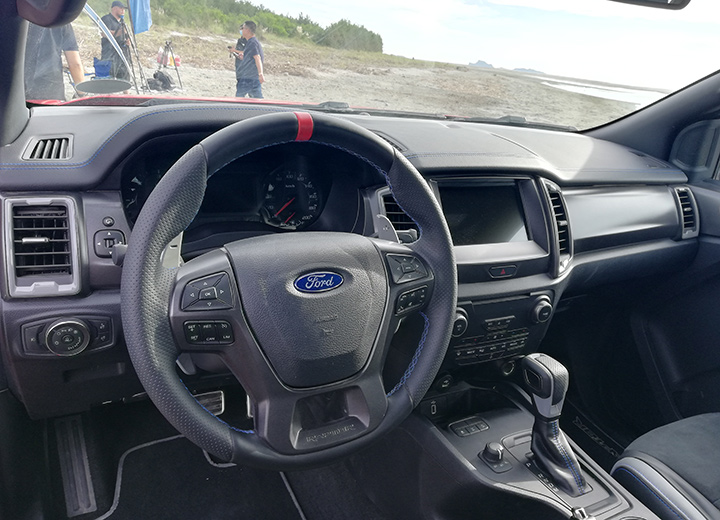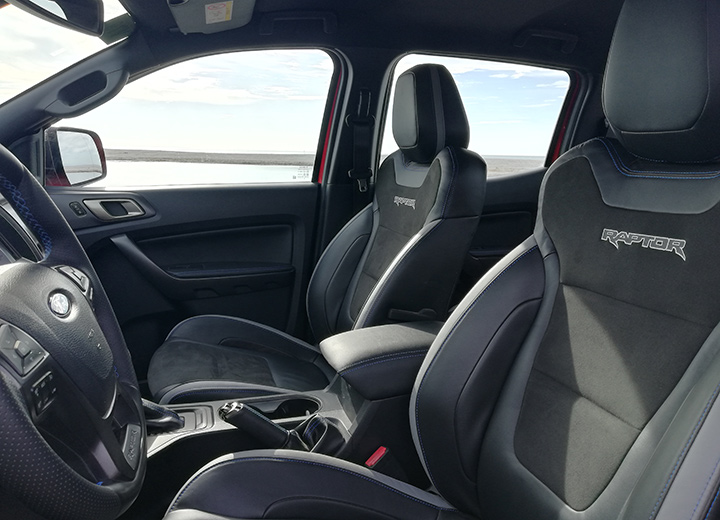 Ordinarily, when we think four-wheel off-roading, we think of crawling around slowly, and climbing over jagged rocky surfaces with heavy articulation of the suspension. This is not what the Raptor is meant for. The off-roading that the Raptor does is flying through deserts, dry riverbeds, and beaches at speeds of over 100kph. It prefers jumping over ruts instead of climbing over them. Think of races like the Baja 1000 or the Dakar Rally.
And this sort of off-roading is exactly what we do in Zambales.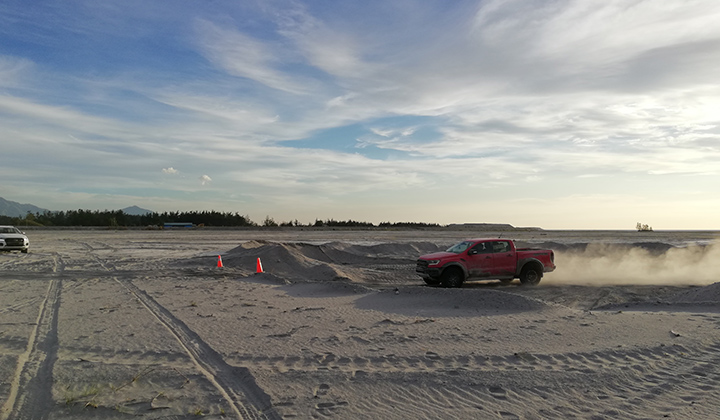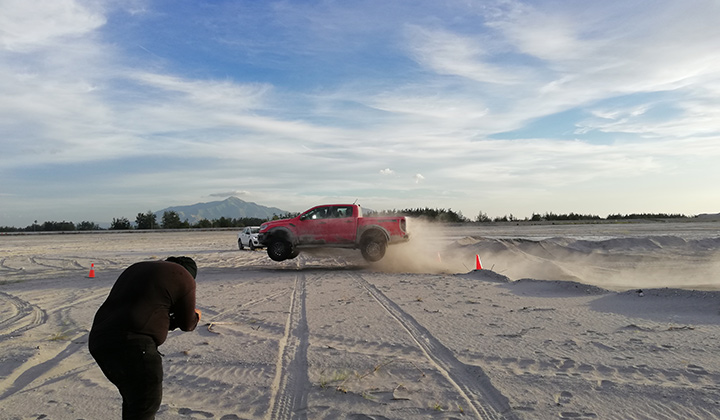 I'm given the keys to a Raptor and told to indulge myself. As motoring journalists, we're usually reminded to be careful with the cars that are lent to us. This is the first time a carmaker has given me a test unit and told me to go ahead and drive as fast as I can. Who am I to disappoint them? I happily oblige!
They've carved out a short rally course in the sand, and I take the Ranger Raptor as fast as it can go, getting it sideways whenever it's safe and possible. There are embankments and ramps over which we're told to make the truck jump. On straights, we're told to drive flat-out, so we run at over 100kph on those dry riverbeds. Not once does the Raptor disappoint us. Everything that we ask it do, it does so with composure and solidity.

In comparison, the standard Ranger Wildtrak, which doesn't have the suspension goodies or the chassis reinforcements of the Raptor, rides much harsher on the course and cannot take jumps or tackle the riverbed at speed, lest we damage the frame. But of course, the Wildtrak is a utility truck meant to carry and pull heavy loads, while the Raptor is a high-performance vehicle meant for sport.

The quality and sophistication of the special bits on this truck is impressive. Some say that the upgrades are destined to be parts for the upcoming Ford Bronco to be released in the US. The Bronco is an off-road truck from the '60s and the '70s, with an iconic status similar to the Mustang. And there have been rumors that it will be based on the Raptor. Our very own associate off-road editor, Beeboy Bargas, echoes these rumors.
It seems to me that the Raptor's setup, while aimed at off-road performance enthusiasts, will suit the urban and suburban trucker, too. The softer ride of its suspension actually suits rippled and potholed roads quite well, which makes it perfect for our roads. The broad-shouldered stance, meanwhile, will definitely present a commanding presence.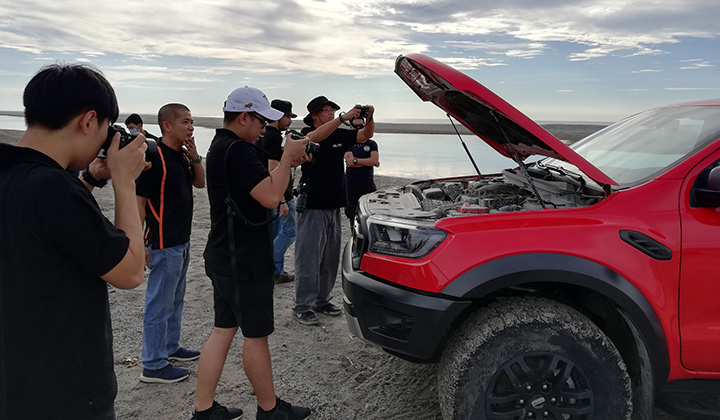 I don't think any other vehicle taken straight from the showroom floor will be able to take as much punishment as this Ford Ranger Raptor can. This is a race-ready rally truck. With a budget of P1,898,000, which is the vehicle's selling price, I don't think I could build a truck that packs this level of equipment and quality. Even if I could find similar parts, it would probably cost much more than what Ford PH is asking for this vehicle. If you're looking for something fun and capable of going fast over rough terrain, this truck is worth considering.
Now, if only Ford could give us an Everest Raptor!