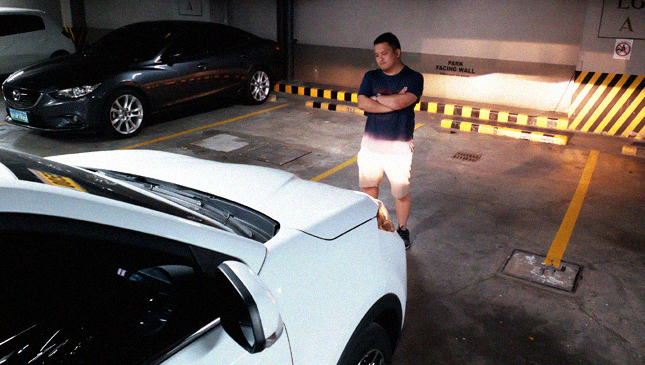 Join the conversation by tweeting your reactions to @TopGearPh using #nostandingreservationTGP.
Not too long ago, a video went viral on social media showing a confrontation between a motorist and a pedestrian with a 'standing reservation' over a parking slot. After a lengthy back and forth and an intervention by a security guard, the latter gave in and let the vehicle park.
Probably thinking he hadn't been a big enough douche that day already, Mr. Standing Reservation returned later to mess up the vehicle's paint job in the absence of its owner. Shame on you, man. Shame on you.
Continue reading below ↓
Recommended Videos
We're certain this isn't an isolated case. The video has since been taken down, but browse through YouTube long enough and you'll come across similar standoffs caught on camera. So the question is: Can a pedestrian reserve a parking slot by physically standing there in place of an actual vehicle?
If you ask us, the simple answer is no. Well, unless you want to make an idiot of yourself in the middle of a busy parking garage, that is.
You see, basic parking etiquette dictates that in the absence of a formal reservation with parking management (in which case a slot will be properly marked or blocked by a pylon or sign), free slots are on a first-come first-served basis. This is regardless of whether it's in a public or private area.
"Is there a law against it?" you might ask. Correct us if we're wrong, but probably not—well, not here at least. Apparently it is against the law in Honolulu, Hawaii (refer to the Honolulu Police Department video embedded below). But you aren't a walking pylon, and your driver shouldn't treat you as such.
If you're expecting to stand there and be met by anything other than a raised eyebrow and an awkward situation, you're going to end up red-faced. And if you plan on heading back an hour later for revenge, we don't think we need to tell you whether you're breaking the law or not.
What do you think? Is manning up to a standing reservation worth the trouble? Or would you rather just circle around and look for another slot to avoid confrontation?