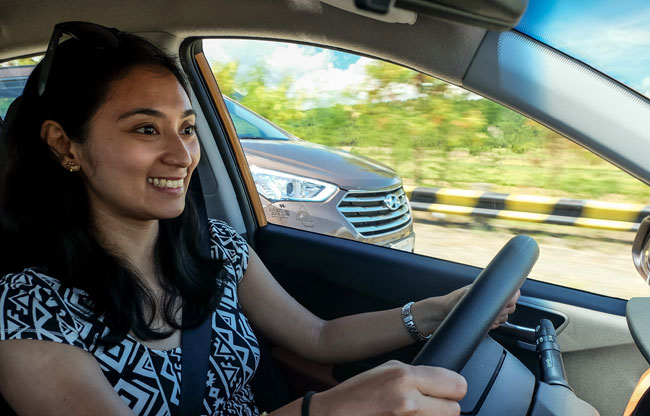 Most of you guys are probably first-time car owners or well into your second or third vehicle. By now, you know how to drive, and you've driven around quite a lot after having worked your ass off for your very own ride.
Still, no matter how many cars you've purchased or owned throughout the years, there will always be a special place in your heart for the baby you learned to drive in. It doesn't matter whether she was a beat-up family sedan, or a well-specced SUV. She taught you the ropes—the ins and outs of being behind the wheel—and for that you are forever grateful.
Continue reading below ↓
Recommended Videos
She might still be a member of your family, or she might have already been handed over to a new owner. She may have even moved on to that big, shiny garage up in the clouds already. But when you're sitting in the passenger seat next to a kid of your own turning the ignition for the first time, you'll look back and remember.
"It feels like it was just yesterday," you'll think to yourself. Now, hold that thought—and that tear.
A few days ago, we asked you guys via our Facebook page to look back and remember what cars you learned to drive in and your experiences being behind their wheel. So far, the post has received more than 1,700 comments, and none of them disappointed. As much as we wanted to put every reply, that would have been impossible.
So here's what you guys had to say:
JP Maluluyon: "Sa kumpare ni erpat. Wheelies. Clutch. Kambyo. Takbo. Yun lang at kaunting preno! Isa sa payo na hindi ko malilimutan para sa newbie, 'pag-aralan mo muna ang mabagal na pagpapatakbo, kasi madali magpabilis.'"
John Joseph: Multicab pawis steering. Plus factor yung segundang mahirap ipasok at maganit na clutch. Tapos pag aatras may sound trip na "Lambada" a la music box."
Lovelex Sorrento: "My first car, a Honda ESI '93 manual. On the spot, araw na binili ko, pinag-aralan ko pero may kasama naman ako marunong talaga (kinakapatid ko). Tapos ayun, nung pagkabayad na pagkabayad ko ikot-ikot muna ako sa Cavite. Nung medyo gamay ko na baba na ako ng Manila.
"Hindi ko malilimutan kase nag halo-halo yung saya, yung kaba, tapos first time talaga nag drive. Ang plan talaga kase, ang hunt namin automatic para mas madali ako matuto. Pero bigla nagbago isip ko nung asa Cavite na. Until now kami parin magkasama ni ESI ko awa ng diyos. Mula day one wala naman ako nasagi, pero wag naman sana mangyari yun."
Mark Garcia: "Toyota Tamaraw. Para tumigil yung sasakyan dapat limang bomba sa preno. Di pwede ang biglang preno dun kasi di sya titigil.
"Di pa pala pantay ang manibela sa gulong, meaning, diretso yung gulong nakaliko yung manibela."
Jay Aguilar Lictawa: "C190 Francisco 7-seater na Jeep ng lolo ko. Kambyo ng kwarta magre-release mag isa, bomba ng preno kakabig sa kanan tapos makikipagwrestling ka sa steering wheel pag magbwe-bwelta. At nung na-drive ko yung Toyota Corolla ng tito ko na 'big body' para akong nasa heaven."
Gilbert Caseda: "Mine was an old Toyota Lite Ace, 1988 model to be precise. It was used as a delivery vehicle for our store. No backseats! It was like a kidnap van. I can still remember, I was showing it off to a couple of friends while we were picking up booze. I said 'pre lisensya na lang kulang' as i was parking it around our curb when I suddenly hit its side with a tree branch. Next thing I know my mom was yelling 'Gilbert, ano yang ginawa mo? Akin na susi!"
Jun Albert Alfonso: "Toyota Corolla 'big body.' THX 698. Mahanap lang kita, ibubuy-back ulit kita.
Shirley Lukban Alarin: "Ito yung mga panahong owner na lang sasakyan ni Papa. Elementary ako nung tinuruan niya ako. Tapos high school kuya ko naman, yung jeep pampasada ng tiyo ko. Astig, puro manual kaya mabigat o ang hirap gamitin ng manibela #missingyoupapa."
Nixon V. Roces: "Siyempre saan pa? Di sa pambansang sasakyan natin, sa owner-type jeep! Visibility is top-notch kasi walang mga bintana, tapos pagkatapos mo mag-aral amoy usok ka kasi bumabalik ung usok sa loob ng owner. Tapos natatanggal pa yung stick shift at nagwi-wiggle pa minsan ang gulong sa una kapag medyo napabilis ka."
Lito Castillo: A 1967 Toyota Sprinter. It was 1982. Sabi ng uncle ko 'dito lang tayo.' He taught me the basics of clutch and gas timing with some handbrake techniques. Pag ahon sabay diretso ng Manila! Pag uwi ko samin para na akong pro. But I learned a lot more as I went with the help of safety books on defensive driving and tips on how to save gas booklets."