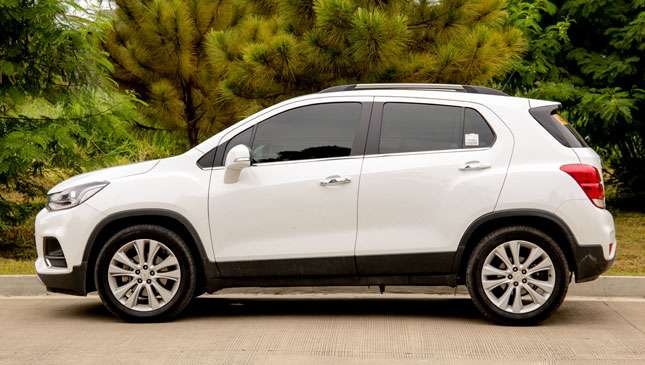 The Chevrolet Trax doesn't get a whole lot of mention in most discussions on crossovers. Not when it competes with more popular models like the Ford EcoSport, Nissan Juke, Suzuki Vitara, and so on. It's a shame, really, because Chevy's entry in that competitive segment is very much underrated.
Last year, Chevrolet Philippines revealed the refreshed version of the Trax at the Manila International Auto Show. Here are a few reasons it's still worth your consideration in 2018.
1) It has a turbocharged engine.
Despite the fact that turbocharging has been in vogue for several years, the Trax is one of the very few in its segment to come with forced induction. Its 1.4-liter EcoTec mill does 140hp and 200Nm. Hardly earth-shattering numbers, but it's a slight edge in short-term fun compared to its naturally aspirated rivals. But that doesn't mean it's not fuel efficient; past tests of the Trax have netted us around 7-15km/L.
Continue reading below ↓
Recommended Videos
2) The refreshed design is slimmer.
The pre-facelift Trax was, well, rather round in nature. This new version gives it a slightly tauter look, thanks to a redesigned front fascia and minor adjustments to the lines. Still a bit bubble-like overall, but it's a marked improvement.
3) Storage space is abundant.
The interior of the Trax is akin to a bedroom, in that there are many nooks and crannies to store your stuff, not unlike a room full of drawers, boxes, and so on. It seems that no matter where you turn inside the Trax, there's a hidden storage space waiting to be discovered. Perfect for all those receipts and coins that tend to pile up in your car.
4) The interior is more premium.
And speaking of the interior, one of the more noticeable changes to the refreshed Trax is the more premium feel to the cabin. The seats have new stitchings and designs, while the panels now sport a darker plastic. The all-digital instrument cluster has been replaced by a much nicer analog/digital combo that's more legible. Features include a 7-inch MyLink infotainment system.
Prices for the Trax range from P1,185,888 to P1,535,888. Do you guys think it's a worthy package for the price?