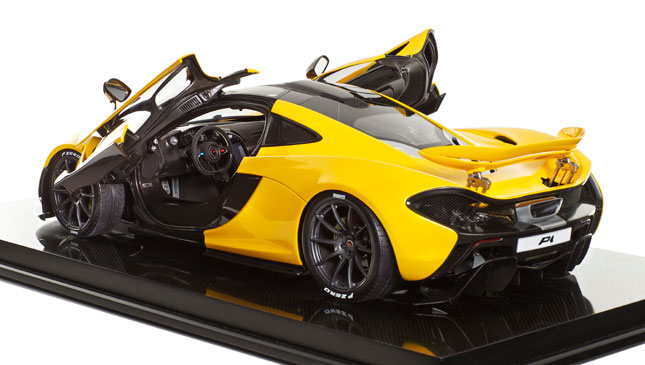 Days ago, we broke the sad news that McLaren would be ending production of its P1 model. The hybrid hypercar, which can blast from zero to 100kph in a blink of an eye (2.8 seconds), and top out at a "limited" 350kph, had its 375th and final unit roll out of the factory in the UK.
If you're still mourning the car's demise, you can take comfort in the fact that you can now get one and even take it home. Well, okay, not exactly the real thing but a scale model of the awesome ride. In fact, one can choose from a bevy of sizes and choices. The smallest available McLaren P1 is the 1:64 scale by renowned toymaker Mattel (Hot Wheels). Since 1968, the brand has been churning out miniatures of the coolest cars in the world, and the latest P1 is no exception. You can get it in either Supernova Silver or Volcano Orange.
If you fancy slot cars, Scalextric offers the P1 Pro Chassis edition in either Volcano Orange or Volcano Yellow. Those who prefer remote-controlled toys might want to check out Maisto and its 1:14-sized P1. This one boasts some of the best detailing, along with illuminating headlamps to boot.
Continue reading below ↓
Recommended Videos
Want to build the scale model yourself? How about the Lego McLaren P1 in Volcano Yellow? The Speed Series vehicle can even be customized with different wheels and a wrench, for the ultimate in motoring nirvana--albeit on a smaller scale.
Those who might want a P1 in 1:43 scale and love the brands AutoArt, Minichamps, TSM (True Scale Models) or Technomodel, will surely get a kick out of any of their McLaren models. Choose from Job#1--the very first P1 ever produced, the camouflaged P1, the Nurburgring Edition, and the car that F1 world champion Jenson Button drove at Goodwood when the P1 debuted back in 2013. One very notable collectible is the Amethyst Black PP3 pre-production version that bears the registration number P1 00V. This car is truly special as it was the media car that graced many magazine covers and appeared on numerous motoring shows around the world.
Want something that's truly close to the original? Nothing comes closer than the 1:8-scale replica by Amalgam. This one has so much realism that every detail has been captured to the closest detail. It's for the ultimate collector who can't exactly get his hands on the real thing, yet won't settle for anything less.
If you're a collector, want to gift a collector, or simply want to surprise a car enthusiast with something really cool this Christmas, then check out any of these McLaren P1 miniatures. Prices range from as little as 10 euros to as much as 8,000 euros. They are available at any authorized McLaren dealer, or you can start hounding your suki in Greenhills.