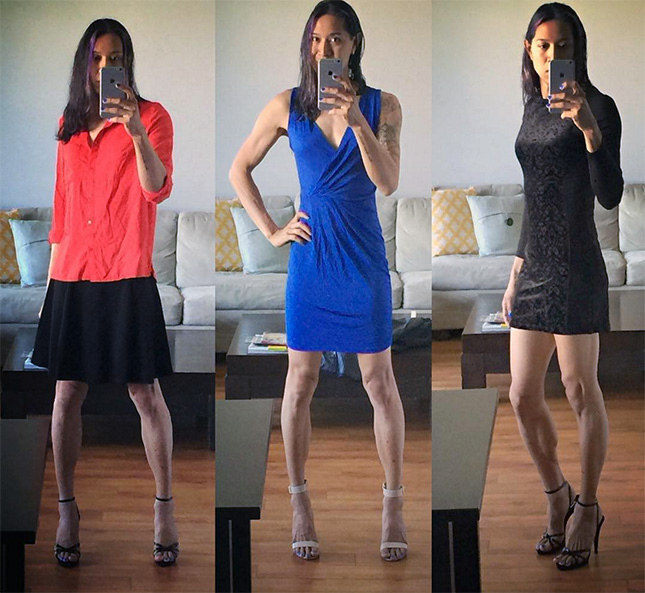 So it's official: Car Porn Racing founder Ian King is now Angelina Mead King. Yep, our favorite car guy is now a car girl. He is now a she.
When we first asked Ian (she told us she responds to her old name, "because I don't hate my life as Ian") if we could report her coming-out, she said: "I'm down. I just won't read the comments. Scary but laban. The car world is my world."
Who could blame her for being afraid of what people might say on social media? It's already 2016 but there are still so many backward thinkers everywhere. And let's face it: The hardest part about revealing your true self to a judgmental world is hearing what others might say.
Well, we're happy to tell Ian that netizens have nothing but good words to throw her way. Here, we'd like to share what readers had to say to Angelina Mead King after reading our article. We've collected comments made on our website and on Facebook, by people who read the story today. We just have to say that the world is a better place with individuals as understanding and as loving as these men and women. Bless them!
ADVERTISEMENT - CONTINUE READING BELOW ↓
* My brother is now my sister. You have our full love and support. - Marc Soong
* People should be judged solely for their kindness and compassion, and not the gender or body they come as. Love is love in whatever way, shape or form. All the best to Angelina Mead King. Sometimes the King is a woman indeed! - Joyce Año
* I really wish everything would be easy for her. At the end of the day, what we wear or what sexuality we prefer is not as important as a kind and loving soul. - Nayda Catedral
* Kudos to you, Ian/Angelina! More power to you and your partner Joey Mead. - Red Filoteo
* Beautiful. - Eva Marie Poon
* Whether you're a King or a Queen, you're still my idol in the car world. - Neil Paolo Briones
* For some reason, this Top Gear story touched me the most. It is the way TG and other motoring personalities supported and showed solidarity. This is a story about Ian or Angelina, and his band of motoring brothers who are real men. - Devi De Veyra
ADVERTISEMENT - CONTINUE READING BELOW ↓
Recommended Videos
* Kinda shocking. But no hate, just love. After all, he's still King. - Donna Ariñas
* Happy is the only way to go! OMG, the Car Porn guy I met several years ago is now a woman! So happy for you Ms. Angie King! - Pauline Reyes
* The King is now the Queen. - Vera Venus
* I don't know you or your cars, but salute! - Gino Leocadio Saldajeno Paje
* A childhood hero, revealed. Apparently, all these years living in fear of being true to himself. Such a weight to carry. The Drift King has signed out. #‎HailToTheQueen - Vinnie Marquez
* Respect! 2016 is a great time to be alive! - Reneé Avena Fopalan
* Wow. Happy Independence Day to this one. - Barbie Muhlach
* It takes a brave man to come out as a woman. Apparently, the best car guy in the country is a woman. - Felicia Ann Ordoñez
ADVERTISEMENT - CONTINUE READING BELOW ↓
* Hail to the Queen!!! It's more fun to be a woman! - Doods Parreno
* OMG, my car-crazy idol is now a She! Who would have thought? Kudos to Car Porn Racing, the best-ever exotic car mods shop in Manila. - Herbee Casiano
* Gow, te! - Cachie Llanes
* Soooo happy for my brother from another mother, who is now a sister from another mister. Congrats on coming out, Ang!! - Verone Pangilinan
* Go girl!!! We share the same story except for the acceptance of the person I got married with. - Iven Sacmar
* Respect na lang po tayong lahat. Hindi nyo alam kung gaano kabait ang boss namin. Ang nakikita lang natin ay panlabas na kaanyuan. Pero subukan nyong alamin ang kalooban nya. Napakabuti nyang tao. - Alexander Christian Legaspi Peji
* Mad respect for Ian/Angelina. Hail to the Queen! Salute to Joey Mead for being the coolest wife. - Susan Tee
ADVERTISEMENT - CONTINUE READING BELOW ↓
* Bet her new creations will be more awesome!!! Continue to rock our world of cars, Angelina! - Tayan Yan
* I remember him back in the '90s with his souped-up Bimmer M3 with a big rear wing. As long as he's happy. - Lawrence Lagandaon
* Are Angelina Mead King and Joey Mead King still together? If yes, kudos to Ms. Joey. The epitome of unconditional love. #lovewins - Jenny Llovia
* As long as he/she loves cars as we do, who are we to judge? - Ralph Martin Lim
* I was surprised! But still a big fan of yours. - John Michael Tan
* A car guy will always be a car guy. Nothing can change that. #breakbarriers #respect - Xian Lee
* I love and respect Joey Mead King as a model. And she supports Ian King (her husband) who is now Angelina Mead King. I love cars, so big respect for 'em. - Joan Ravela Barnoco
ADVERTISEMENT - CONTINUE READING BELOW ↓
* Kahit sino ka pa, idol pa rin kita, Ian King. - John Carlo Unayan Tampolino
* Being genuine and legit. - Brian Bautista
* What a brave human being. - Mark Reyes
* If your makeup takes time and your feet hurt, then don't put on makeup and screw high heels! We don't care! We'll still look up to you as one of the top car enthusiasts in the country. - IamJiyan Castro
* A salute to your bravery, Angie King! It takes guts to come out with your true self in this crazy world of labels and judgment. Keep on drifting! - Jp Castellano
* A hug to you, pare! - Luigi Guerrero
* Bottom line is that it's about humans who love insane cars. Props to Angelina! - Victor Omar
* Such an inspiring article! Hail to the Queen! - Chikoy Añonuevo
* An act of liberation that should be appreciated. You are nothing less than an admirable human being. - Mechille Romano Torres
ADVERTISEMENT - CONTINUE READING BELOW ↓
* The article was indeed beautifully written. I agree: At the end of the day, it all boils down to our love for cars. - Kaye Cubillo
* Salute his guts. Happy is the only way to go. - Nina Montoya Centeno
* Now that's what being free is all about! - Sam Lim
* It takes a lot of courage to be yourself in a world full of pretense and expectations. Galing. - Ryan Sandagon
* You go, gurl! Enjoy life and love always. - Penny Tuviera
* Be authentic and live the life you want to live. You only have one. Ridiculously proud and happy for Ian/Angelina. (And mad props to Joey Mead. I only wish everyone could have a rock like her in their corner.) - Rovilson Fernandez
* Got me teary-eyed. Hail to the Queen. - Kim Poy Lee
* Only love and support to Ian King and Joey Mead King. May we all be always authentic to our truths, and not care how people will try to stereotype you. - Pilar Angela Paraiso
ADVERTISEMENT - CONTINUE READING BELOW ↓
* Hats off to the most badass and bravest Queen of Car Tuning! - Azee Yah
* Nice nail polish. - Roselyn Banez
* Good article! I literally cried. Sobrang nakaka-touch ang article. Wag mo pansinin lahat ng negative na sasabihin ng tao sa yo. Hindi ka naman nila pinapakain at hindi nila binabayaran ang bills mo! Kaya do whatever you want to do to be happy. - Mina Jhona
Photo from Angelina Mead King's Instagram account