Carbon construction, a monstrously powerful V8 engine and a $590,000 (around P29.9 million) price tag. Though it sounds like we're describing a new special-edition McLaren, those are actually three factoids describing something much bigger but no less magnificent. Meet the EarthRoamer LTi, a four-wheeled creation every bit as exciting as whatever Long Tail track variant next emerges from Woking. To us, at least.
ADVERTISEMENT - CONTINUE READING BELOW ↓
What you're essentially eyeballing is a Ford F-550 Super Duty truck with a carbon-fiber house emanating from its bed. A 6.7-liter diesel turns all four wheels—knobbly-tired to the hilt—with 360 liters of fuel ensuring you'll get a very long way into the wilderness without stopping. There, your lifestyle will be maintained by a 380-liter water tank and an 11kWh lithium-ion battery pack. Switch your phone off and you can go off-grid for a very long time.
The LTi can accommodate up to six people, but the deeply cool interior can be designed and configured by EarthRoamer to suit your specific needs. Room for us and all of the dogs, please. Worth noting that there's a properly sized shower, too. No degrading crouching in here.
ADVERTISEMENT - CONTINUE READING BELOW ↓
Recommended Videos
Should you care about performance, that stonking great V8 produces 330hp and pushes it to the axles through a 10-speed automatic gearbox. But you'll actually care more about just how flipping able this thing is when it comes to climbing up big things or dredging through deep things.
As mentioned, prices start at $590,000, and once you've added a few choice options, you're looking at up to $640,000 (around P32.4 million). It'd be rather a lot of nights dodging hipster AirBnBs to accrue that back, but that's beside the point. We want this. Lots.
ADVERTISEMENT - CONTINUE READING BELOW ↓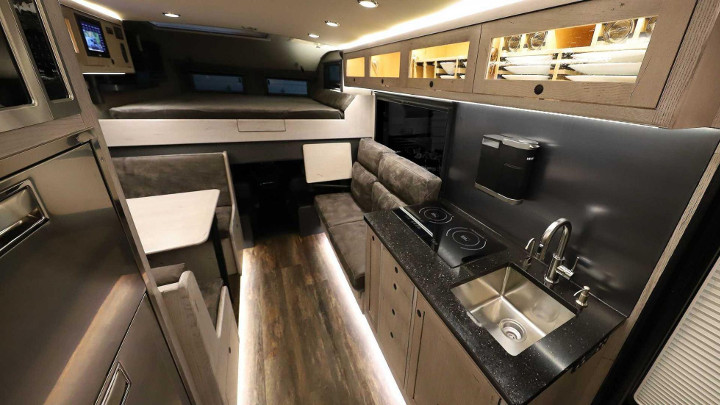 ADVERTISEMENT - CONTINUE READING BELOW ↓
NOTE: This article first appeared on TopGear.com. Minor edits have been made.