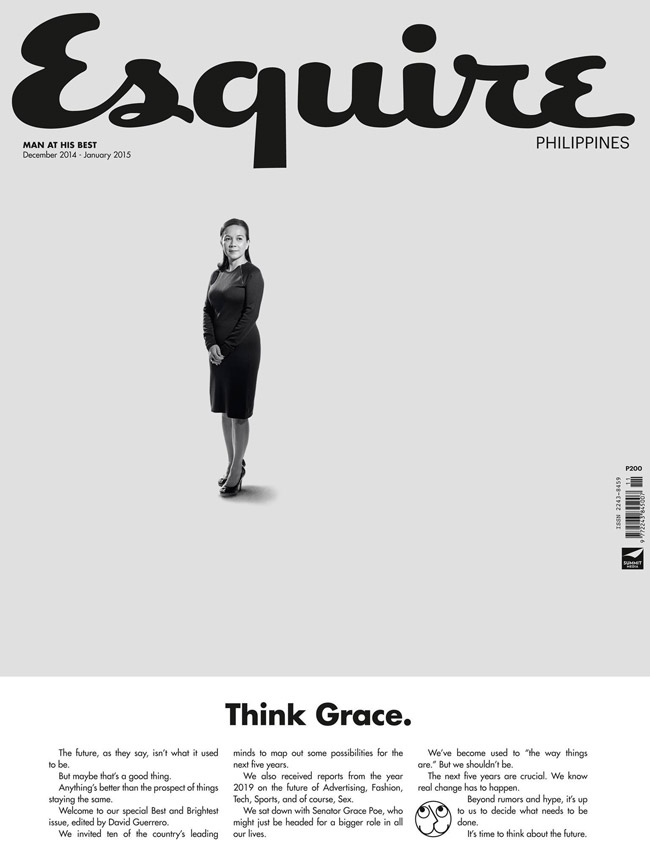 That's Esquire Philippines' cover for its December/January issue, featuring Senator Grace Poe. Car enthusiasts old enough to remember will recognize the artwork as being inspired by Volkswagen's 1959 print ad for the Beetle, titled "Think Small." That ad was named by Advertising Age magazine as the number one North American advertising campaign of the 20th century, beating the likes of Nike's "Just Do It" from 1988 (No. 4), DeBeers's "A Diamond Is Forever" from 1948 (No. 6), Apple's "1984" from 1984 (No. 12) and Pepsi's "The Pepsi Generation" from 1964 (No. 21).
Other award-winning motoring ad campaigns on the above-mentioned list were:
* Saturn's "A Different Kind Of Company, A Different Kind Of Car" from 1989 (No. 37);
* Chevrolet's "See The USA In Your Chevrolet" from the 1950s (No. 41);
* Cadillac's "The Penalty Of Leadership" from 1915 (No. 49);
* Greyhound's "It's Such A Comfort To Take The Bus And Leave The Driving To Us" from 1957 (No. 54);
* Hertz's "Let Hertz Put You In The Driver's Seat" from 1961 (No. 65);
* Isuzu's "Lying Joe Isuzu" from the 1980s (No. 83);
* BMW's "The Ultimate Driving Machine" from 1975 (No. 84);
* Texaco's "You Can Trust Your Car To The Men Who Wear The Star" from the 1940s (No. 85); and
* Volvo's "Average Life Of A Car In Sweden" from the 1960s (No. 90)
ADVERTISEMENT - CONTINUE READING BELOW ↓
The Beetle ad was created by the DDB Worldwide advertising agency, with the layout designed by art director Helmut Krone and the text written by copywriter Julian Koenig. The text read:
Think small. Our little car isn't so much of a novelty any more. A couple of dozen college kids don't try to squeeze inside it. The guy at the gas station doesn't ask where the gas goes. Nobody even stares at our shape. In fact, some people who drive our little flivver don't even think 32 miles to the gallon is going any great guns. Or using five pints of oil instead of five quarts. Or never needing anti-freeze. Or racking up 40,000 miles on a set of tires. That's because once you get used to some of our economies, you don't even think about them any more. Except when you squeeze into a small parking spot. Or renew your small insurance. Or pay a small repair bill. Or trade in your old VW for a new one. Think it over.
ADVERTISEMENT - CONTINUE READING BELOW ↓
Recommended Videos
Commenting on the copy, Advertising Age wrote: "To be amused by Koenig's copy was to be flattered by it. The car that presented itself as the antidote to conspicuous consumption was itself the badge product for those who fancied themselves a cut above, or at least invulnerable to, the tacky blandishments of the hidden persuaders. 'Think small' was thinking quite big, actually. The rounded fenders were, in effect, the biggest tail fins of all, for what Volkswagen sold with its seductive, disarming candor was nothing more lofty than conspicuously inconspicuous consumption. Beetle ownership allowed you to show off that you didn't need to show off."
On the Esquire cover, the main copy says "Think Grace" instead. The issue is said to have been guest-edited by David Guerrero, himself a successful and popular advertising executive.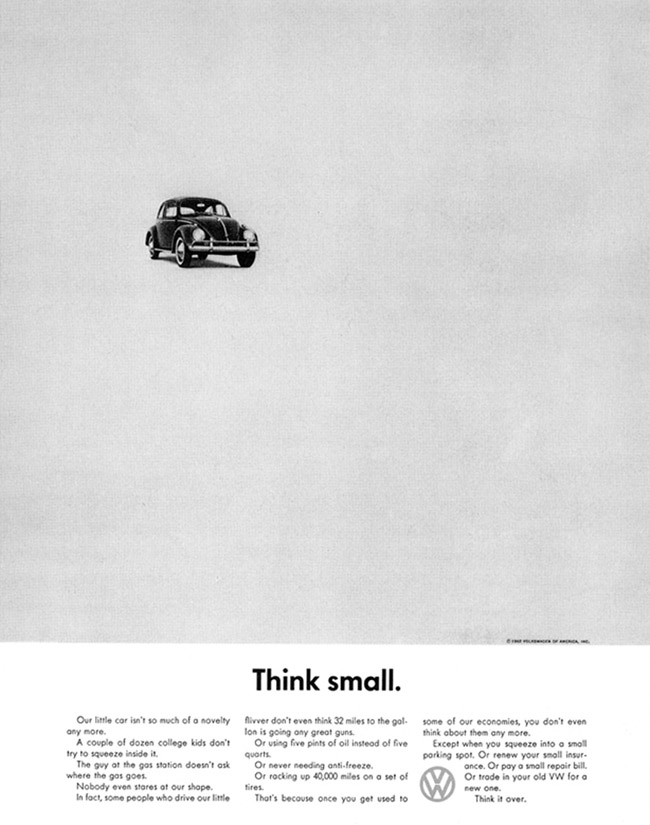 ADVERTISEMENT - CONTINUE READING BELOW ↓