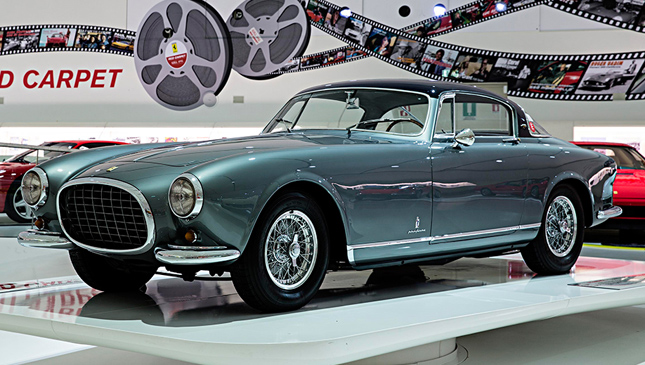 Ferraris seem to have a natural star quality about them. The stunning looks and the lightning-quick performance are enough to sweep anyone off his feet regardless of whether or not the person knows anything about cars.
Apparently, this movie-star vibe has carried over to movies and television as well. Film and TV show lovers might recall Magnum P.I.'s 308 GTS, or the black Ferrari Daytona and white Testarosa F512M driven by hotshot cop Sony Crockett in Miami Vice. And who can forget the bright-red 250GT California that Ferris Bueller took out on his day off, and the 375 America that starred alongside Sofia Loren in Boy On A Dolphin?
All these fascinating Hollywood Ferraris are part of an exhibition staged at Museo Enzo Ferrari, which opened last February 18 in Modena. The affair marked the Ferrari founder's birthday and paid tribute to his legacy in motoring and the global film industry. The celebration was a meeting of art, pop culture and, of course, fancy metal on wheels.
The exhibit was made even more special by the presence of art pieces--both classic and contemporary. These included the "Thomassina," which is an American sculpture by Tom Mead made from the running gear of a 250GT. And who would miss the F430 that was brought to life by the voice of Michael Schumacher in the Cars animation?
Continue reading below ↓
Recommended Videos
No Hollywood gathering would be complete without the cars owned by the movie stars themselves. One example was the 365 GTB4 of Paul Newman. This beauty even competed in such races as the 24 Hours of Le Mans. Meanwhile, Marilyn Monroe's favorite white 250 GT Cabriolet was just as sexy as the actress herself.
Aptly titled Red Carpet, the exhibit is a must-see for any car and film buff. But if you can't make the trip to Italy, then take a look at some photos from the exhibit. It might just make you want to watch your favorite movies all over again, if only just to catch a glimpse of that beautiful Prancing Horse.