Last February 28, 2020, Netflix finally dropped Season 2 of its hugely popular TV series, Formula 1: Drive to Survive. This season chronicles the highs and lows of Formula 1 teams, drivers, and even their families during the 2019 Formula 1 season.
This season, the producers focused on one or two teams per episode, instead of showing the progress of the driver's and constructor's championship. In fact, the world championship points visual was shown just once (in the Haas-focused episode "Boiling Point") this season.
Since it premiered, I've watched this second season more than three times, and I catch something new every viewing. Here are my five favorite blink-and-you'll-miss-it moments from the show:
1) Alex Albon and his Honda Civic Type R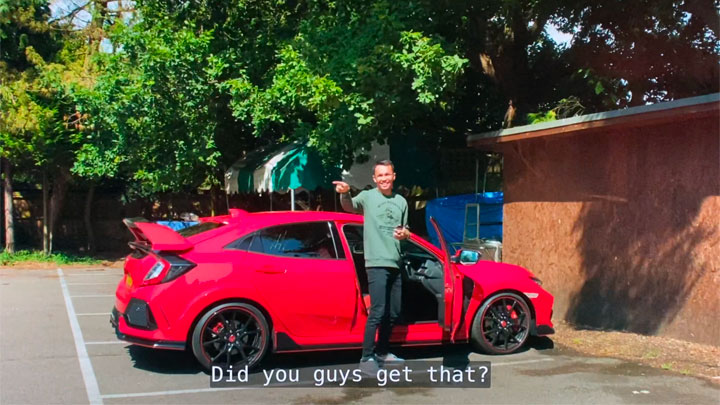 ADVERTISEMENT - CONTINUE READING BELOW ↓
Albon features prominently in the "Raging Bulls" episode. This episode shows his journey from having no seat during the pre-2019 season, to landing a seat in Scuderia Toro Rosso only because Red Bull's then driver Daniel Ricciardo moved to Renault, and eventually his mid-season promotion to the top seat at Red Bull due to Pierre Gasly's dismal performance.
The episode even touches on what transpired in the Albon family in 2012, when Alex's mom went on 'vacation' (make sure to catch the part where his PR guy does his job really well to avoid this topic). The tragic event involving Anthoine Hubert is also captured quite poignantly, with throwback photos of the F1 drivers that grew up together with him, as well as an interview with Hubert himself.
You may notice that Albon drives an Aston Martin, but what really caught our attention was the cameo of his hot red Honda Civic Type-R.
ADVERTISEMENT - CONTINUE READING BELOW ↓
Recommended Videos
2) Williams' sweet tire change practice rig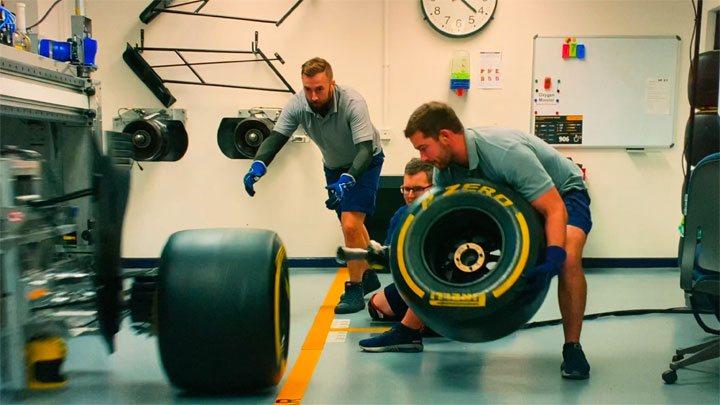 Williams gets one whole episode (aptly titled "Blood, Sweat, and Tears") dedicated to its dismal 2019 season. It shows viewers a great behind-the-scenes look at the relationship dynamics between drivers Robert Kubica and rookie George Russell, the sacking of chief technical officer Paddy Lowe by deputy team principal Claire Williams after their poor start of the 2019 season, and more important, the difficulties experienced by its race engineers and mechanics in even having a car ready for testing in Australia.
ADVERTISEMENT - CONTINUE READING BELOW ↓
In a particularly humbling scene, Claire Williams is shown transporting crucial parts by herself on her flight. This episode is tied with the cuss-filled HAAS episode in my least favorite episodes of this season, but this gave us a great look at the training rig of Williams' pit crew. Williams currently holds the fourth fastest pitstop record in F1 history, and it's probably because of sweet rigs like this.
3) Ferrari gets a stone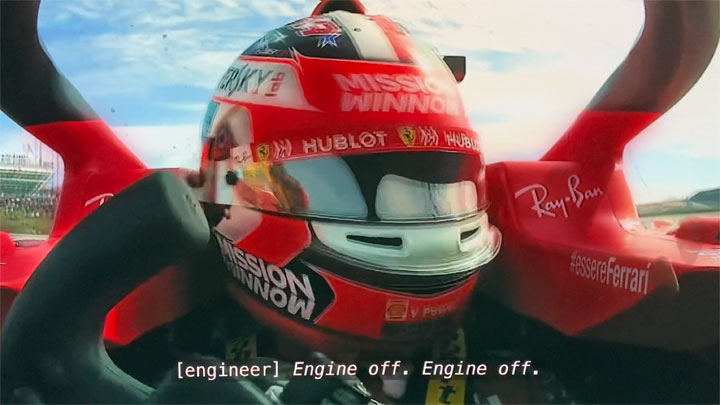 ADVERTISEMENT - CONTINUE READING BELOW ↓
The season dedicates one whole episode to the Maranello-based team in an episode entitled "Seeing Red." Unfortunately, with all the highs (Leclerc's Belgian and Italian GP wins), lows (Brazil GP fiasco, Vettel's spinning), and controversies (Singapore GP undercut, qualifying debacles) that the team had in the 2019 season, one episode just wasn't enough.
This does feature never before seen personal interactions between Charles Leclerc and Sebastian Vettel, like driving around in a Ferrari and listening to '70s, '80s, and '90s music. The behind-the-scenes access the Netflix team got was not in Ferrari's home race at Monza, but in the moderately uneventful US GP. As Leclerc does laps during free practice, his power unit suffers a failure. Blink and you'll miss a stone getting into the Ferrari as Leclerc pulls his car over on the gravel traps.
4) Carlos Sainz doesn't know where his McLaren's trunk is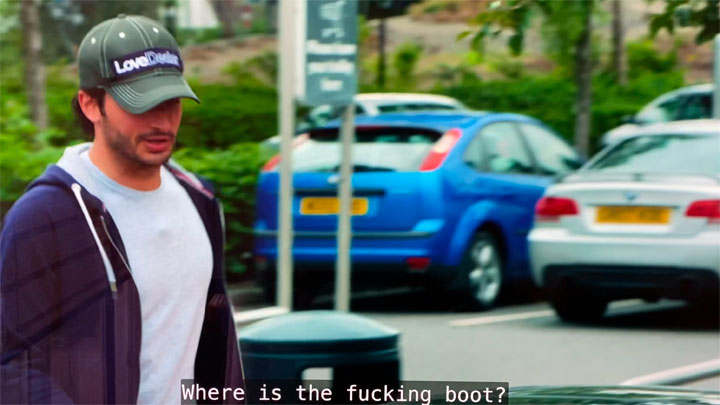 ADVERTISEMENT - CONTINUE READING BELOW ↓
In the episode "Dogfight", the so-called rivalry between new Renault top driver Danny Ricciardo and his displaced rival Carlos Sainz, who was 'forced' to move to McLaren in 2019, gets a nice spotlight. It shows a good contrast between the success Sainz has had in 2019 with his new Woking-based team, compared to the mediocre season Ricciardo had with the French team.
In true Drive to Survive form, the episode shows intensely personal scenes for both drivers, with Ricciardo agonizing over his life choices while playing basketball with his performance coach (who shouts "Kobe!" as he sinks a shot), and Carlos Sainz shown having a meal with his whole family in the posh spanish island of Mallorca.
Netflix shows all sides of Ricciardo in this episode, with Mr. BDE dropping an F-bomb in one scene which he predicted wouldn't be shown. In McLaren's base in the UK, Sainz is shown doing some light groceries for a particular fajita mix, and highlights the very real possibility that Sainz doesn't know where his McLaren's trunk  is.
ADVERTISEMENT - CONTINUE READING BELOW ↓
5) 18-inch tires on the Silver Arrow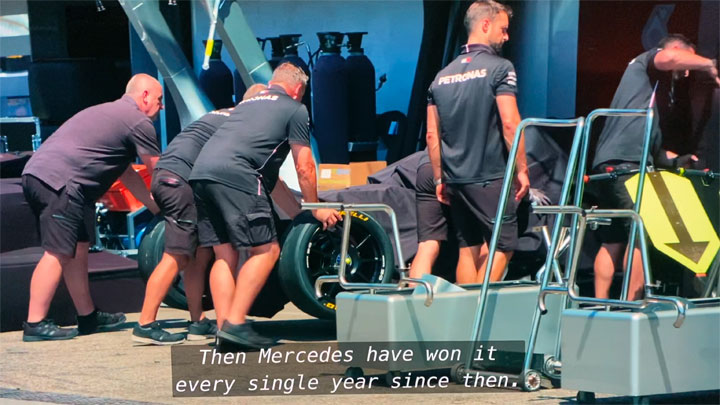 Of course one of the best episodes of this season has to be the one that highlights Mercedes's very very bad German GP performance. This is probably what most F1 fans have been excited to watch this season, and it doesn't disappoint.
ADVERTISEMENT - CONTINUE READING BELOW ↓
The episode "Dark Days" gives a great look at the team's disastrous home race in 2019, complete with costumes, special livery on their car, Lewis Hamilton having a cold before qualifying (yet still getting pole), Bottas watching his WCC championship chance slip away (pun intended), and of course, the classic one-minute pit stop after Lewis lost his car's nose in a spin.
This episode succeeds in humanizing Lewis, showing the emotional impact of this race on him and the team, as well as his drive to get back up after this particularly dark moment in their season. Fun fact from this episode: Only driver Valtteri Bottas can say the team's whole name on the first try. Blink and you'll miss the Silver Arrows sporting 18-inch tires, which teams use when they're transporting the F1 cars as the standard race tires will make the car too wide for the transport trucks.
ADVERTISEMENT - CONTINUE READING BELOW ↓
What's your favorite moment from Formula 1: Drive to Survive season two? Let us know in the comments!