The very best kind of car in the world is a wagon. Call it what you will: estate, dad chariot, weekender, sportwagon, or shooting brake, but the fact of the matter is that the second a manufacturer adds a big, open area behind the rear seats and seals the deal with a hatch, we are in like Flynn.
And so, being, Top Gear, we like the new Audi RS6 (pictured above) very, very much. But what if you've spent all your money on Spotify, expensive coffee, and whatever else out-of-touch bankers point to whenever we say we'd like to afford things like cars, or a house? Well, have no fear! You can get some seriously amazing, supremely rare-groove wagons for a sixth of the cost of a new RS6, or less.
Yes, Top Gear is here to save the day, if your day can only be saved with some moderately flimsy buying advice, centerd around oddball-yet-quick wagons that don't squander your bank account in one fell swoop. Hey, it could happen.
1) Mitsubishi Evo IX wagon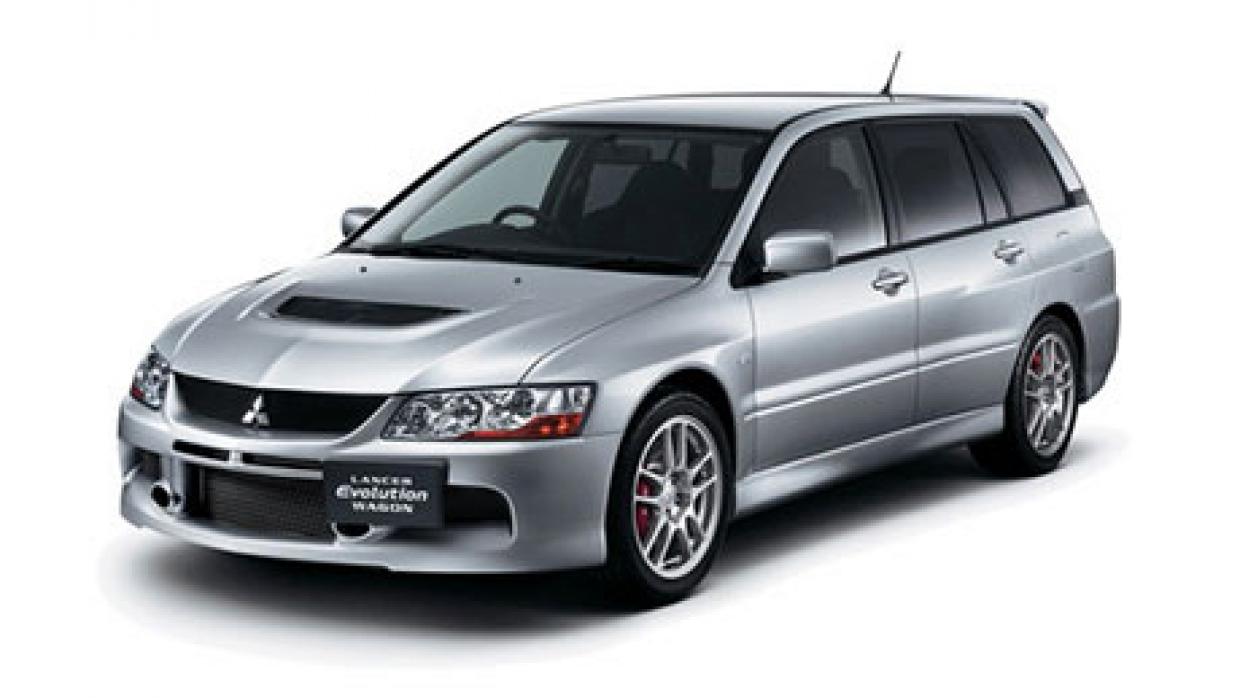 Continue reading below ↓
Recommended Videos
Estimate: £14,000
0-100: Less than 5sec
Top speed: 240k or so
Best bit: It's an Evo...wagon!
Worst bit: Um, it's an Evo...wagon! What could possibly be bad?
Rarity doesn't always mean brilliance. For instance, it's rare for cruise ships to run into icebergs, but that doesn't make the fate of the Titanic one of mankind's greatest achievements.
Sometimes, however, rarity and brilliance share the same parts of a Venn diagram. And so it is in the case of the Evo IX wagon. Just 2,500 of these nuggets of JDM brilliance ever left Mitsubishi's factory. And, by our reckoning, it's the last time anything truly brilliant ever did. With everything the Evo IX sedan offered, the wagon added proper cargo space and 70 kilos, which actually gave it better weight distribution than the four-door. Look into your heart—you know you want one.
2) Audi Allroad 4.2 V8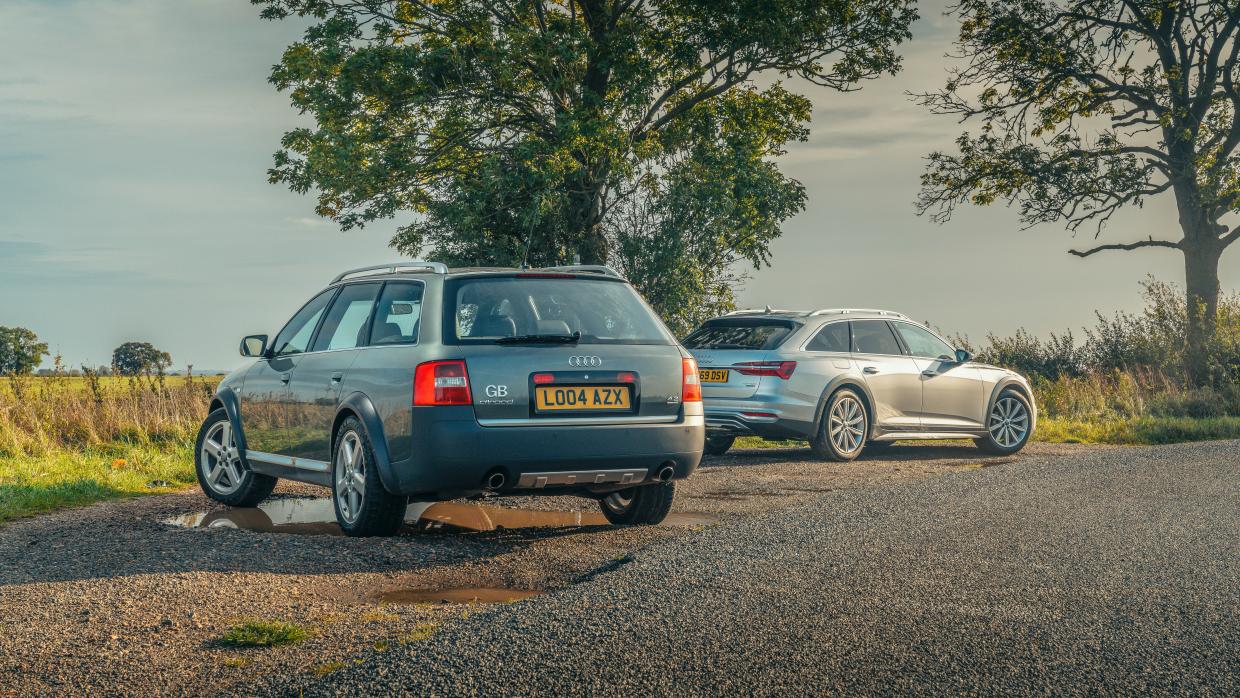 Estimate: £10,000
0-100: 7sec
Top speed: 210kph
Best bit: Sneering at SUV drivers who chose...poorly
Worst bit: Apparently, everything breaks
There's a curious allure to Audi's lifted wagons. Common sense dictates that, as they're higher and heavier than standard, they'll be generally worse than the regular Avant that Audi started with. But there's such an essential rightness to them—the softer suspension soaks up crappy roads with ease, and the ever-so-slightly-higher ride height means that speed bumps and potholes don't trouble you anywhere near as much as in a regular car. But—and this is crucial—they're still essentially cars, not SUVs, so they don't come with the litany of performance and handling problems that it seems only Porsche can properly solve.
And if you combine the Allroad's day in, day out prowess with the silky rumblings of Audi's venerable 4.2-liter V8, which saw service in everything from the R8 supercar to the S8 limo? That's knocking on the door of perfection. Just keep the bank account padded to soften the blow when something goes wrong.
3) BMW 550i Touring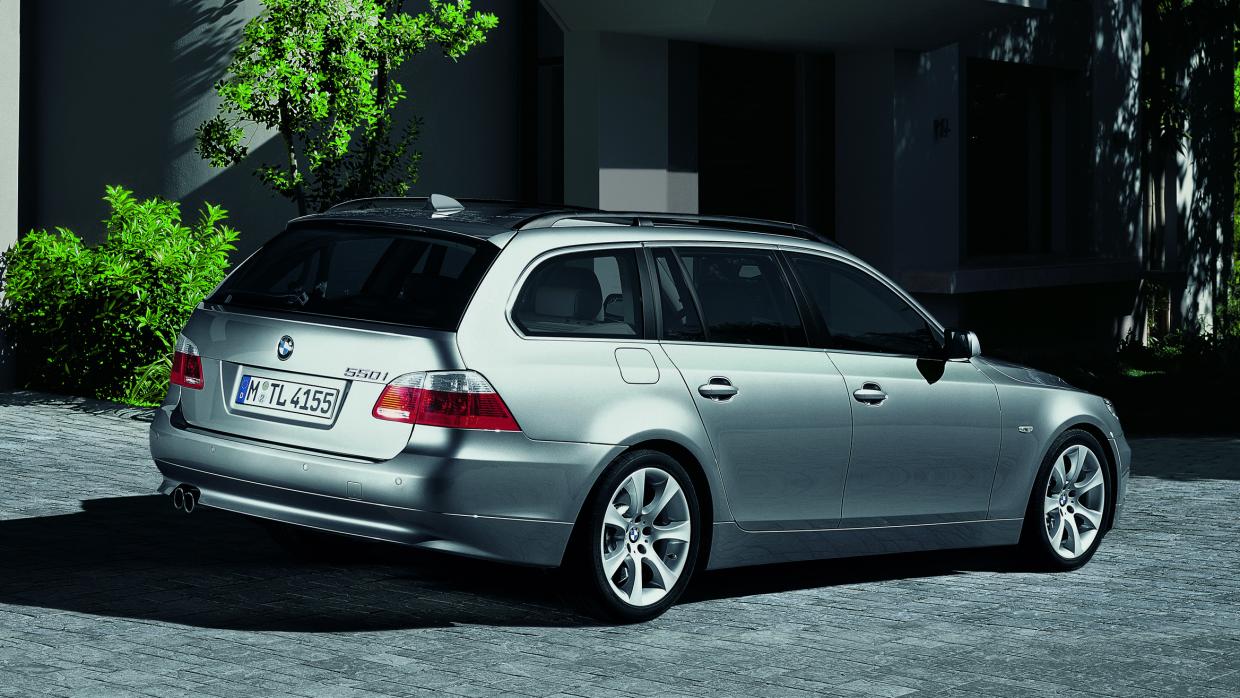 Estimate: £7,000
0-100: 5sec-ish
Top speed: 250kph
Best bit: Instant, always-on oomph
Worst bit: This generation of 5-Series? It's basically a Mogwai, apparently
The E60 series was a bit spotty on the reliability front, in retrospect—particularly the M5, which seemed to have a gearbox made from chocolate and electrics made entirely from gremlins.
The better bet is to take a step down, away from the motorsport-spec histrionics and into the realm of easy wellsprings of power. No one's going to argue with 360hp and 488Nm, as delivered by a 4.8-liter BMW V8. Oh, and in case you needed a bit of pedigree for an otherwise fairly forgotten engine, you can always pull the 4.8's trump card: It was the same that Morgan used in its Plus 8 and Aero SuperSports.
4) Mercedes-AMG C43 Estate (1998)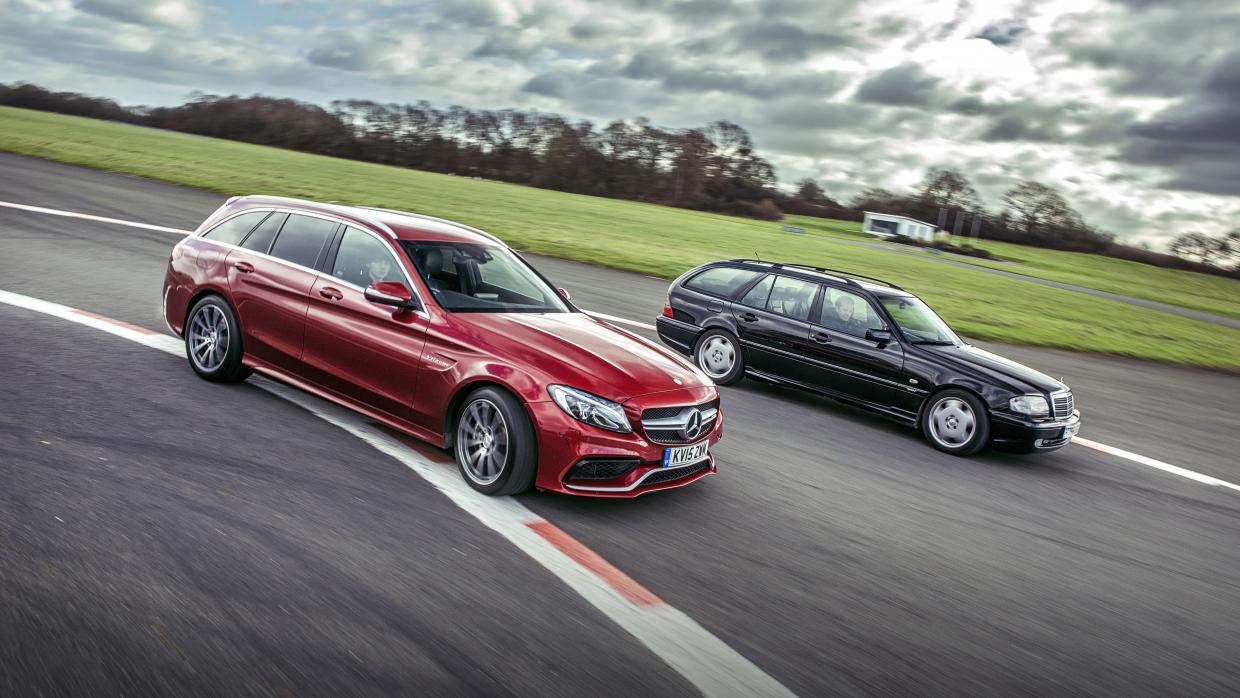 Estimate: £6,500
0-100: 6sec or thereabouts
Top speed: quick
Best bit: Driving if not Genesis, then certainly one of the early books
Worst bit: Knowing that better AMG engines exist
While there's a lot of love for the C63 wagon (and rightly so), it's always good to remember where you come from. And, in the case of blisteringly fast Merc-AMG wagons, things started about here. Sure, it was far from the first Mercedes-AMG tie-up, and it wasn't even close to the first AMG-branded wagon. But it was the first AMG built from start to finish in a Mercedes factory, not taken off the line and hand-fettled by AMG. It's also the first time a V8 found a place in a C-Class. And, judging by how the 4.3-liter V8 delivered—300hp and the same in torque—it was never going to be the last.
5) Volvo 850 T5-R/850R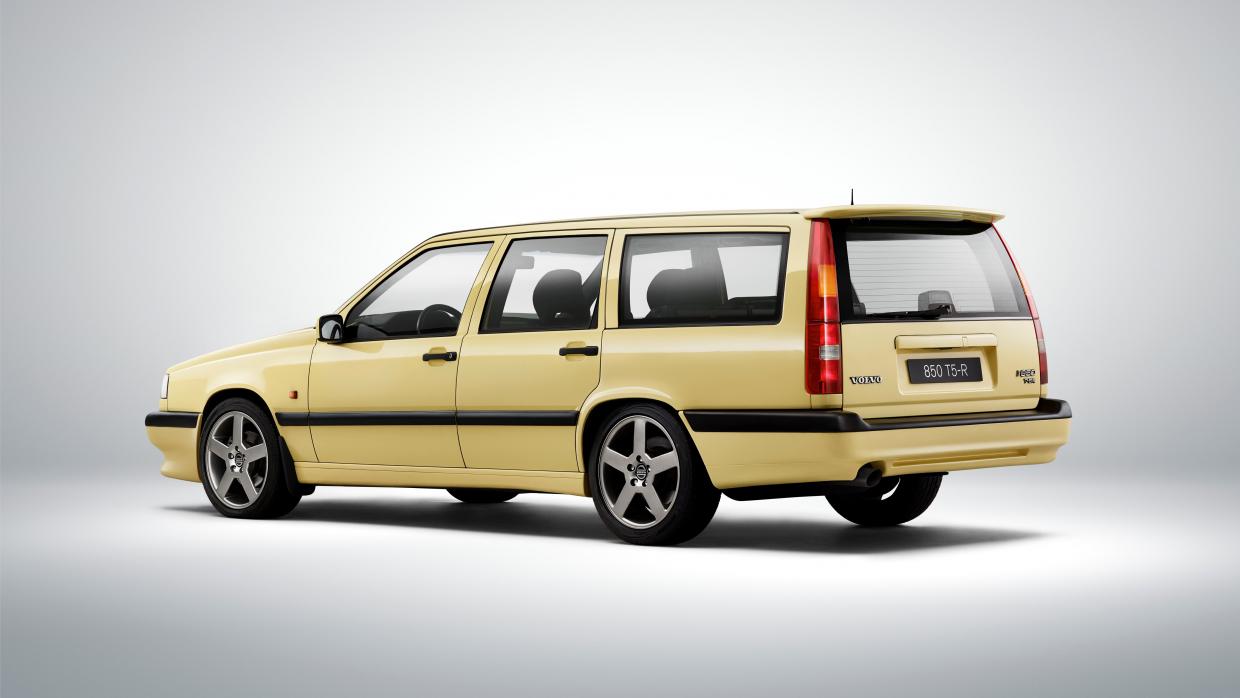 Estimate: £6,000
0-100: About 7sec
Top speed: 240kph or so
Best bit: Living out your BTCC fantasies
Worst bit: Realizing that BTCC will never be as good as it was in the '90s
"If you hear hooves," the saying goes, "you think horses, not zebras." And if you think wagons, it's going to be somewhere between a poofteenth and a picosecond before the primordial depths of your brain respond with 'Volvo.'
By now, you know about the 850's crowning glory—teaming up with Tom Walkinshaw Racing to make perhaps the coolest touring car of all time. And the good news is that, while not touring-car quick, the road-going T5-R and 850R aren't exactly slouches—with about 225hp and 325Nm going through just the front wheels, there's no end to the tire-scrabbling glee once the turbo spools up.
6) Mercedes-Benz E55 Estate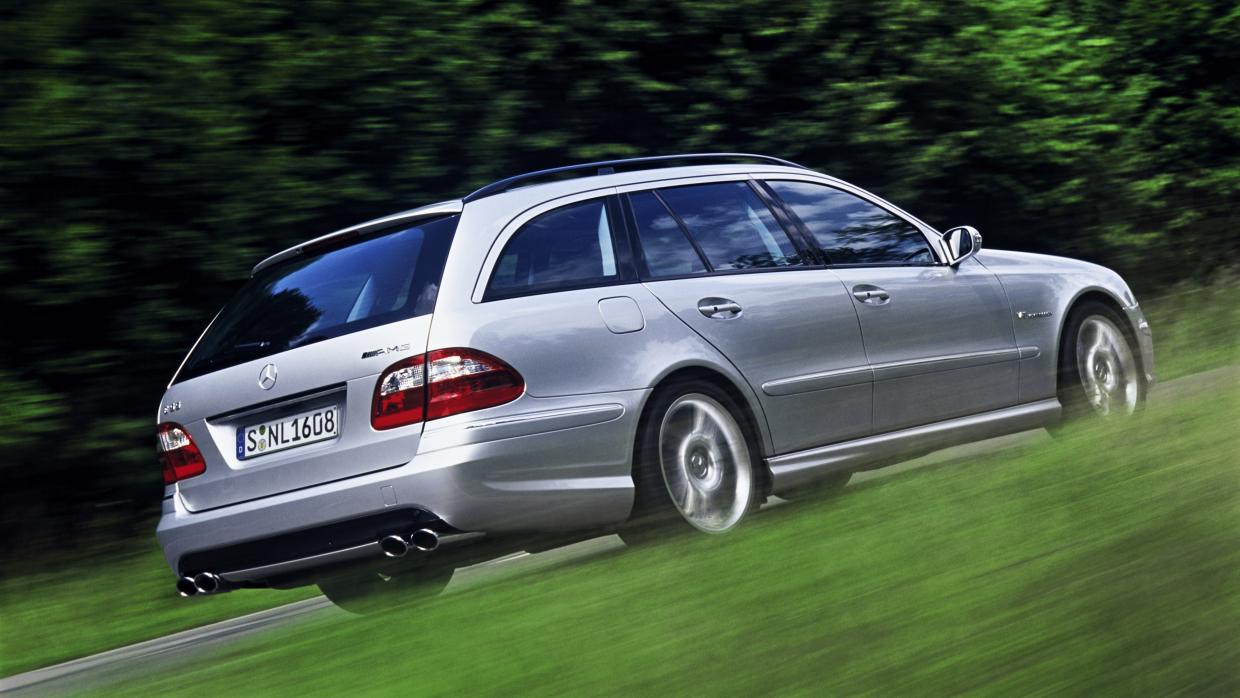 Estimate: £13,000
0-100: 4.1sec
Top speed: 250kph, easy
Best bit: Seven seats and a supercharged 5.4-liter V8? Where do we sign?
Worst bit: Ah...at the bottom of this massive repair bill
Before the runaway success of the C63—which cemented '63' as a byword for quick Mercs, even as the engines changed size—the best-selling AMG was this, the E55. Well, not this—most people bought sedans. But most people were, in fact, wrong. Because this is an E-Class wagon, it meant you could get a full seven people in your 470-odd-horsepower sled and terrify/amuse all of them at once.
The presence of superchargers, in our estimation, is always better than the absence thereof. And the E55 shows why—699Nm at the disposal of your right foot, blowing the newer (and still entirely excellent) 6.2-liter V8 into the weeds.
7) Mitsubishi Galant (Legnum) VR-4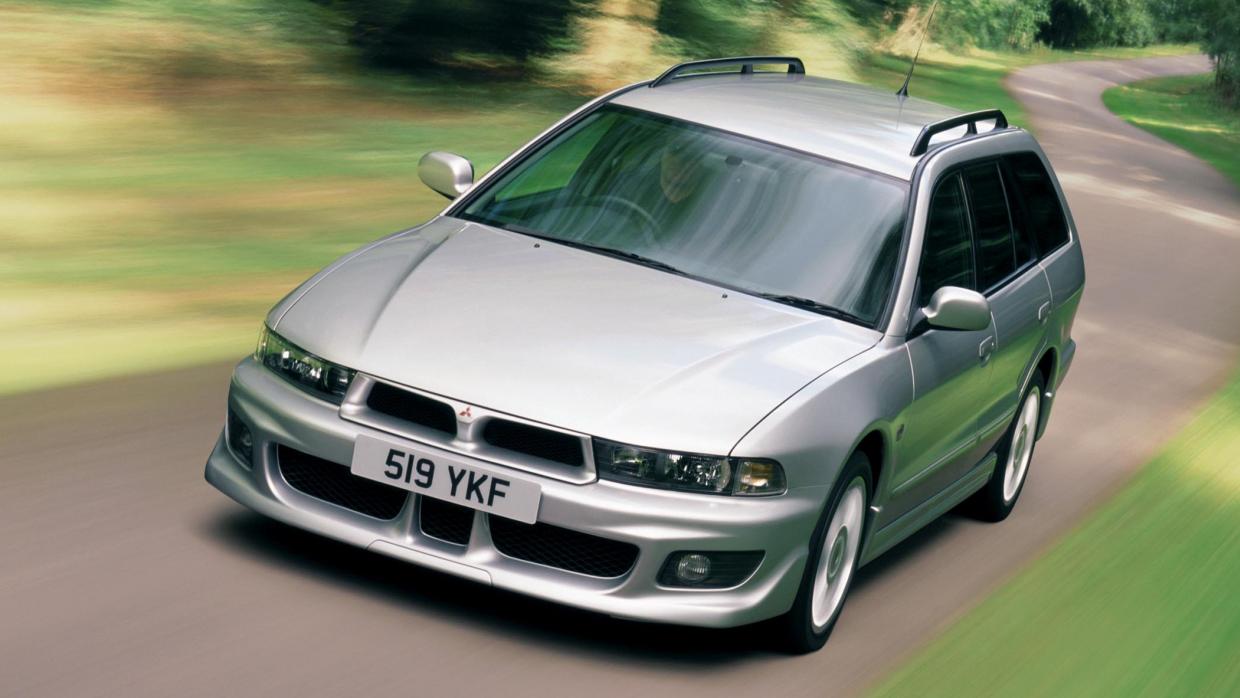 Estimate: £7000
0-100: 5.4sec
Top speed: More than 240kph
Best bit: No one else will know how good you've got it
Worst bit: Finding replacement parts if you break something
Okay, it's perhaps not the world-storming success story that Mitsubishi wanted from what it considered a top-tier product. But its obscurity is your opportunity, friendo—or are you going to tell us that you don't want a 2.5-liter twin-turbo V6 wagon with an all-wheel-drive system done by rally meisters, Mitsubishi? Didn't think so.
Is it pretty? No. But that price for two turbos, a V6, all-wheel drive, and nearly 300hp. That price for a car from the golden age of Japanese car manufacture. That price for something that'll likely keep pace with all but the newest hot hatches. And that's very attractive.
8) Chrysler 300C Hemi wagon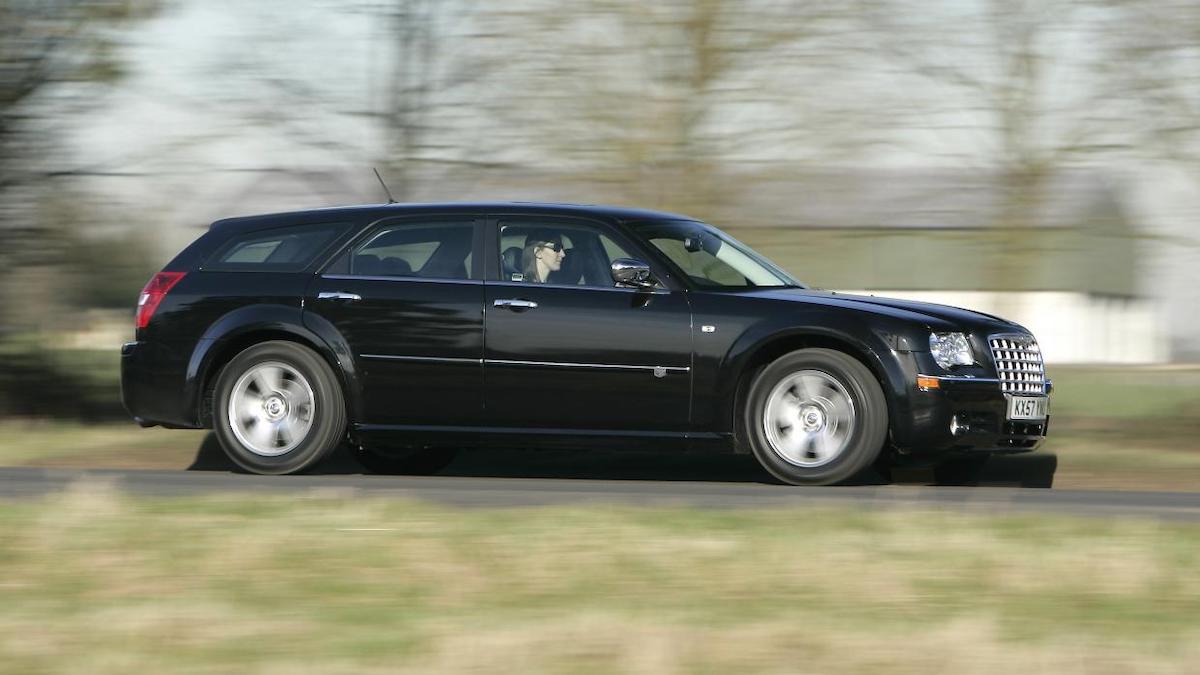 Estimate: Actual money
0-100: 7sec
Top speed: 250kph
Best bit: The engine
Worst bit: Everything else
As beautiful as a bedsore, as well-made as a McDonald's hamburger, and as subtle as a sledgehammer, the 300C is far from the first fast wagon we'd recommend. But we have this thing about 'balance' and 'fairness' and 'objectivity,' so we thought we'd find a few nice things to say about this pile of utter dross before self-administering eye drops and an anti-emetic and moving on.
So...it has a 5.7-liter V8, which makes nearly as much power as you would expect from an engine this size. It also has rear-wheel drive for as much fun as the always-on stability control will allow, right up until someone mistakes you for a rival drug dealer and leaves your corpse up a lane somewhere. And you won't even be classy enough to be found in a Range Rover. The shame.
9) Audi S6 Avant (2006)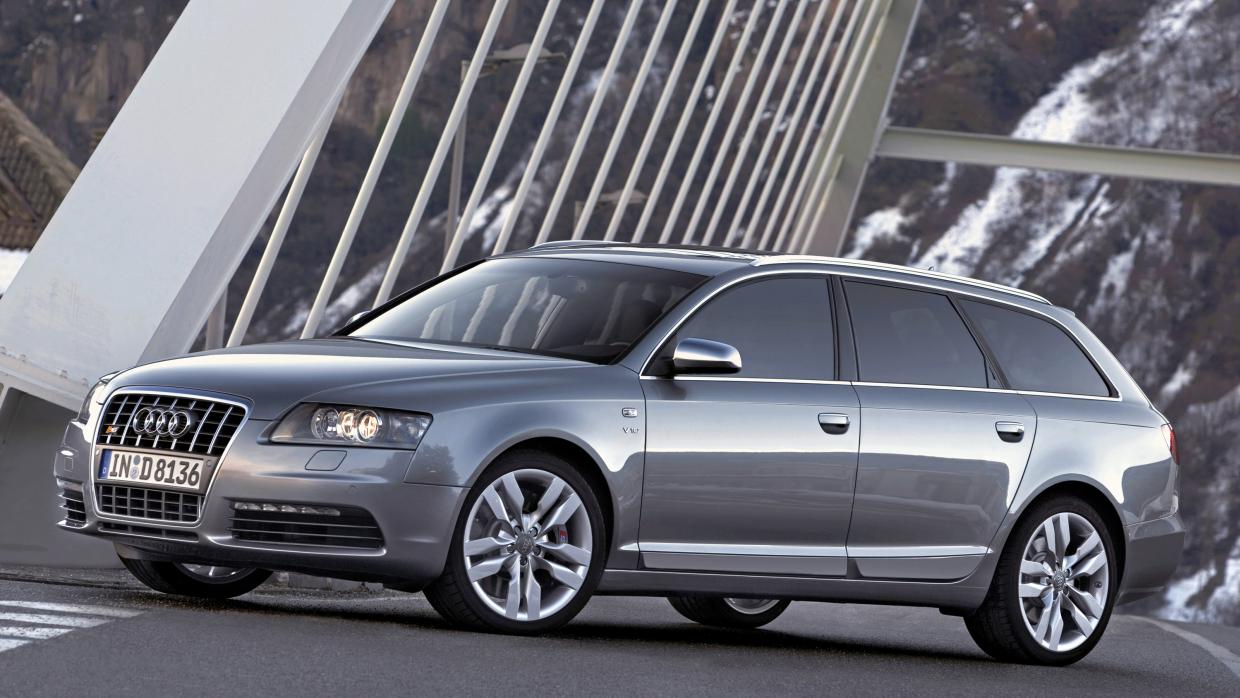 Estimate: £8,000
0-100: Under 5.5sec
Top speed: 250kph
Best bit: It has the same V10 as a Lamborghini
Worst bit: It also has the running costs of Balmoral Castle
Not going to lie: This one's pretty lust-worthy. Not because it's especially pretty, or a particularly great handler, but because of one very important thing—will anyone else you know have a Lambo V10-powered wagon to punt around in? Didn't think so.
Yes, you could have an RS4 or RS6 Avant from about this time, if you had more to spend. But aren't they just a bit...obvious?
You've heard of the elephant in the room, but a V10 wagon with 14 years under its belt is more like a sword of Damocles for your wallet. It'll fall one day, just as sure as night follows day and Williams F1 follows from the back of the grid. But the fun you'll have before then just might make it worth it. Possibly. Maybe. Almost.
10) Mercedes C63 estate (6.2-liter)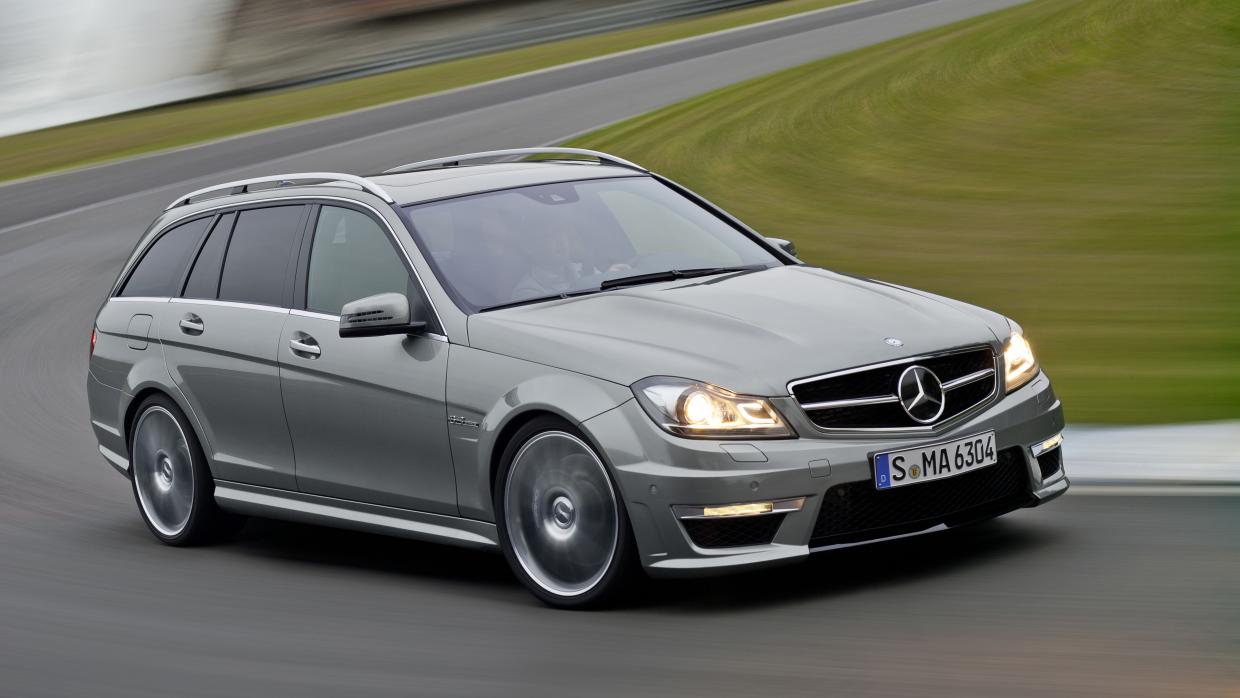 Estimate: £14,000
0-100: Around 4.6sec
Top speed: 250kph
Best bit: That glorious, sonorous engine
Worst bit: Fuel bills, tire bills, dpeeding tickets
Ever see a car journo use the phrase, "If this were my money?" It's basically saying that, even though we know there are objectively better choices out there, our hearts are set on something else entirely.
So, you'll know how much it means when we say that, even in this list of subjectively brilliant but probably fatally flawed choices, the C63 wagon stands apart as the one we'd most likely buy with our own money. As hilarious, rapid, or otherwise brilliant as almost every car on this list is, we'd still put our sort-of-hard-earned cash down on this absolute gem of a car.
Okay, yeah, it's the most obvious car on this list by some margin. But it's near-as-dammit one of our favourite cars of all time, so cut us slack this once.
11) Nissan Stagea Autech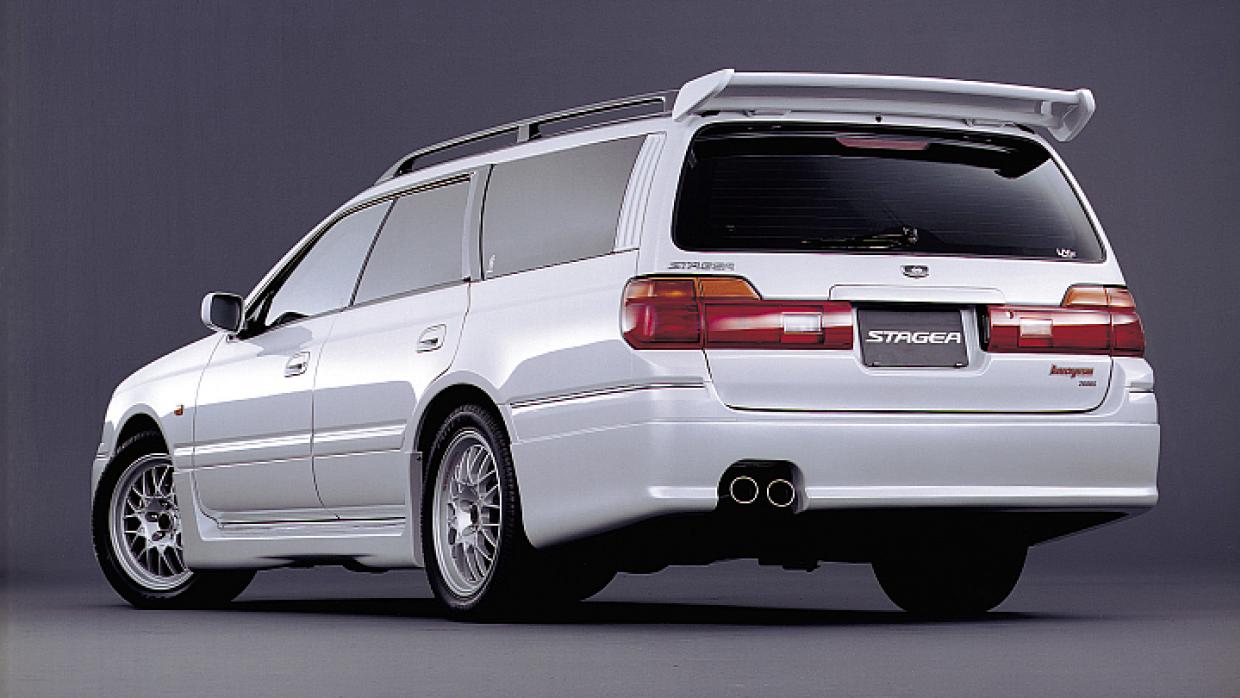 Estimate: £15,000
0-100: Less than 6sec
Top speed: 250kph
Best bit: Having a secret R33 GT-R
Worst bit: Answering 'the Nissan what?' for the umpteenth time
Let's get something out of the way, straight away—the Stagea Autech is based on an R33 Skyline GT-R—engine, four-wheel-drive system, and all. Sure, it's from the forgotten-butter-at-the-back-of-the-fridge school of design, but when you're secretly riding on the mechanicals of the storied Skyline GT-R, haters can just keep hating.
If you need a Stagea for less coin, weirdly, the newer one is your best bet. It loses the RB series straight-six, though—replaced by the familiar Nissan V6 used in everything from 350GTs to Muranos—so it might be worth pinching a few pennies... you know, while they're not looking.
12) Toyota Crown Athlete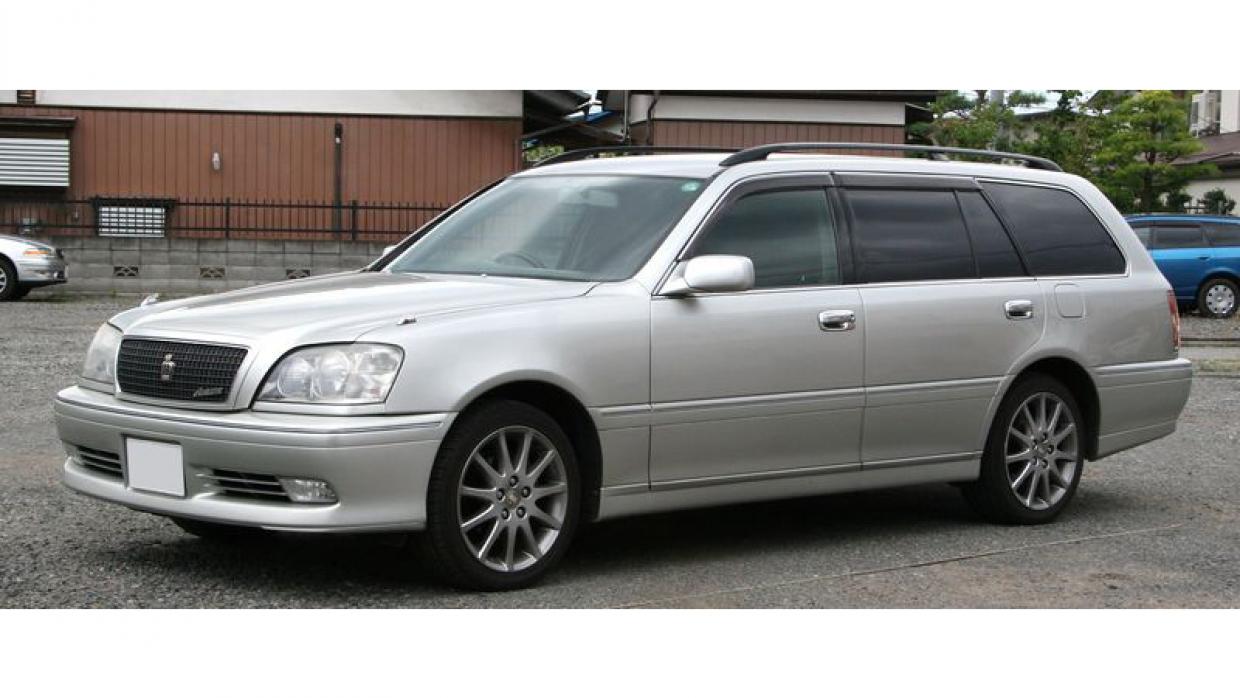 Estimate: AUD13,000 (about £7000)
0-100: Less than 8sec
Top speed: 177kph (limited, as per JDM cars of the era)
Worst bit: The satnav and all the buttons are in Japanese
Best bit: Learning Japanese!
Before you clicked into this article, you probably already had an idea of what you'd find. Audi RS? Of course. Volvo? Definitely. Merc? Natürlich. Well, we're going to go out on a limb here and say that the Toyota Crown Athlete probably wasn't on your mental list.
But, and this might just be nascent oddball JDM adoration talking, we think it should be. Mostly because under the hood, there's a twin-turbocharged 1JZ. That's basically a 2JZ, just displacing 2.5 liters instead of three, and with parallel turbos (or in this case, a single turbo) instead of sequential ones. At least for the 15-and-a-half seconds that you leave the standard turbos in; with some fiddling (and yes, overnight parts from Japan), you can get 600hp or even 700hp on the stock 1JZ-GTE block, making one of the best proper street sleepers we can imagine.
13) Volvo 1800ES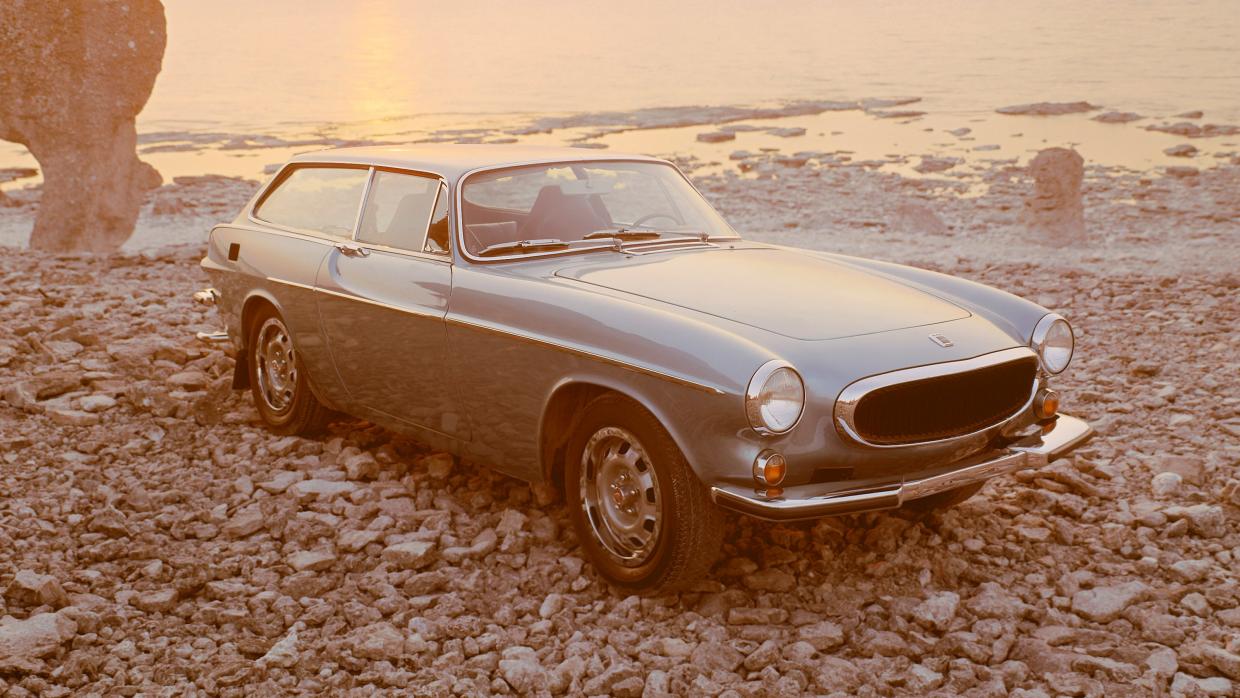 Estimate: £12,000
0-100: Ooh, a while
Top speed: Still faster than plod would prefer
Best bit: Some of Volvo's best-ever styling, and it's a proper shooting brake!
Worst bit: We had to use mental gymnastics to include it on this list
Here us out, okay? A 2.0-liter naturally aspirated Volvo engine from the '70s isn't even speaking the same performance language as a new RS6, but who wants to always speak the same language—especially if it's German? Have you heard a German say 'I love you' in their native tongue?
So, why not take a break from this obsession with power and speed, slow down, and actually take life in before it slips through your fingers, leaving you old, decrepit, and full of regret. Okay, got a bit dark there, but our point is the same: Sometimes, slow is better than fast. Oh, and if that still doesn't do it for you, there's always the possibility of an engine swap...
NOTE: This article first appeared on TopGear.com. Minor edits have been made.