1) Bugatti Veyron Super Sport - 430kph
In July 2010, James May did his best to max the ultimate Veyron at the Ehra-Lessien test track. You'll have seen him manage a massive 417kph on TopGear telly—just before Bugatti's test driver Pierre Henri Raphanel lifted the average to 267mph (430kph). Order was restored: Bugatti was once again for the fastest car in the world. But not for as long as we—or they—might have expected…
2) Hennessey Venom GT - 435kph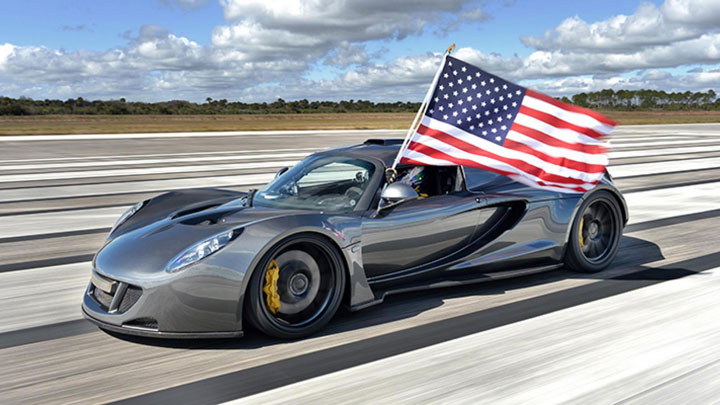 Because Hennessey's Venom GT is strictly sold as a modified Lotus Elise, and because it only did one top speed run in one direction rather than an average of two, and because there are far fewer Venom GTs in the world than Veyrons, it's fair to say the American claim to the fastest street car throne has always been a contentious one.
Continue reading below ↓
Recommended Videos
But you can't argue with the raw numbers: back in February 2014, one of these 1,400hp monsters did indeed breach a verified 270mph (435kph) on the Kennedy Space Centre's ex-space shuttle runway. 'Murica!
3) Koenigsegg Agera RS - 446kph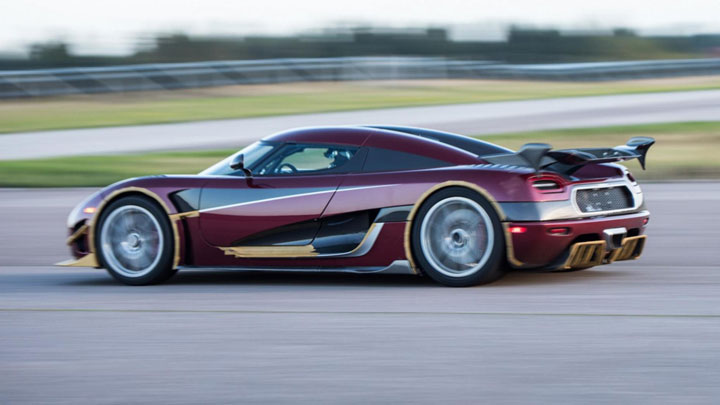 The ante was upped once again in late 2015. Bugatti had failed to max a de-limited Chiron, so Koenigsegg stepped into the breach with the final, ultimate edition of its Agera RS, outputting 1,340hp. On a closed road in Nevada, driver Niklas Lilja managed a two-way average of 277mph (446kph), and hit 285mph (459kph) in one direction, with the wind behind him. The arms race continued.
4) Bugatti Chiron Super Sport - 489kph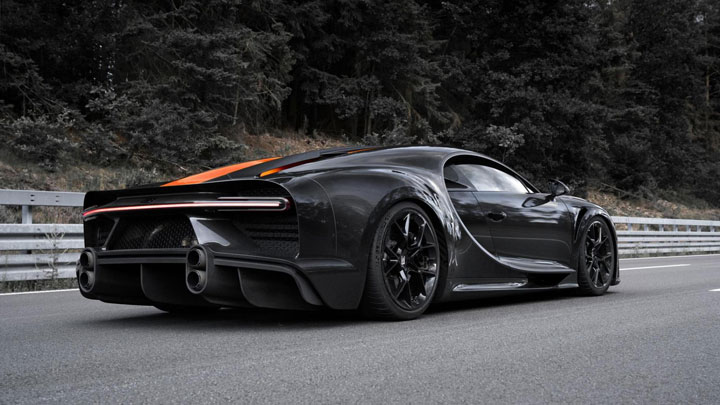 They only went and did it. Welcome to 2019, and the first production car to officially exceed 300 miles an hour. Driven by Le Mans-winning Brit and TG hero Andy Wallace, on the exact track where he maxed the 242mph McLaren F1, the longtail, powered-up uber-Chiron hit the big three-hundred. And yet, somehow, we doubt the Chiron SS will stand for all time as the fastest street car ever…
5) Porsche 918 Spyder - 6min 57sec at the 'Ring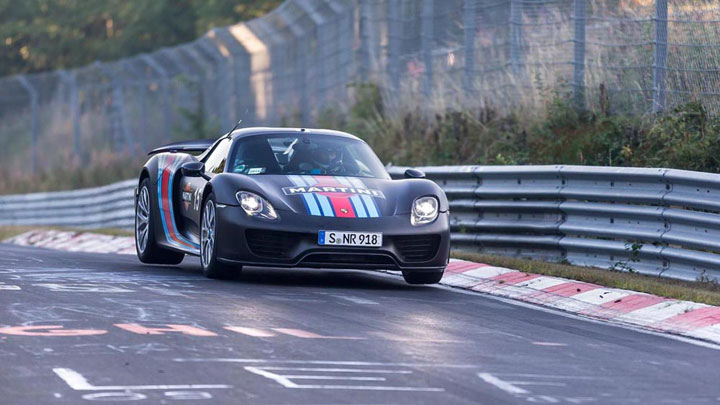 And so we move from the top speed battle to the squabble over The Green Hell. The game really hotted up in March 2014, when Porsche stunningly announced that the 918 Spyder had become the first street car ever to perform a sub-seven-minute lap of the fabled Nürburgring. And if you want to see progress in action, stay tuned, because a souped-up 911 has now managed to make that time look tardy…
6) Nio EP9 - 6min 45sec at the 'Ring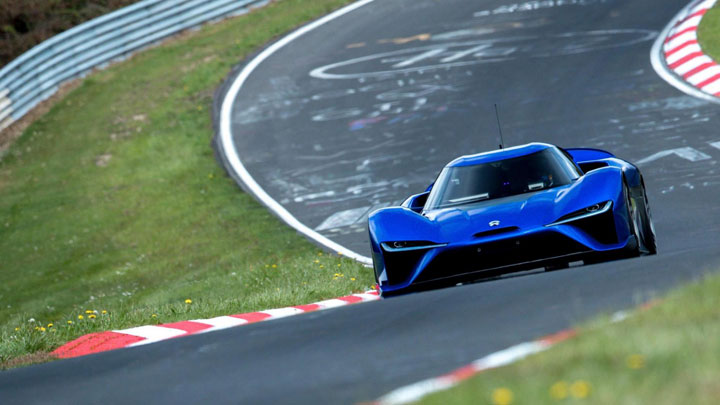 And then in May 2017, out of nowhere, an electric supercar from a start-up you've never heard of rolled out of China, performed one hail-Mary lap of the 'Ring (because that's all it could do before the batteries expired), and, with Scottish speed merchant Peter Dumbreck at the wheel, dropkicked EVs to the top of the Nordschleife speed charts. Petrol wasn't gonna allow that, though…
7) Lamborghini Aventador SVJ - 6min 44sec at the 'Ring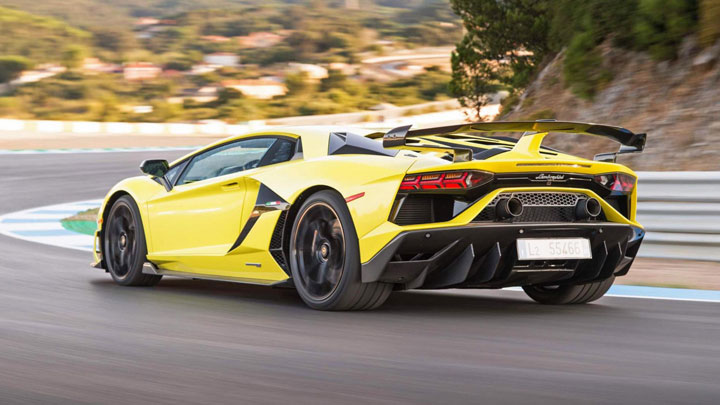 Lamborghini had already proved its lap record chops when the Huracan Performante set a controversial lap record of 6min 52sec in early 2017. The ultimate Aventador deployed its trick aero and massive V12 to snatch the record back from Team Electricity in July 2018. But then, a jumped-up Beetle spoiled the party. 
8) Porsche 911 GT2 RS MR - 6min 40sec at the 'Ring
On 25th October 2018, a Manthey Racing-modified version of the ballistic Porsche 911 GT2 RS smashed the 'Ring record down to a six-minute forty. And because you can actually buy one with all the mods attached—mostly better aero, courtesy of the bigger wing and front flicks—it counts as a new street legal speed record. 
Mind you, if it's a specialized Porsche you want for 'Ring duty, you can do better…
9) Porsche 919 Hybrid Evo - 5min 19sec at the 'Ring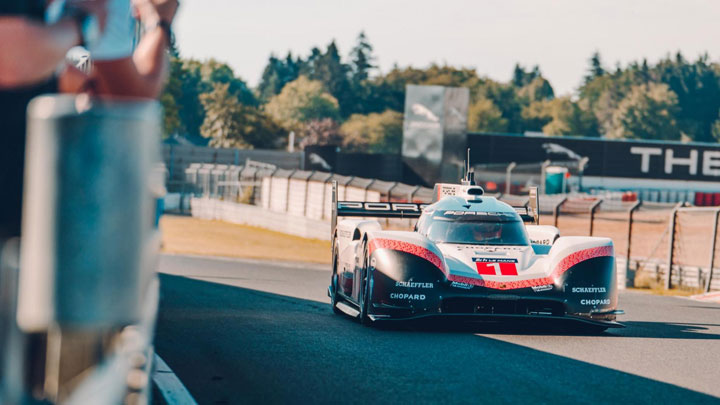 Because you could take a Le Mans prototype, bin unnecessary headlights and ramp up the power and downforce, then nuke the Ring record for all time. Timo Bernhard was the brave soul behind the wheel, which saw Stefan Bellof's record from 1983 beaten by a whopping 52 seconds. 
And of course, this wasn't the VW Group's only crazy-fast prototype record-setter this decade…
10) VW ID.R - Goodwood Hill record, Pikes Peak record, Nürburgring EV record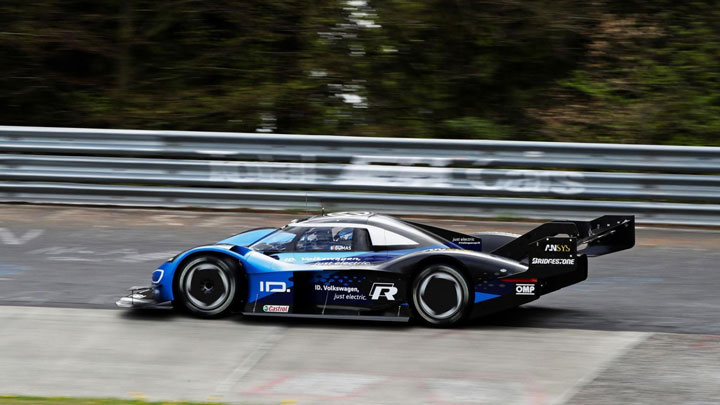 Yep, it's fair to say that VW's hey-look-at-this-super-EV-don't-look-at-those-diesels one-off is hardly an under-achiever. It's blitzed the Goodwood Festival of Speed's driveway (completed in 39.9 seconds), taken the Pikes Peak crown (7min 57 seconds) and lapped the 'Ring in 6min 5sec—the fastest EV ever. 
11) Koenigsegg Regera - 0-250mph-0 in 31.49sec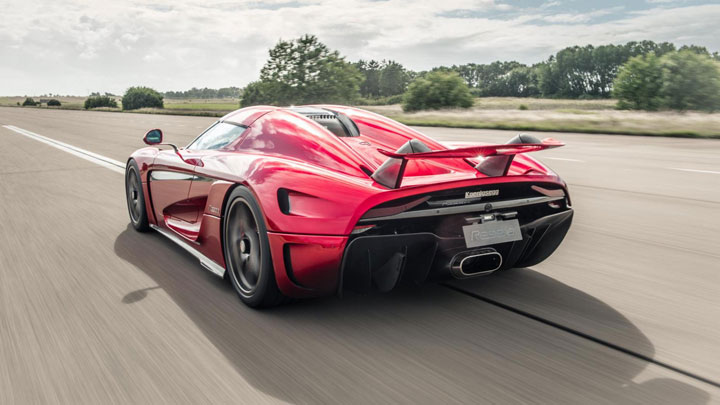 Okay, fine, it was 0-249mph-0. Because while that's not a very satisfying round number in imperial units, in the metric system that's 0-400kph-0. It matters. And the Regera got itself from rest to 400 to rest again in a little over 30 seconds. Which sounds impressive. Until you learn that the mighty Bugatti Chiron, when tested over the same exercise, took a yawn-some 41.96 seconds. Koenigsegg is by no means out of the speed wars.
NOTE: This article first appeared on TopGear.com. Minor edits have been made.