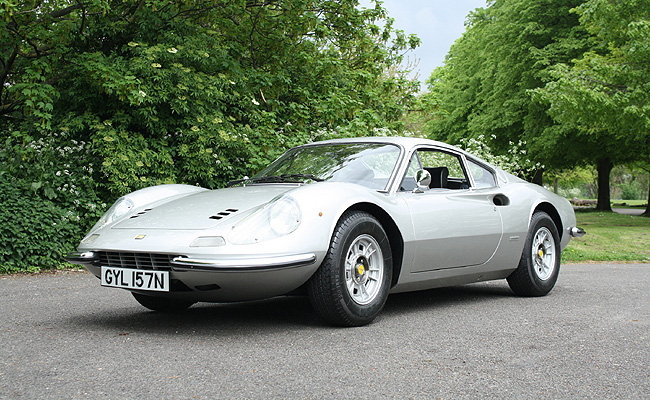 Rock stars and cool cars go together. John Lennon's first car was a 1965 Ferrari 330 GT 2+2, while Paul McCartney once had a 1964 Aston Martin DB5. Both cars went on the auction block in 2011 and 2012, respectively. Well, joining them soon is a 1972 Ferrari Dino 246GT once owned by Rolling Stones guitarist Keith Richards.
To be auctioned off by Coys tomorrow, May 9, "at no reserve," the Dino was purchased brand-new by Richards in California in February 1972 and added to his already-extensive collection of cars. He then brought it to the United Kingdom in 1975, where it stayed with him until 1986, driving over 25,000 miles (over 40,000km) in it. The car has then spent time "in a prestigious Japanese collection."
Supposedly accompanying the car is a letter from Rolling Stones manager Alan Dunn confirming Richards' ownership and the car's mileage up until April 1986. Also included with the car as part of the auction are its warranty card, a spare wheel, jack, and a rare original tool roll.
"A Dino offered at no reserve is rare enough in itself and would make this is a highly desirable and collectible item in its own right, but when one adds to this proven long-term ownership by rock-and-roll aristocracy, Keith Richards's car has to be the ultimate Dino and will surely give any car collector and rock enthusiast a great satisfaction," said Coys managing partner Chris Routledge.
Continue reading below ↓
Recommended Videos
How much would you be willing to pay for this car?