"Ever looked at something and wondered how it got there?" We look at this Ford Explorer pictured above and we're thinking the exact same thing. How—and more important, why—on earth is that SUV on top of such a tall structure?
Apparently, that's a plug-in hybrid Explorer on top of Norway's 47m OVER tower, the tallest free-standing climbing tower in the world. Ford really did take the 'Explorer' name to the next level, huh?
Well, this is all part of Ford's Explore New Heights challenge, a project that the American carmaker worked on alongside OVER. There were 14 elite climbers who were recently invited to scale the tower, and the one to set the fastest time would win a free two-year lease on the vehicle.
"It takes the most adventurous customers to really test a vehicle as capable as our Explorer Plug-In Hybrid, so we knew that not even the world's tallest free-standing climbing tower could stand in their way," said Dan Jones, Passenger Vehicle Communications senior manager at Ford of Europe. "Our goal with Explore New Heights was to create an inspiring symbol of exploration and adventure as people across Europe start to head out and enjoy the summer after a challenging year."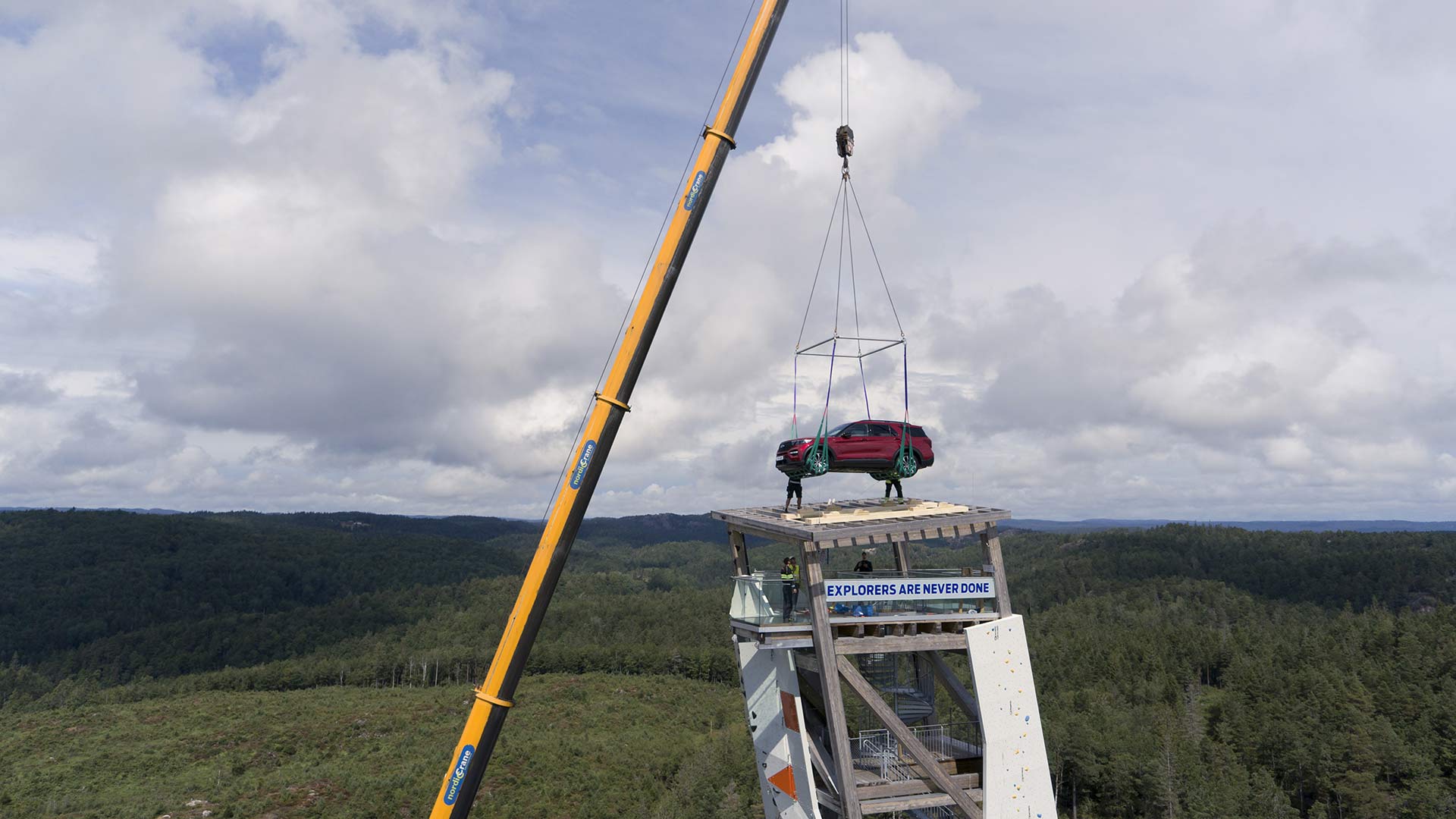 21-year-old climber Leo Ketil Boe from the city of Bergen in Norway emerged victorious, completing the task in just 3min 33sec. He was also awarded a 1:100 scale 3D-printed OVER tower replica trophy.
"Norway is one of the world's most progressive markets for electrified vehicles, so the OVER tower was the clear choice to host a challenge involving our pure-electric-capable, seven-seat SUV," added Jones.
The Explorer will stay atop the tower until August 27, 2021, and visitors may get a chance to win a limited-edition shirt and a photo opportunity "even if they use the stairs." If you want to see more, you can check out the video and other photos below.