Someday, and that day may never come, I'll be able to explain my unbridled love for aggressive, tail-happy muscle cars.
It's not an age thing. I'm a '90s kid raised on Home Along Da Riles reruns, Nickelodeon cartoons, and EK Honda Civics. Yet when The Fast and the Furious came along and all my friends frothed over the decal-laden Supra with its 2JZ engine, my gaze was firmly fixed on those 900 horses of Detroit muscle.
No, I'm too much of a millennial to remember the heyday of American cars on this side of the world. When you think about it, muscle cars are the antithesis of the modern-day industry as we know it. Where most manufacturers are gearing their products toward turbocharging, electrification, self-driving and what-have-you, big-engined muscle cars stand on their own as a kind of throwback to an increasingly distant past.
So, what's my reason? Was it the years I spent living in Australia? With enough time down under, even the most Anti-American purists can appreciate V8 Supercars and the Ford vs. Holden rivalry. So maybe the 'Strayans are to blame.
Or perhaps it was my father's influence that did me in. Unlike me, he's actually old enough to have lived in the post-US occupation days of our country, and to this day he talks about cars like the first-gen Ford Mustang with the kind of hushed reverence you'd usually save for iconic basketball players. Those old ponies, he tells me, were every bit as macho as Jaworski.
No matter the whys, my mush for muscle has always been there. And when the Top Gear PH editors needed a writer to drive the new Mustang convertible, my arm went up quicker than the car's RPM gauge. It's not as if I had much competition, though—among the younger staffers, I'm almost alone in my admiration.
But it wasn't love at first sight. I had my reservations about the new topless 'Stang, even as I stared at it on the Manila International Auto Show floor. It didn't help that the automatic variant you see here is the most expensive of the lineup at P3,678,000. But more than that, my biggest issue was with the number of seats. Convertibles with more than two chairs have never sat well with me. I've always felt an elongated body messed with the long hood/short rear overhang aesthetic that makes convertibles so mesmerizing to look at. I tend to favor the MX-5s of the world, at least in photos, over the C-Class Cabriolets.
Yet, this Mustang's long body still works in top-down form, thanks in large part to the stretched doors that improve the car's overall visage. The slanted pillars help, too, creating a much more symmetrical silhouette. With the soft-top up, you don't get the distinct slope of the fastback – so it's as if you're encouraged to go without and feel the wind in your hair at every opportunity.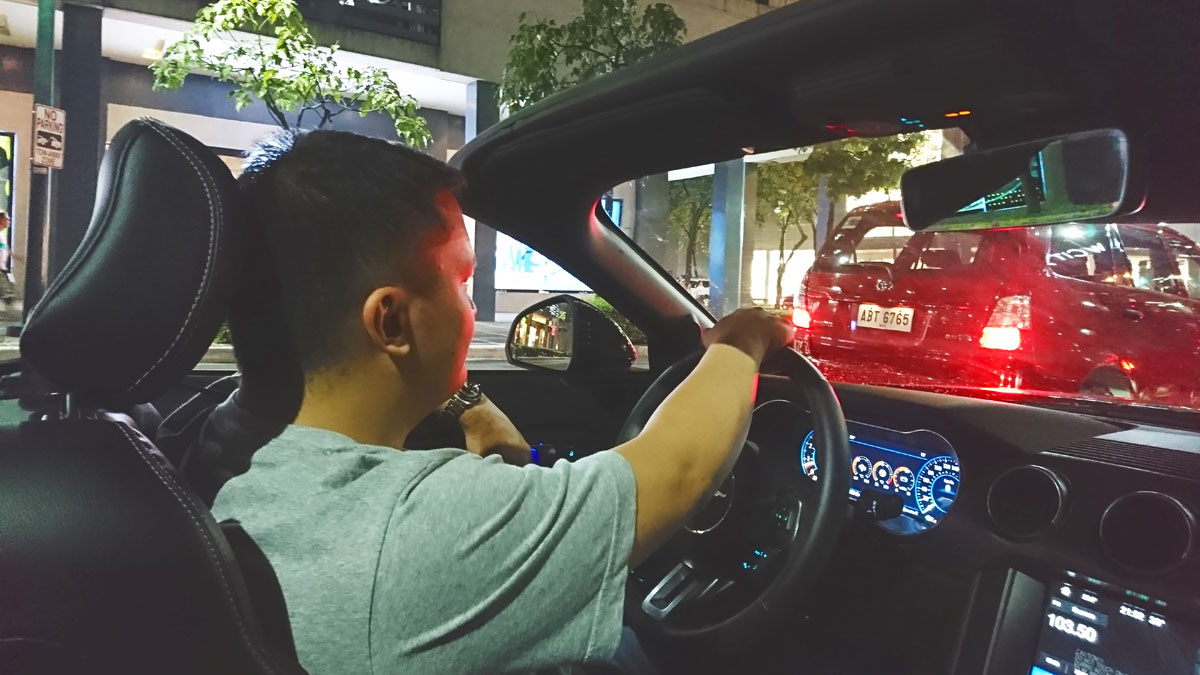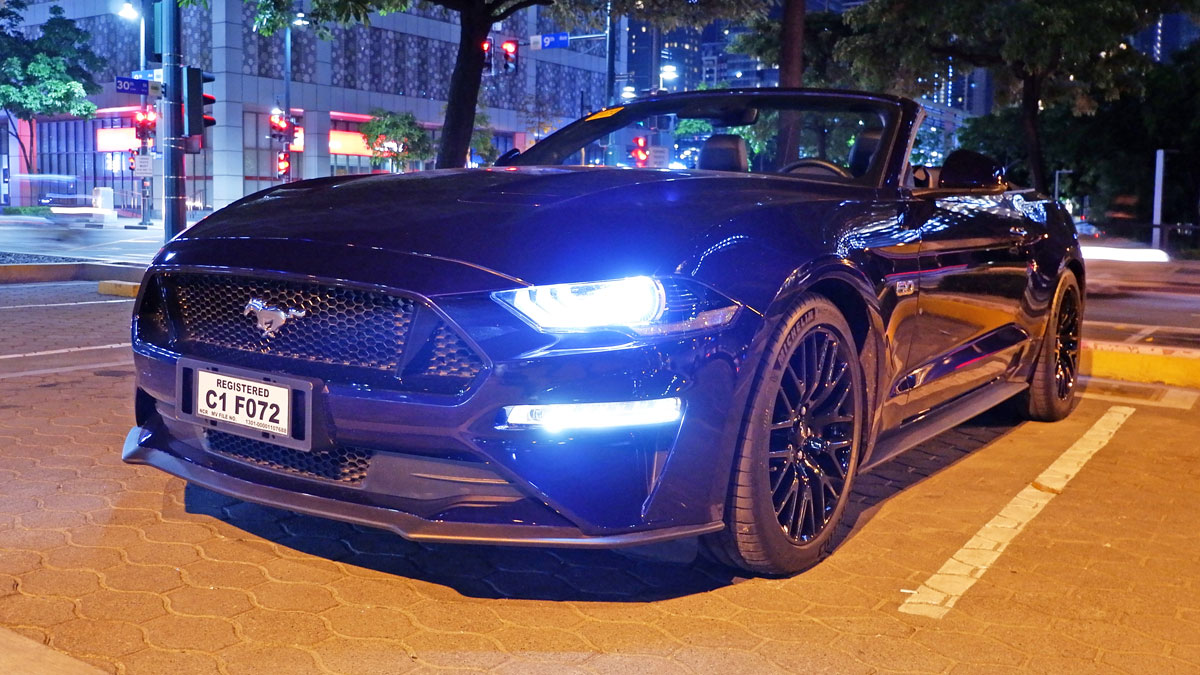 Speaking of the roof, the NVH levels with the cabin closed off are surprisingly solid. Road and wind noise are no problem, and even the engine's roar gets muffled by the fabric. But if you want to go au naturel, you can easily unlock the big plastic handle on the ceiling and press down on the switch.
The 460hp, 569Nm 5.0-liter V8, as you can guess, hums with a low gurgle while idling and bellows a wholehearted growl when your foot hits the floor. Power is delivered to the rear wheels right away and there's no noticeable delay in acceleration. Even though this particular convertible is fitted with a 10-speed auto box, at times it still feels like you're dealing with an old-school stick; there's a slight nudge from the gear changes when you're speeding up and braking hard.
A new feature here is the Active Valve Performance Exhaust, which has electronically controlled butterfly valves to modulate the exhaust note. You can choose between Quiet, Normal, Sport, and Track modes depending on your taste and fondness for waking up the neighbors. This is a nice little touch for mature buyers who want to be a bit low-key about their in-your-face ride.
For better or worse, I don't have that problem. I just feel sorry for all the defeaned motorists who had to witness the car scream across every tunnel I passed.
The steering wheel is a throwback with its size and feel. It's large even for the car's sizeable girth, and its weighty handling is more suited for cruising than agile cornering. The convertible is evidently heavier than the fastback, which you can tell when you take a turn too quickly and the rear-biased weight flicks over and jars your lower back.
Thankfully, the Mustang's ride is better this time around thanks to the MagneRide Damping System borrowed from the Shelby GT350. Ford explains that the suspension now adjusts up to 1,000 times per second to changing road conditions. It's still not plush, but it's a big improvement over the old one.
Naturally, cruising around in a Kona Blue convertible Mustang gets you all kinds of looks, stares, and questions from passers-by of all walks of life. It didn't matter whether it was whooshing along a highway or idling against the urban hum of Manila's nightlife. People can't help it. This kind of car simply begs to be admired.
And perhaps that's the biggest reason I adore rear-wheel drive cars with big V8s. No, they don't handle with the finesse of a European sports car. They're not as efficient or affordable as many JDM icons. And they're hardly the fastest cars in the land. But they've never pretended to be any of those things.
Like what Hans Gruber said, maybe muscle cars are just the product of a culture who grew up on too many John Wayne movies. But so what? John McClane made no bones about what he stood for.
And like McClane, cars like the Mustang are loud, bold, and unashamed about what they are. And while they do adapt to modern trends in one way or another, over the decades they've largely stayed the same. They're still not that practical, they've still got thirsty tanks, and they're still fun as all hell to launch in a straight line and tear through every echoey tunnel in sight.
No, the Mustang doesn't need your approval. It's either you love it or you don't. It's not an age thing, or a matter of upbringing. It's a muscle thing. Yippee-ki-yay.