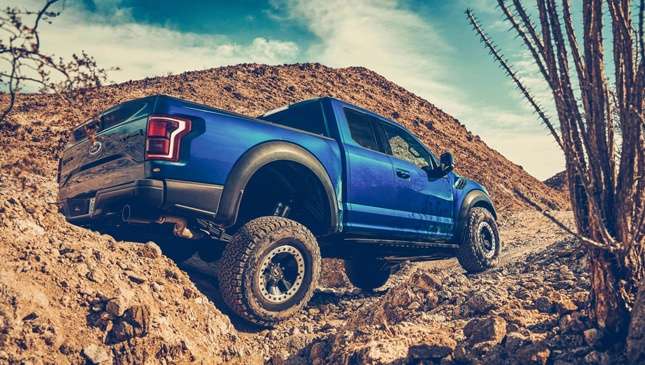 The frankly polite noises the engine and exhaust produce just do not match the unhinged madness unleashed by this second-gen desert pre-runner. Something this big, this fast and this capable needs a well-thrashed V8 on full song to provide the necessary aural backdrop. Or, at least, that's what your mind tells you.
ADVERTISEMENT - CONTINUE READING BELOW ↓
But your mind is wrong this time. Very wrong. While any car or truck can usually be improved by the addition of a bent eight motor, the very fact that Ford has left it out of the new F-150 Raptor is key to the truck's extraordinary new appeal and abilities. By building the new one around a 450hp/691Nm twin-turbo V6, the dust and cactus-splattered division of Ford Performance has been able to create a truck that's not just a bit better than the original. It's in a completely different league.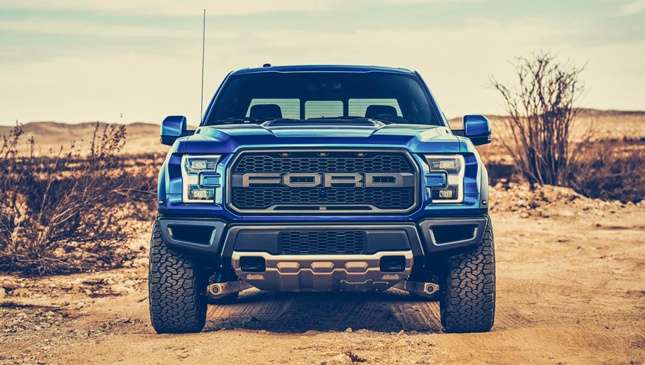 ADVERTISEMENT - CONTINUE READING BELOW ↓
Recommended Videos
A league where, instead of looking like you can blast down a desert track all day at 161kph, then finding out after the first really big bump that, er, 80kph might be more sensible if you want to keep body and truck in one piece--the normal sequence in the original Raptor--now you really can.
A league where you don't have to keep a gas station in sight at all times to ensure you don't run out of fuel. Or have to explain to passengers that it's limited to 161kph because of the tires. You can now run it up to 177kph as and when the mood and terrain takes you.
All of this is real progress towards Maximum Fun. And none of it is by accident. Ford has spent the last few years sweating the details to get this truck right. Starting with the chassis, you can see where the time and money has been spent.
ADVERTISEMENT - CONTINUE READING BELOW ↓
There's now a super-chunky Raptor-only steel-box frame that looks like it's been borrowed from a road bridge. Bigger-diameter Fox shocks with longer travel front and rear. Special hydraulic bump stops--not just plain rubber as before--which help absorb the big jumps. Plus there's greater ride height and--you can forget trying to get through width restrictors in this--a 6-inch wider track, too.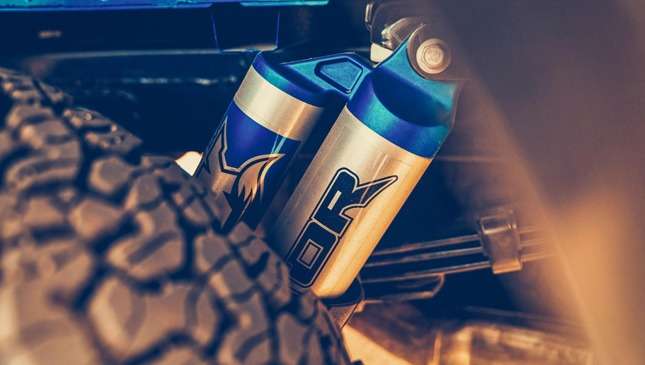 ADVERTISEMENT - CONTINUE READING BELOW ↓
The 3.5-liter engine, for all its lack of voice out of the true two-into-two 103Nm and 39hp more, uses 23% less fuel and has a 22% improved torque-to-weight ratio.
Allied to the Gen 2's lighter weight--up to 227kg less model for model thanks largely to an aluminum body--this makes it much more alert and urgent. It's almost 1.5secs faster to 97kph than the Gen 1.
This comes in handy when you want to make the truck fly, which we'll get to in a minute. And it's despite the ten-speed gearbox fussing over exactly which gear fits each moment in time. You can yank on its paddles if you want to feel involved, but you will quickly realize you are inferior.
So it's best left alone to get on with its conversation with the transfer case, which is itself packed with more algorithms and computing power than SpaceX HQ.
ADVERTISEMENT - CONTINUE READING BELOW ↓
Having tried it in all of its six modes--leave it in Sport on the road, Baja mode for mad off-road drives and Rock Crawl for the lumpy stuff--it works so well you hardly notice it.
Again, you can configure the steering and 2WD/4WD switches yourself if you're OC, but the sensible option is to leave it to the truck. It knows what it's doing. Which is to propel you down, across or over whatever terrain you choose, at speeds you just wouldn't think sensible or possible. Just like the old one, only more so.
What's not like the previous-gen truck is that special, almost aftermarket, feel. When we first locked eyes on the thing back in 2008--yes, that long ago--it looked like a Baja racing team had jacked up and tuned a standard F-150. Now, though, the Raptor is more mainstream in its look and feel--a little less renegade, more corporate. That's not a complaint, just an observation. It's faster, quieter, smoother, better-handling, and a million other things better besides. But it just doesn't feel as baaad as the original.
ADVERTISEMENT - CONTINUE READING BELOW ↓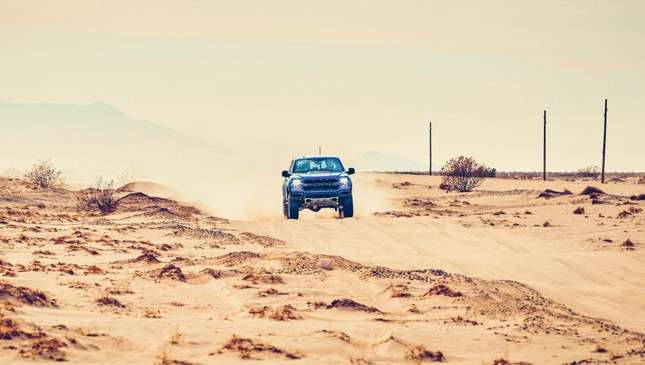 Until you get off-road, where it's clear this one is leagues better. Looking at the truck without its bodywork on, you can see how far back the much smaller and lighter V6 is mounted compared with the old V8. You can feel this on the road immediately, the truck turning much more readily on its Gen 2 BF Goodrich KO2 tires.
ADVERTISEMENT - CONTINUE READING BELOW ↓
But turning left off the highway in Borrego Springs, CA, the spiritual home of the Raptor and center of its off-road development, slipping the mode switch to Baja and flooring the throttle is something everyone should get to do once in their lifetime. You simply won't believe what this truck can do.
And when I say this truck, I mean the SuperCab with its Raptor-only special 3,409mm wheelbase. This is the coupe of the range and the best for off-road activity as it's another few hundred kilograms lighter--with exactly the same power--than the four-door SuperCrew model. So if you are planning to get air in your Raptor, which we are just about to do, this is the one to choose.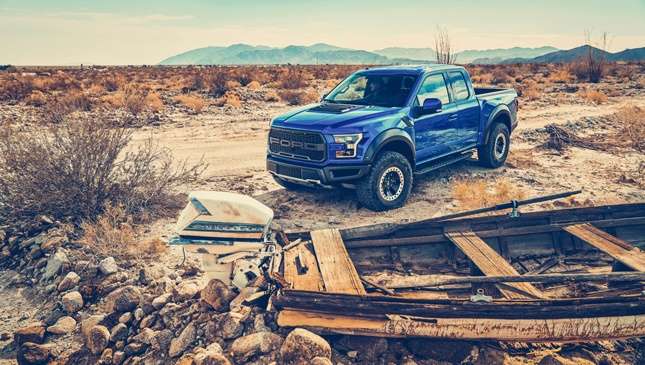 ADVERTISEMENT - CONTINUE READING BELOW ↓
Another good choice is to take someone with you who knows, really knows, what they are doing off-road. Ideally someone who worked on the development of the Raptor, who has raced and placed in the Baja 1000 several times and won a string of off-road awards. Someone, in other words, like Shawn Umphries. I'll give you his running commentary as we proceed, so you have his wisdom not my dodgy thoughts on how to handle a Raptor.
So, back to the trail… With a windshield full of dust from another Raptor churning up the sandy track ahead, I'm steady on the throttle absorbing Shawn's instructions. Straining to see anything other than a vague outline ahead, I feel like we must be crawling. But when I glance down at the speedometer for the first time, I see we are doing 113kph. Ah. The Raptor feels composed and responsive--the steering eerily light but faithful with the right throttle inputs--ricocheting along the tops of the cross ruts.
ADVERTISEMENT - CONTINUE READING BELOW ↓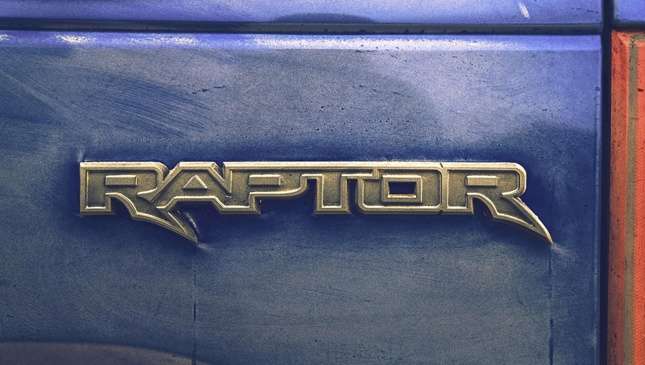 When a deep gully looms out of the murk at the last moment, Shawn barks to hit the gas, and the engine, with its anti-lag dialled up, spools up instantly and flicks us over the mound, the suspension hardly noticing the incident. In the Gen 1 truck, of which I've had three, I know it wouldn't have ended that well and have the scars and stories to prove it. In this new one, it just encourages you to go faster. So we do.
ADVERTISEMENT - CONTINUE READING BELOW ↓
At around 153kph there's still no sign of the truck being anything other than happy in its work. The cabin is still calm and quiet, and Shawn and I are laughing at just how crazy this is--we are doing almost double the legal US limit in a production truck which costs under $50,000 (P2.52 million). Off-road. But we still haven't got to the new Raptor's party piece yet--the jump.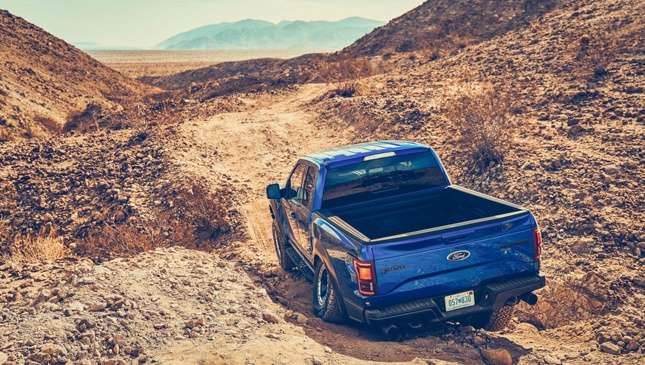 ADVERTISEMENT - CONTINUE READING BELOW ↓
Or have we? Knowing the track as well as he does, even in this mechanically stirred dust storm, Shawn is in full coach mode for the approaching take-off. He says it, I do it. "Okay, so square yourself to the front of the jump," he says grabbing the hero handle with his right hand and pointing at the approaching mound with his left.
"Stay on the throttle when you hit the face and keep it on all the way up--that will make the truck fly level. If you brake or come off the throttle the front end will dig and you will nosedive. Roll off the throttle when you get into the air and it will land nice… and… smooth…"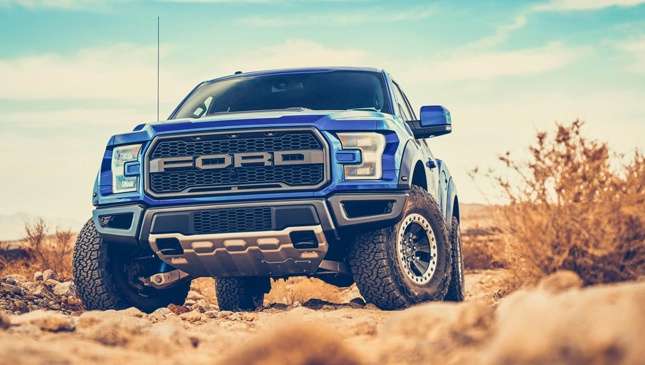 ADVERTISEMENT - CONTINUE READING BELOW ↓
And with that we--me, the Raptor and Shawn, plus a loose pen which I noted had escaped from my pocket--sailed up, up into the warm Californian desert air, hung there, then landed into what felt like a mountain of feathers. From the outside, it might almost have looked like we knew what we were doing. But the scene on the inside was different. Howling with laughter and fist bumping with Shawn as we fishtailed down the track, the surprise of just how easily this Raptor had got airborne was still clear to see.
It's truly one of life's great driving pleasures. One that everyone should have on their bucket list. And one that could only be improved if there were, as discussed, a little more sound…
NOTE: This article first appeared on TopGear.com. Minor edits have been made.