66,000,000,000+ kilometers raced online and 70,000+ million units sold over the course of 15 years. And this is how Kazunori Yamauchi likes to celebrate. Ladies and gentlemen, meet the Vision GTs from Gran Turismo.
Yamauchi, of course, is the creator of the legendary PlayStation racing title, and for the 15th anniversary and sixth iteration of Gran Turismo, he sounded the concept klaxon, to marshal the world's carmakers to come up with lairy creations to include in the new game.
To deride his Master Plan would have been easy. 'Virtual' cars that will never see the light of day, destined to be argued over by the gaming community...it'd never catch on, right?
Tell that to Mercedes-Benz, which got the ball rolling with the deliciously evil Vision GT concept seen at the 2013 LA Auto Show. Or to Chevrolet, who rolled out the madcap Chaparral GT. Or to Alpine, and the 450hp, V8-engined GT. Or to Lexus, and the monster LF-LC GT. Or indeed, to the other carmakers who've stepped up to the plate and gone a bit crazy.
You can now see the lot in our Happy Gallery of Slightly Imaginary Brilliance. Ready, player one...
1) Chevrolet Chaparral Vision GT
Continue reading below ↓
Recommended Videos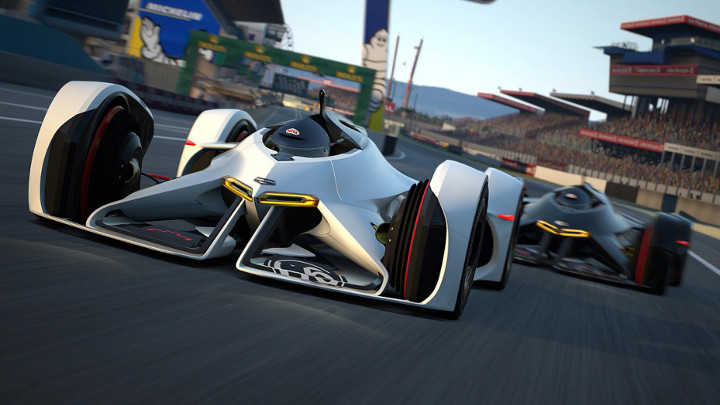 We're told the 2X—in the game, at least—packs a 671kW laser (cue Dr. Evil close up) powered by a pack of lithium-ion batteries, and an air-powered generator to produce a cool, clean 900hp. Think McLaren P1 territory. Chevy tells us this powertrain was "inspired by technology derived from advanced work targeted at space travel and future aircraft design." This is excellent inspiration.
How does it work? The mid-mounted laser-beamed energy propulsion system, we're told, pulses beams of light that focus in a shroud, to create shock waves that generate massive thrust...
2) Infiniti Vision GT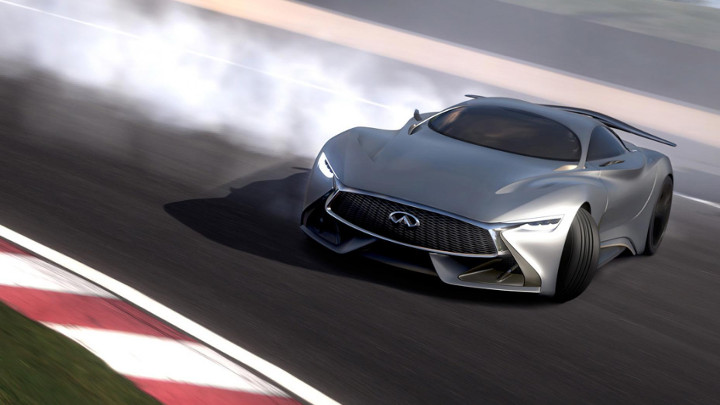 The styling certainly references the company's recent concept form—all smooth, flowing surfaces, pinched lights and monster diffusers. Even the rear wing is sinewy and graceful. We're told it's a 'front-midship' setup with a 45:55 front-rear balance.
3) Subaru VIZIV Vision GT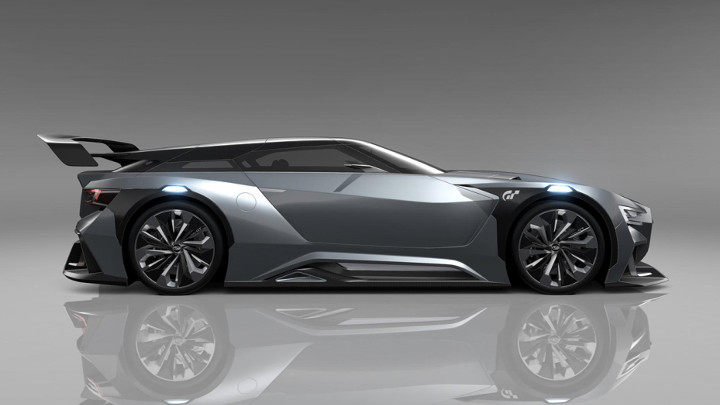 It's been virtually built out of carbon, with a virtual weight of 1,380kg, packing a virtual version of Subaru's classic 2.0-liter flat-four engine. Oh, and there's a virtual turbo, too, and three virtual electric motors—two in the rear, one up front—to give a total, virtual system output of 591hp and 799Nm of torque.
"By independently controlling each of the motor outputs," says Subaru, "turning ability while cornering is drastically improved, while torque vectoring lamps built into the fenders visualize its movement." Right.
4) Toyota FT-1 Vision GT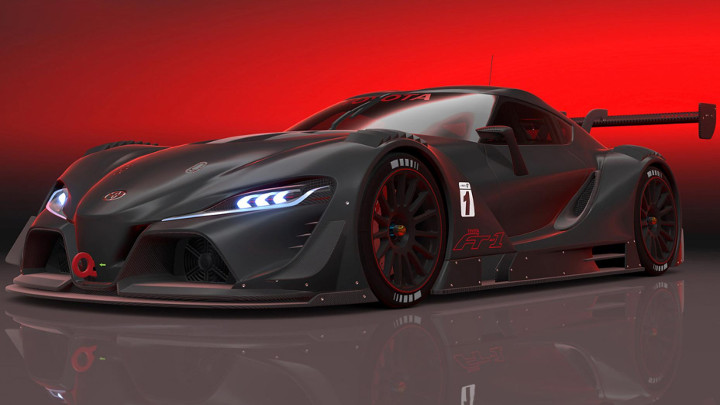 If the shape rings familiar, it's because this Vision GT is modeled on the stunning FT-1 sports car concept we saw at the Detroit Motor Show a few years back, designed by those clever types at Toyota's CALTY studio in California.
CALTY studied real-world circuits and race cars to incorporate the necessary cooling and downforce addendums, designed by process of 'function sculpting,' which sounds vaguely sinister to us. Point is, it's all functional—or at least would be, if the VGT were real. Which it isn't. Still, it gets massive wheel arches, larger tires, enlarged air intakes, front fins, a bigger rear diffuser, and of course, the obligatory ginormous wing.
5) Aston Martin DP-100 Vision GT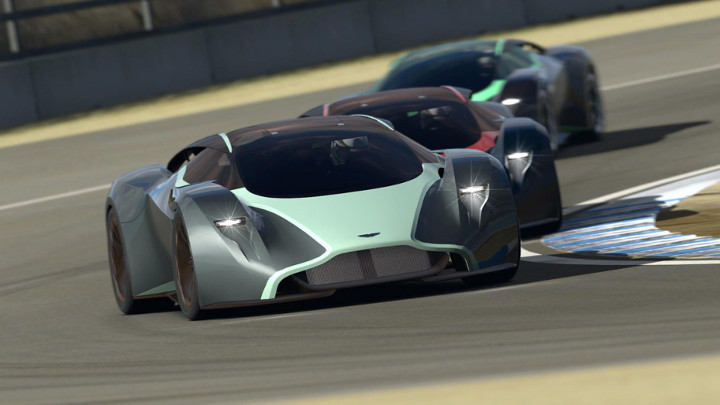 The HDMI socket grill remains, of course, and the light-blade rear lamps and the judicious use of yellow are reminiscent of the CC100 Speedster Concept. Design director Marek Reichman says "many of the design cues visible...could also feed through into future sports cars that we'll launch in the offline world. The importance of this project should not be underestimated."
There will also be a digital twin-turbo V12 offering up 800hp in the game: Imagine the NA monster from the One-77 with a couple of massive blowers on it, although that can probably remain strictly a virtual fantasy for now.
6) Mitsubishi XR-PHEV Vision GT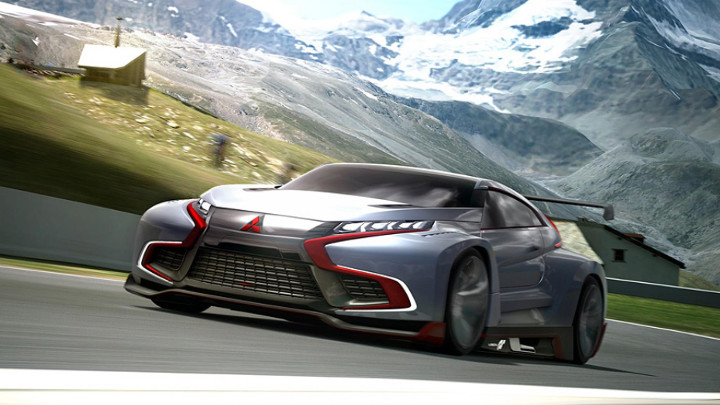 Mitsubishi's crack team channeled the spirit of its motorsport division and applied it to the small SUV, essentially losing height and adding some motorsport girth to the front and rear wings, the sills, and of course, the rear. No self-respecting GT car would be complete without a monster wing.
The body is made from carbon-fiber-reinforced plastic, there are 20-inch aluminum wheels along with front and rear diffusers, and the grille is a glimpse at the next generation of Mitsubishi front ends—fine by us—said to evoke 'an athlete at crouching position on a starting line.'
We're not entirely sure if this athlete is a Usain Bolt or a high-school hopeful, however, because no word is made of the drivetrain, other than that it's a plug-in hybrid EV system.
7) Mercedes-Benz Vision GT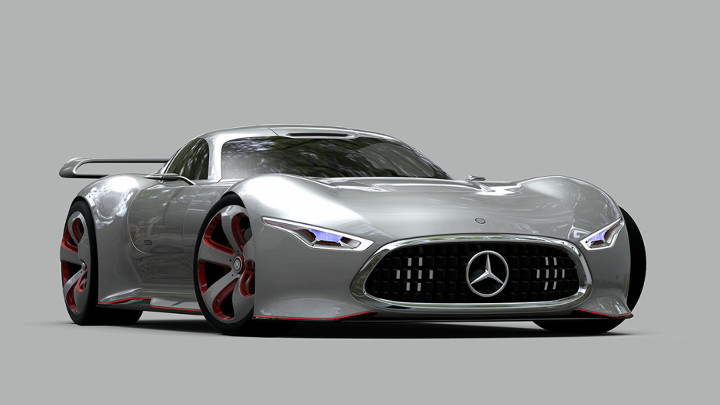 According to Merc design chief Gorden Wagener, the Gran Turismo reflects "the perfect symbiosis between emotional, sensuous contours and intelligently presented high tech." We believe this is design-speak for 'looks ready to cause bloody mayhem at a petting zoo.'
Under 'styling influences,' Merc namechecks both its 1952 300 SL race car and the current A-Class (no, really), but fails to mention 'murderous robot sent from the future to enslave us all.'
Facts are short on the ground, but we know the Gran Turismo uses a 585hp twin-turbo V8 of unspecified size, and weighs just 1,385kg. We're not sure exactly what size those wheels are, though with the Gran Turismo rolling on approximately six microns of rubber, we suspect it may ride on the firm side.
8) BMW Vision GT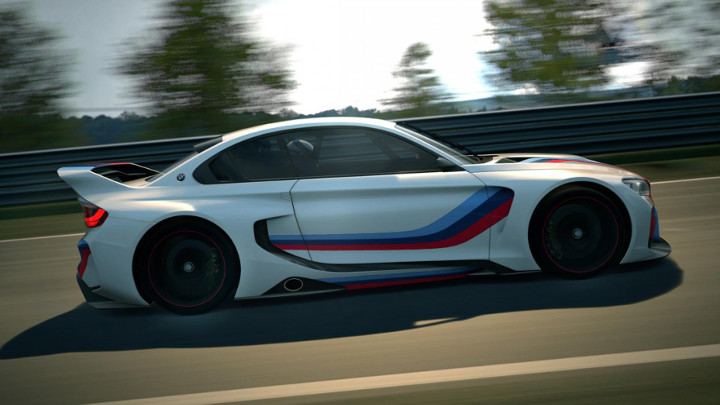 This BMW follows the "successful BMW touring cars of the 1970s." We're told it's built for fast laps and optimum handling (well, duh), and anticipates "future racing trends." We can only hope that future racing will take place in the real world as well as virtually. But hey, if it looks half as good as this, we won't complain.
We're told the digital BMW hosts a 3.0-liter straight-six engine, good for 550hp (why the hell not?) and peak torque of 678Nm, running through a six-speed sequential transmission to the rear axle. In-game, the curb weight is a lithe 1,180kg, and there's perfect 50:50 weight distribution.
9) Red Bull X2014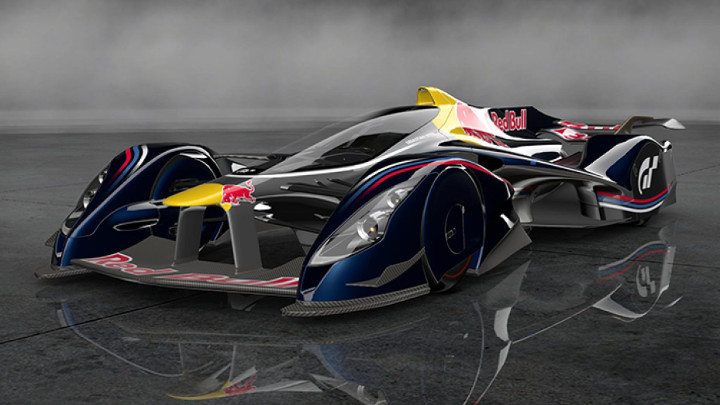 So, this one's not strictly a Vision GT car, but one created just for Gran Turismo 6 by Adrian Newey as the ultimate racing car.
Our brains are still trying to digest the speed of this thing. While we do, read the full story here.
10) Alpine Vision GT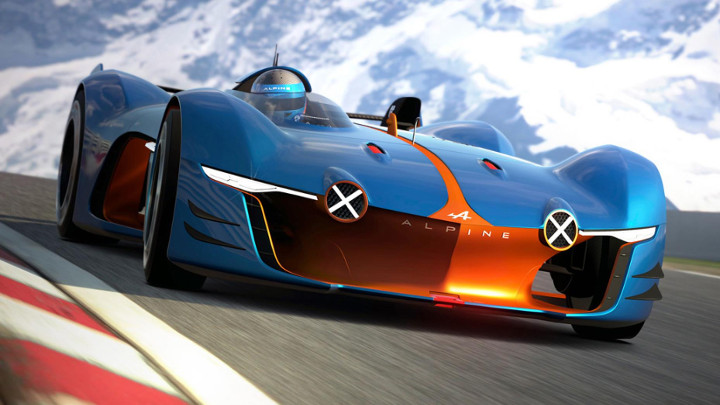 So, what lies beneath its bonkers looks? A 4.5-liter V8 engine with 450hp and 580Nm sits amidships. It drives the rear wheels through a seven-speed sequential gearbox, while stopping power comes courtesy of stocky vented discs, measuring 390mm at the front and 355mm in the rear.
The virtual car achieves a top speed of 320kph and weighs 900kg, or less than a 0.9-liter Renault Twingo.
11) Lexus LF-LC Vision GT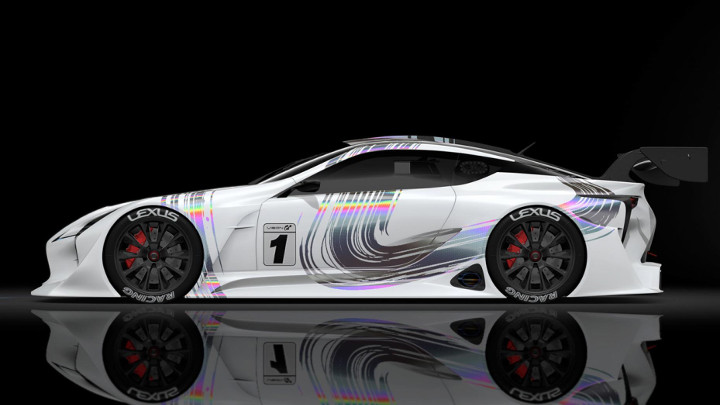 This is based on the LF-LC concept—that's the RC F before it became a real car—designed as far back as 2012 by the brand's Californian studio. There is talk of jet-aircraft inspiration and lots of 'emotion.'
"The pure white body of the LF-LC Vision GT contains in its brush strokes the resonating exhaust tones, quickening pulse, and moments of excitement that attracts racing fans," says Lexus. With that racing stance, muscular haunches, ludicrously low ride height, 'Predator' grille and monster rear wing, you have to admit, it does look good. Is your pulse quickening?
12) Mini Clubman Vision GT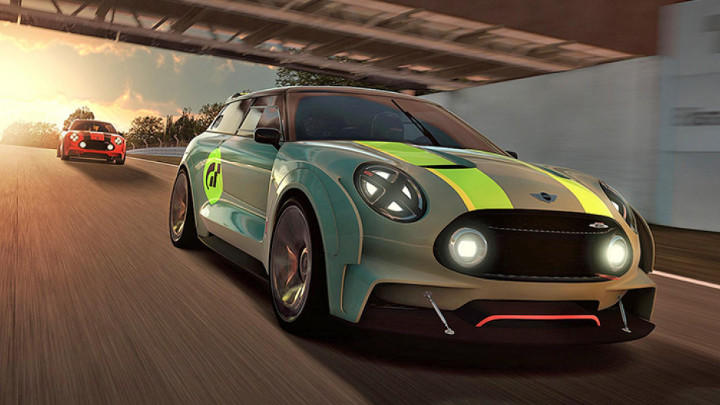 Under that bodywork is an unspecified powertrain sending no fewer than 395hp to all four wheels through a sequential six-speed transmission, allowing the Clubman concept to hit a conceptual 100kph in a conceptual 3.5sec.
Whether that conceptual powertrain is gasoline, diesel, electric, hydrogen ,or some combination thereof remains unclear. It's possible that even Mini itself isn't quite certain yet.
We're told the Clubman concept is built from plenty of conceptual carbon, with conceptual 22-inch wheels framing a conceptually wider track. There are many conceptual spoilers and air vents, and a conceptual top speed of 290kph.
13) Volkswagen GTI Supersport Vision GT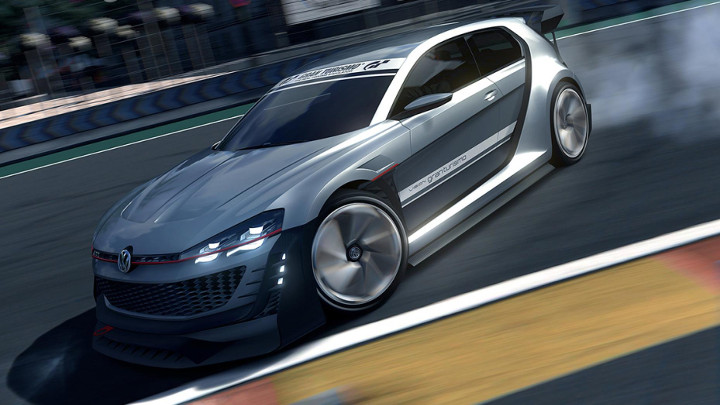 Hiding underneath all the aerodynamic trickery is a 503hp VR6 engine mated to a seven-speed dual-clutch gearbox, which plants all that virtual horsepower to the track via VW's '4Motion' all-wheel-drive system. With 565Nm of torque on tap, the Supersport does 0-100kph in 3.6sec and flies past 300kph at the top end. It tips the virtual scales at just over 1,200kg thanks to plenty of carbon fiber.
The Supersport takes clear inspiration from the 500hp Design Vision super-Golf that VW brought along to please the enthusiasts at the annual Worthersee meeting in 2013: The taillight blades, flared arches, and floating buttresses sweeping upwards into the rear of the car all hark back to that 500hp concept.
14) Nissan Concept 2020 Vision GT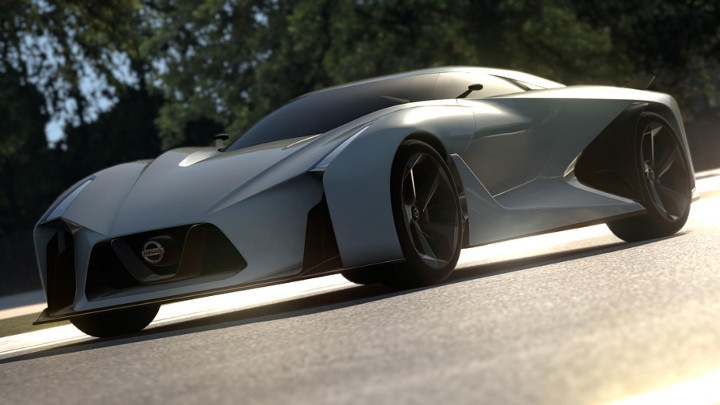 This is "a vision of what a high-performance Nissan could look like in the future," runs the official line from Nissan. Hmm...next GT-R, anyone?
Let's see: This Vision GT gets a twin-turbo V6, four-wheel drive, active aero (with 400kg of downforce at 300kph), and torque vectoring. Oh, and three electric motors for additional oomph.
15) Volkswagen GTI Roadster Vision GT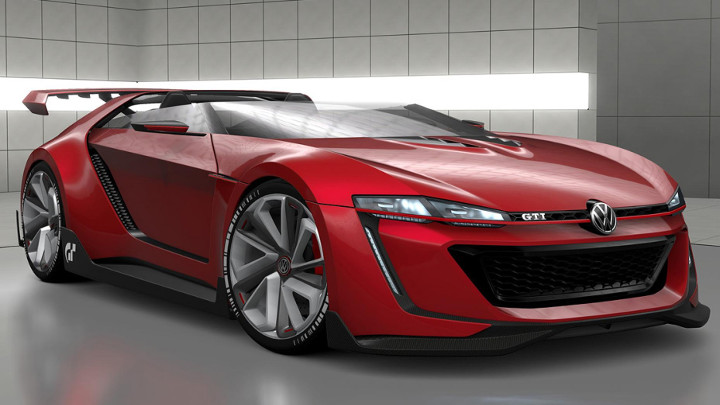 The headline, of course, is that engine. It's a 3.0-liter twin-turbo V6 TSI (out of the Touareg) producing a whopping 500hp and 559Nm of torque, complete with a seven-speed dual-clutch gearbox and VW's '4MOTION' all-wheel-drive system.
Because it only has to propel a curbweight of 1,420kg, the GTI Roadster is capable of accelerating from 0-100kph in 3.6sec and top out at 309kph. Better wear a helmet, because you may have noticed there is no roof.
16) Mazda LM55 Vision GT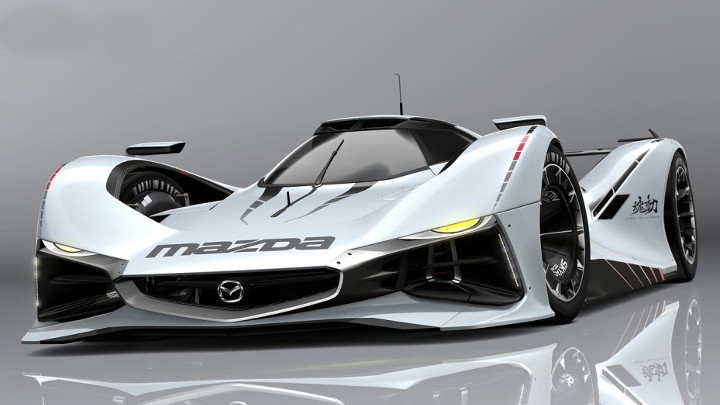 The name honors Mazda's unlikely Le Mans victor from 1991, the stupendous, screaming 787B that wore—you guessed it—number 55. That's the key influence to the LM55's styling, which also blends in the Kodo design language that Mazda shouts so keenly about.
Over to Mazda: "The Mazda LM55 Vision Gran Turismo barely tips the scales with lightweight, carbon-fiber components, including a monocoque chassis clad in striking atmospheric white paint.
"Pair this with advanced drivetrain technology that offers the epitome of power, efficiency, and durability, and the result is an exceptional power-to-weight ratio exceeding that of most cars in its class."
17) Peugeot L750R Vision GT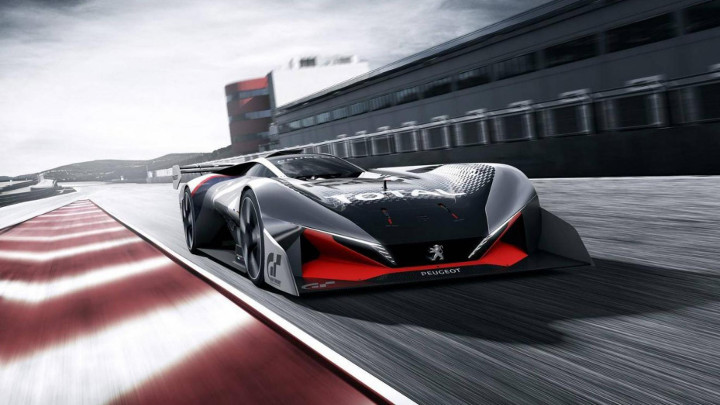 The L750 R's name comes from its 750ps (740hp) total output, produced by a combination of gasoline engine (572hp) and electric motor (168hp). The former apparently revs to 10,000rpm. Which, given it's an entirely virtual engine, you should do so frequently, as mechanical sympathy really isn't necessary.
There's an 'innovative dual-circuit hydraulic braking system,' while at 825kg, the L750 R weighs a handy 175kg less than the L500 it's based upon. Only it doesn't, because pixels all weigh the same. Presumably.
But ignore our cynicism. The near-900hp/ton power-to-weight ratio is beaten only by the Koenigseggs and the Venoms of this world, so it ought to be a stellar choice in the game.
18) SRT Tomahawk Vision GT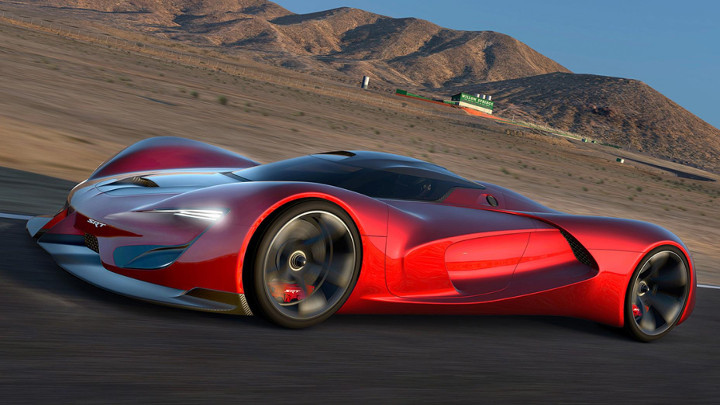 SRT, Chrysler's answer to Merc's AMG department, has designed a race car of the future. And it has been designed to break you into lots of little pieces. Please be upstanding—or hiding-behind-the-sofa-in-fear—for the SRT Tomahawk.
There are three, ahem, 'trim levels' available. The entry-level Tomahawk is the S, featuring a 7.0-liter wide-angle V10 (a nod to the Dodge Viper, naturally) that kicks out 792hp to the rear wheels, with a further 215hp from the pneumatically driven front wheels. That makes 1,007hp in total, a curb weight of 918kg, and a top speed of 402kph.
The GTS-R version gets the same setup, but with power up to a total of 1,450hp—1,137hp from the same V10, 313hp from the front. This one weighs just 662kg and will top out at 483kph. Obviously.
Finally, you have the range-topping X version. The V10 redlines at 14,500rpm and shoves 2,168hp to the back, while another 422hp of oomph from the pneumatically driven front wheels, to make 2,590hp worth of whoopee.
Top speed is at 650kph. SRT tells us that if this car were real—which it most definitely is not—you'd need a G-suit to protect your organs from imploding. A G-suit that gets compressed air stuffed in it whenever you hit the Tomahawk's brakes, to 'pressurize' you. We think they may have misspelled 'vaporize.'
19) Hyundai N 2025 Vision GT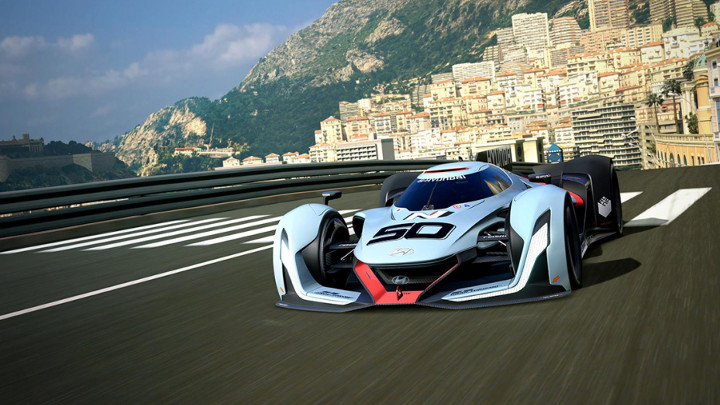 There's more than a hint of Le Mans Prototype about its proportions, particularly its elongated tail, which has a rear fin not unlike the latest LMP1 hybrids.
It then veers off into an even more cartoonish Hot Wheels-esque world: Just look at the size of wheel compared to bodywork. Its like an eight-year-old's exercise book sketch made real.
Of course it's not completely real. It's a physical model of the latest addition to Gran Turismo, but we doubt its 872hp hydrogen and super-capacitor drivetrain actually exists beneath the barmy skin. But that set-up doesn't half sound cool regardless.
20) Bugatti Vision GT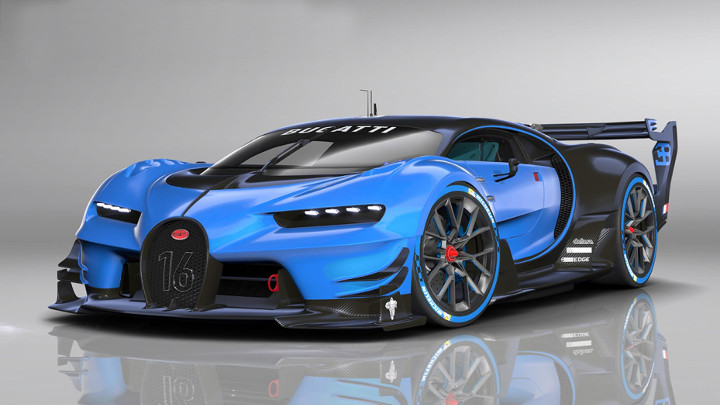 It was inspired by the Type 57 Bugatti that took Le Mans victories in 1937 and 1939—hence the blue paint job—and is said to have been designed for outright performance. Bugatti engineers worked for six months modeling driving dynamics and aerodynamics, to make sure the Vision GT could work as a proper, balls-to-the-wall race car.
And of course, it was the precursor to the Chiron...
21) Fittipaldi EF7 Vision GT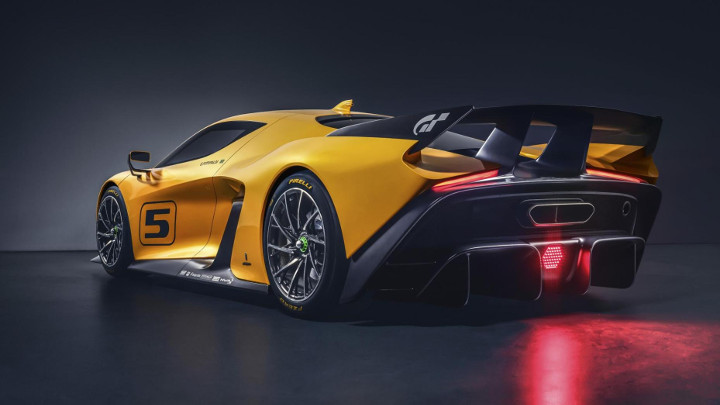 Sharks. A McLaren P1 GTR. Love of a Brazilian homeland. There's a selection of the ingredients that were poured into the creation of the Fittipaldi Motors EF7 Vision Gran Turismo by Pininfarina. Okay, the name needs a trim, but that's an intriguing mood board.
The EF7 exists because of the most mouthwatering foundation a supercar can be conceived upon. A Formula 1 world champion cherry-picking suppliers to build him the ultimate no-compromise machine. And, just maybe, a chance for the godfather of Italian supercar style to settle a professional score.
22) McLaren Ultimate Vision GT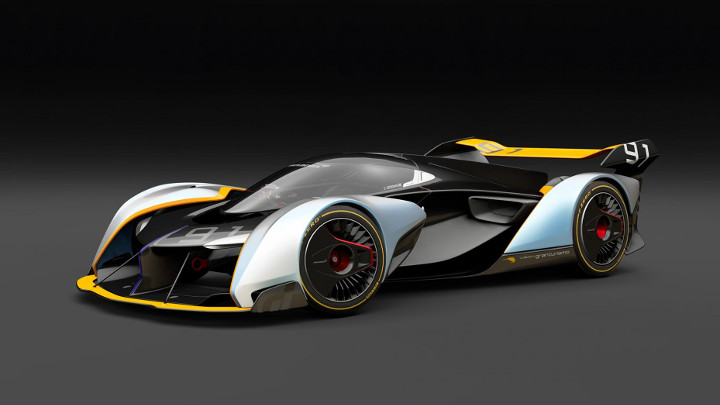 McLaren being McLaren, there's a full set of specs provided for what is in reality nothing more than a collection of pixels, code, and wild imagination. Power is generated by an angrier version of the 720S's 4.0-liter bi-turbo V8, allied with front wheel-mounted 'pod motors.'
Total system output lies north of 1,150hp, and thanks to an extensive carbon-fiber construction, the hybrid weighs in at exactly 1,000kg. Anyone care to calculate the hp-per-ton ratio?
23) IsoRivolta Zagato Vision GT
May we present a brand-new supercar courtesy of Zagato. The illustrious coachbuilder, with a roster of astonishing metal to its name, has created a bespoke chassis and bolted a tuned 6.2-liter twin-turbo V8 from a Corvette...um, somewhere, to create an impossibly fast supercar.
It pumps out a theoretical 997hp and weighs a claimed 1,129kg. Zagato reckons it'll go from 0-100kph in 2.7sec, which gives it more accelerative prowess than a Lamborghini Aventador and a Porsche 911 Turbo S, and puts it on a level pegging with a Koenigsegg Regera.
24) Honda Sports Vision GT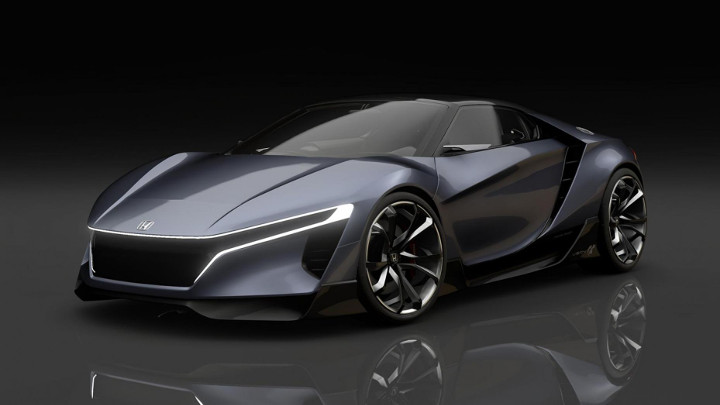 The theme here is 'human-centered design,' which is quite weird for a car that no human will ever sit in, but those are but mere details when the design does indeed look fantastic. All squat, futuristic lines, like a shrunken NSX.
We're told that in theory, the car utilizes much carbon fiber to keep the body weight down to an impossible 899kg. A full 100kg lighter than—if you cast your mind back—Lamborghini's Sesto Elemento concept, itself deploying much CF.
25) Audi e-tron Vision GT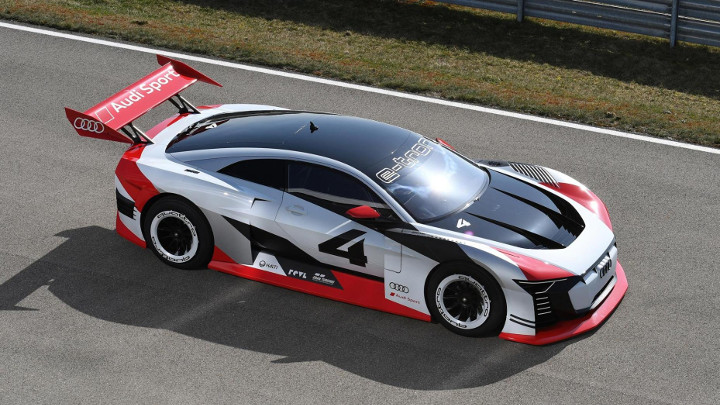 Put simply, the e-tron Vision GT is what happens when you put one of Audi's ultra-iconic 90 IMSA GTOs from 1989 and its latest Formula E electric tech into a blender.
Powering the futuristic racer are three 220kW electric motors good for a combined output of 815hp. Which, given the curb weight of 1,450kg, equates to a punchy power-to-weight ratio of 562hp/ton and 0-100 sprint of 2.5sec, thanks to a specially developed Quattro four-wheel-drive system.
26) Jaguar Vision Gran Turismo Coupe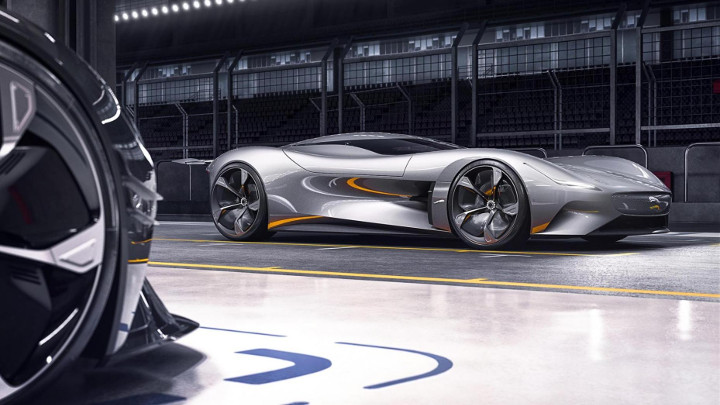 Jag's imaginary racer is (or rather, 'would be') made from carbon fiber and aluminum alloys. Three e-motors produce a combined 1,020hp and, thanks to recordings taken of an old D-Type, very interesting noises.
27) Lamborghini V12 Vision Gran Turismo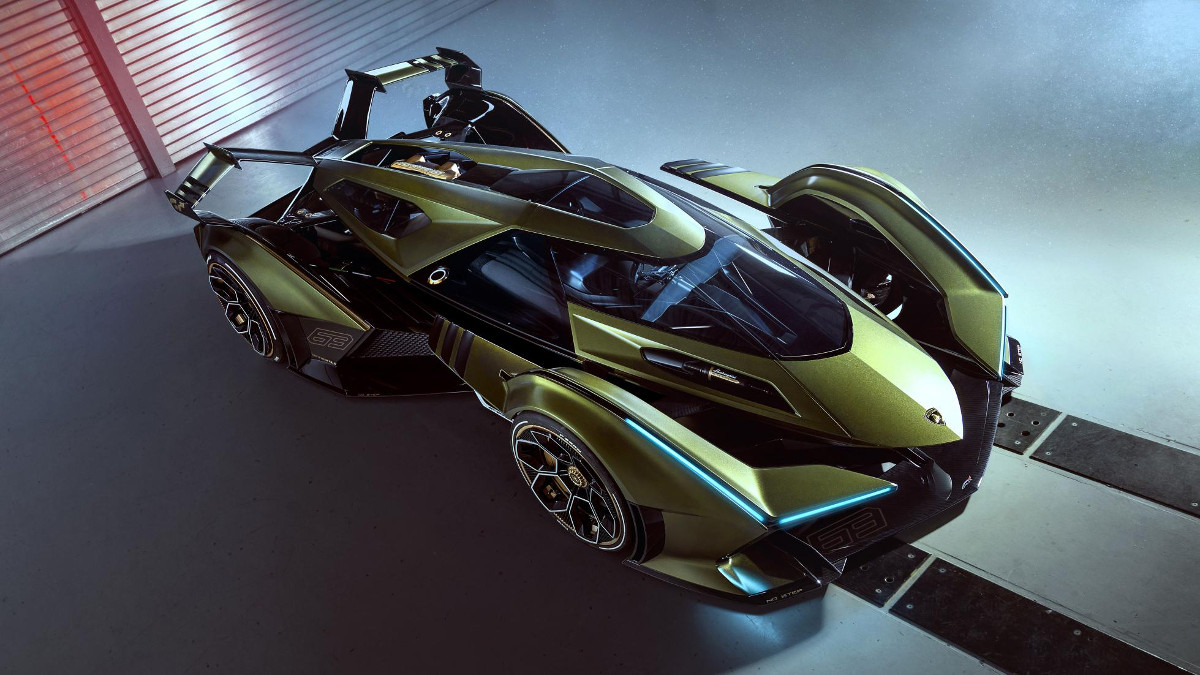 Revealed at the Gran Turismo Championship World Finals in Monaco, the Lamborghini Lambo V12 (yep, that's its name) is unusual for a Vision GT car, in that it has an actual engine—like the Siån, it has a hybridized V12. Lambo's calculations say that were this thing to exist in real life, it would weigh less than 900kg.
NOTE: This article first appeared on TopGear.com. Minor edits have been made.