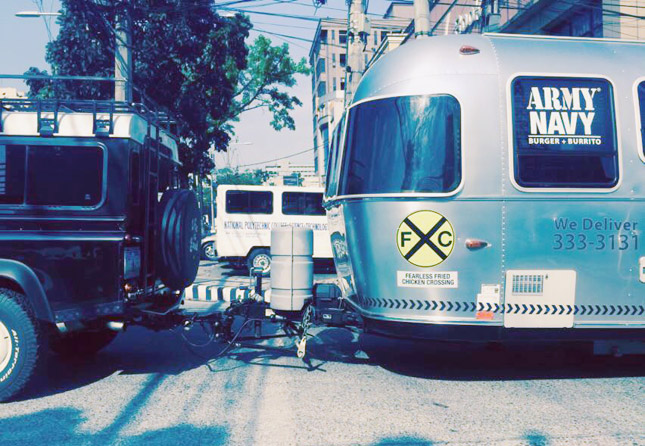 Companies using motor vehicles as marketing tools is nothing new. In Metro Manila, for instance, Mini Coopers in Red Bull livery (complete with giant beverage cans) can be seen driving around, with gorgeous models to boot. Well, check out this extremely cool Army Navy trailer, three photos of which were sent to us by a follower of our Facebook page.
Now, we don't know whether this thing is new or not, but it's the first time we've seen it, so we're sharing it. That and the fact we're big fans of the military-themed fast-food restaurant (Starving Sailor sandwich for the win!). We also don't know if this huge trailer is completely functional--as in there's a mobile kitchen inside--or if it's merely for branding purposes. Either way, it's really nice.
We're not 100% sure, but this looks like an Airstream travel trailer.
And wow: It's being towed by a Land Rover Defender, which is one of our favorite SUVs in this burrito-loving world. If this trailer is just for marketing purposes--and if Army Navy is reading this--we hope they can drive it near our office. We'd love to see it in the metal.
Photos from Lorelaine Aldover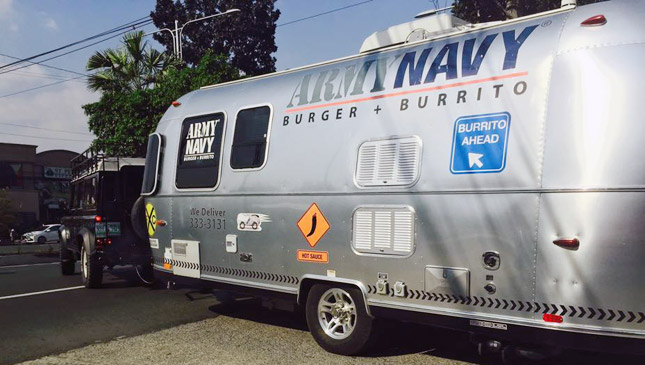 Continue reading below ↓
Recommended Videos