The hardest part about being a rock star is to continue being one. Unlike other famous lines of work—that of an actor or a politician—you can't continue being a rock star based on looks or a landed surname alone. Being a rock star means you have to be consistently creative and keep churning out songs people will sing in the shower. And then there's the challenge of keeping the band together. It's not easy considering the many external forces that can pull a band apart, like money disputes, creative differences, egos. 
In the local music scene, Parokya Ni Edgar is the only band that has remained intact since its inception in 1993. Actually, that's not technically true: The band Aegis has also remained intact until today. But while we don't fancy ourselves to be arbiters of taste, we still have plenty of it left. And that is why we chose Parokya for what we had in mind. For this month's A Day In The Life story, I approached the band to be its roadie-cum-driver for one night. I wanted to see what the real rock-and-roll lifestyle is like on the road. And I wanted a group that was funny, entertaining, irreverent and eager to make fun of themselves. In other words, a band that was like us here at Top Gear PH.
Continue reading below ↓
Recommended Videos
After several calls, a date was set. PnE was hired to play at the 18th-birthday party of one lucky (and wealthy) debutante, and I was going to transport the band to the gig. In choosing the right vehicle, my main considerations were roominess, comfort and reliability. Around this time, Ford had launched the new E-150 Club Wagon, the latest iteration of a vehicle that was akin to a mobile apartment with a plate number and a V8 engine. It was also as comfortable as an apartment, with relaxed seating for seven, plenty of cubbyholes for personal knickknacks, and a rockin' sound system. I also needed a reliable vehicle because I didn't want to be the reason why the band didn't make it to the appointed call time. They didn't last this long being unprofessional.
When I arrived at Ford Libis to pick up the E-150, I was expecting something really large, but I was still aghast at how enormous it was. Maybe this is how readers feel when they meet me or Botchi for the first time. Almost seven feet high, the E-150 towered over me, and had a grille in front that was as big as a Chery QQ. This story was also the perfect opportunity to test the AVT Navigator A800, a GPS device loaded with digital maps provided by cartography specialist Asiatype. The device would come in handy when picking up the band members who lived deep inside Quezon City.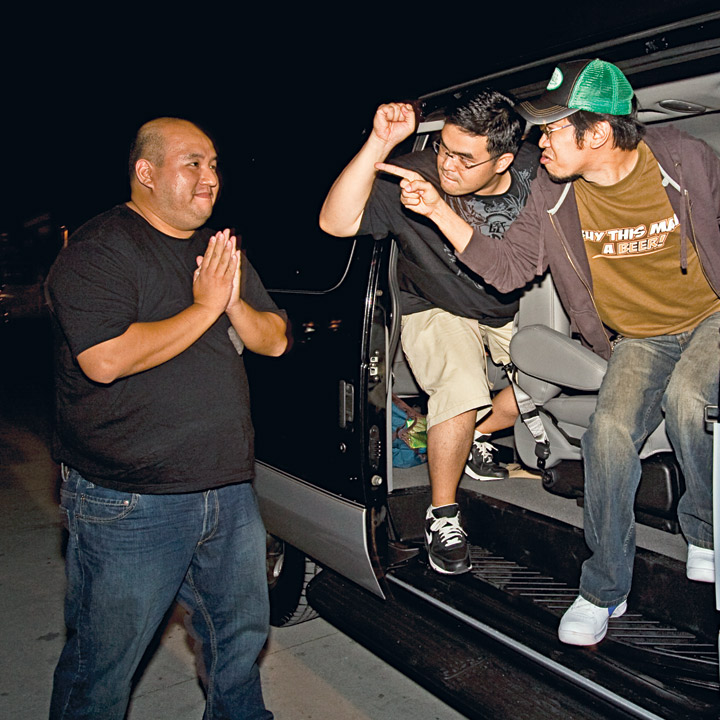 On the night of the gig, I headed for my first pick-up—rhythm guitarist Gab Chee Kee. Gab was no stranger to TG. Being a photography enthusiast, he had accompanied our lensman Alfred Mendoza to several car shoots. I keyed in Gab's address. Then the AVT unit calculated the route for a few seconds and a voice directed me to take EDSA. The directions were spot-on—they led me straight to the street where Gab lives, inside a village in the Tandang Sora area. Gab, his wife Apple and sister-in-law Dimple boarded and were amazed at the E-150's roomy interior. It was a comment that would often be repeated that night. Gab directed us to our next pick-up, lead guitarist Darius Semana. Darius lives near SM City North EDSA, and although the GPS unit calculated a route to his address, Gab still knew a better way. The AVT A800 was capable, no doubt, but navigating the inner streets of Manila still benefited from the human input.

We fetched other members of the band at a gas station on EDSA. Smoking cigarettes and bantering among themselves were bassist Buwi Meneses, drummer Dindin Moreno and frontman Chito Miranda. The only one missing was backup vocalist Vinci Montaner, who was out of the country on vacation. Dindin was taller than I'd imagined, and I was about to tell him this when he beat me to the punch, saying I was bigger than I looked in the magazine. It turned out that Dindin was Parokya's resident car nut, and he's a regular Top Gear reader. After the cigs were finished, the band climbed aboard the Club Wagon and we headed toward the gig venue.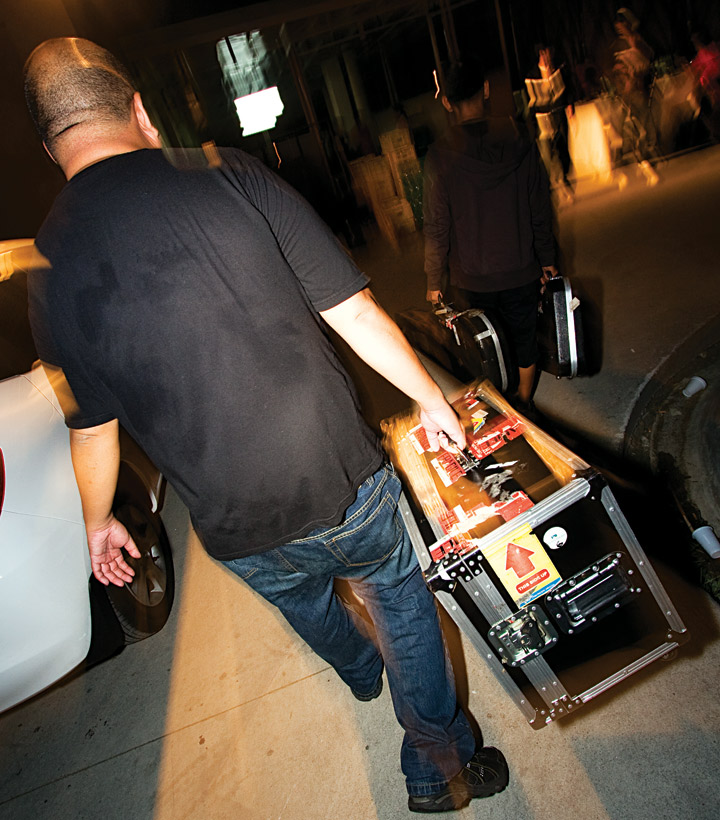 Driving a vehicle this size required constant concentration, especially when weaving through EDSA. But it was surprising how easy it was to get used to driving this leviathan. The big side mirrors gave a clear view of the van's flanks, and the power delivery from the 225hp V8 engine was very smooth. The band certainly didn't notice the traffic and my constant lane-changing. Inside the van, they napped, horsed around, played with their Sony PSPs, and talked about their upcoming album.
Except for the last part, the conversation and atmosphere made them seem more like a college barkada than one of the biggest recording acts in the local music business. I surmised this was one key to the band's longevity. While most of them were married or in serious relationships, they'd never lost that spark of solidarity. Underneath the commercials, endorsements, music videos and platinum- selling CDs, they were still the same guys who'd started jamming as students in Ateneo. I had listened to Parokya since their debut album Khangkhungkherrnitz came out in 1996, and until now I could hear Chito's voice in my head singing the brilliant debut single 'Buloy'. I couldn't believe I was hearing that distinct raspy voice behind me while I drove.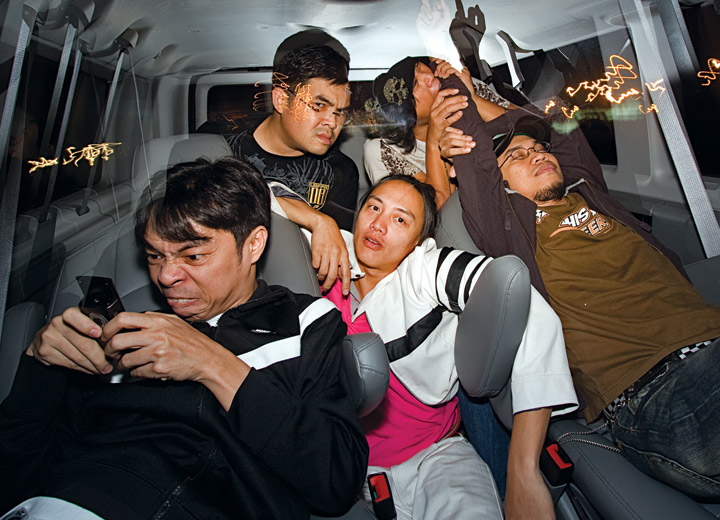 On the way, Alfred and I talked with them, asking what it was like to be on the road together so much. They said in the early years, they had been more active, trading stories and jokes for hours on end. As time had gone by, all the stories and jokes had been used up. These days, they said: "Tulog at tsongki na lang." That last utterance aside, Parokya debunked the myth of rockers living the sex-drugs-and- rock-and-roll lifestyle till they kicked the bucket.
Once we reached the venue, we were whisked to the back entrance because the band's performance was supposed to be a surprise for the debutante. PnE patiently killed time in the back, while I helped unload some equipment. Darius listened to songs from their upcoming album on his iPod; Gab discussed photography with Alfred; Buwi chatted with his wife; Chito looked at some pictures on the laptop of their manager Richard Tan; and Dindin talked about the latest sports cars with me and Vernon, who had joined us around that time. Our editor had met a lot of famous people, but it's not every lifetime that we get to hang out with the boys who came up with 'Mr. Suave.'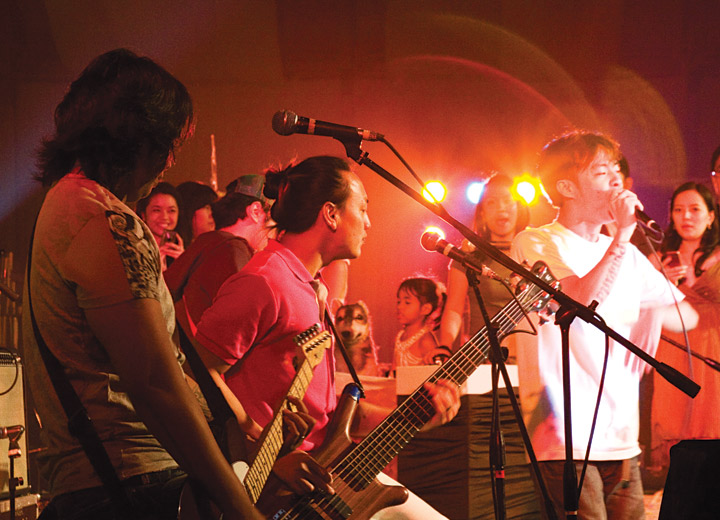 Chito later stood up and summoned all the band members. Everyone dropped what they were doing, and they huddled together to pray. Yes, pray. I kept a respectful distance, but I couldn't help but look in awe at seeing this PnE ritual for the first time. Chito and Gab then went in first, as the debutante's favorite song was 'Harana', an acoustic arrangement. Chito serenaded the starry-eyed celebrant, while Gab strummed the hit song's familiar riffs. All the guests in their gowns and coats gathered around the stage. By the time the other band members came onstage, the whole crowd had literally jumped to their feet, swaying and singing along. Every now and then, Chito would come down and pose for the camera-phones, saying, "Picture, picture!"
After giving the guests a party they wouldn't soon forget, the band headed for the exit. As I dropped them off one by one, someone always transferred to the shotgun seat in front. First Dindin, then Darius, and finally Gab. I honestly didn't mind if they all sat in the back—this would, after all, stay true to the story of yours truly being their roadie for the night. I got my last epiphany from this. Writing catchy songs and being good performers are what make good rock stars. But the best rock stars—the ones you remember—are those who don't act like one.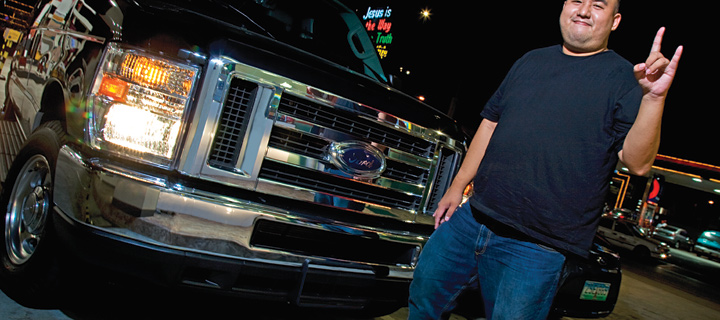 NOTE: This story first appeared in Top Gear PH's April 2009 issue. Minor edits have been made.