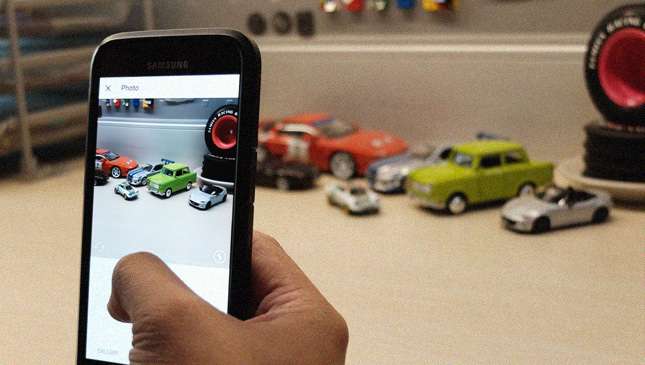 Tap-worthy automotive Instagram accounts have grown relatively few and far between since the platform's inception. For every carefully curated collection, there's one or two packed with ads, sponsored posts, lame memes and (gasp!) stolen photos. Blech.
If you're an avid user, there's nothing more annoying than having to unfollow a recently liked profile after discovering it's nothing more than a way at an easy buck or a poorly maintained hodgepodge of random car photos.
With this in mind, we thought we'd share some of our favorites to save you the trouble. From motorsport personalities, scale model enthusiasts and car photographers (including some of ours), here's what's on our feeds at the moment. If you have any more to share, please do! We're always looking forward to discovering more from you guys.
Continue reading below ↓
Recommended Videos
Afbenaza. Chances are you've come across his work as a professional television commercial director. What you might not know though is that AF Benaza is also an avid motorcycle nut and riding fanatic. There are some pretty sick car shots here, too.
Alexpenfold. "Cars, generally cars. Sometimes in England, sometimes elsewhere." Short, simple and sweet. We like this UK-based car photographer's approach. His work we like even more. His profile deals with mainly cars of the super or high-end variety, so do tap away if that's your thing.
Daemonexmachina. Cars, bikes and travel, even more bikes, and a feature on Petrolicious--if Jenna Genio isn't living the life, then we don't know who is.
Huseyinerturk. Most of this Los Angeles-based car photographer's works are accompanied by nothing more than a single #drivetastefully hashtag. No dramatic captions, no shameless plugs--just cars, and boy does he make them look good.
Ianmagbanua. Ian's Instagram account is essentially a behind-the-scenes look at our magazine. He's a regular Top Gear Philippines contributor, and a true-blooded car guy through and through. Oh, and he makes some pretty sick t-shirt designs as well.
Igor.thepainter. Igor gets around quite a bit as a professional "autographer." Most recently, he joined Angie King at the Sepang International Circuit to document her successful run in this year's Asia Ferrari 488 Challenge. If you can stomach the occasional tito joke or two, do follow him.
Instaroads. From snowy mountain roads to desert highways that stretch out as far as the eye can see--this account is what driving enthusiasts' dreams are made of. If you eat, sleep, and breath winding routes with the most picturesque backdrops on the planet, look no further.
Kblock43. Professional rally driver, extreme sports enthusiast, family man and entrepreneur--goals, in short. Block's life is just as colorful as his choice of livery. We can almost smell the burnt rubber just browsing his account.
Kombirutera. They didn't choose the van life, the van life chose them. Now this is living. Here's to anyone who's ever dreamed of just dropping everything and hitting the open road in a camper.
Larry_chen_foto. Larry Chen. The name probably rings a bell, right? This dude is one of the driving forces behind Speedhunters and a contributing photographer to more than a handful of motoring outlets.
Live_and_let_diecast. Proof that size doesn't matter. This one's a must follow for miniature scale model and die-cast enthusiasts. Or if, you know, you just really dig toy cars, or cars in general.
Topgearph. Of course this has to be on the list. Our official account is handled by none other than our team's art director Raynand Olarte, and features some of the best work from our photographers and multimedia producers. See our magazine shoots, test drives and epic road trips as they happen.