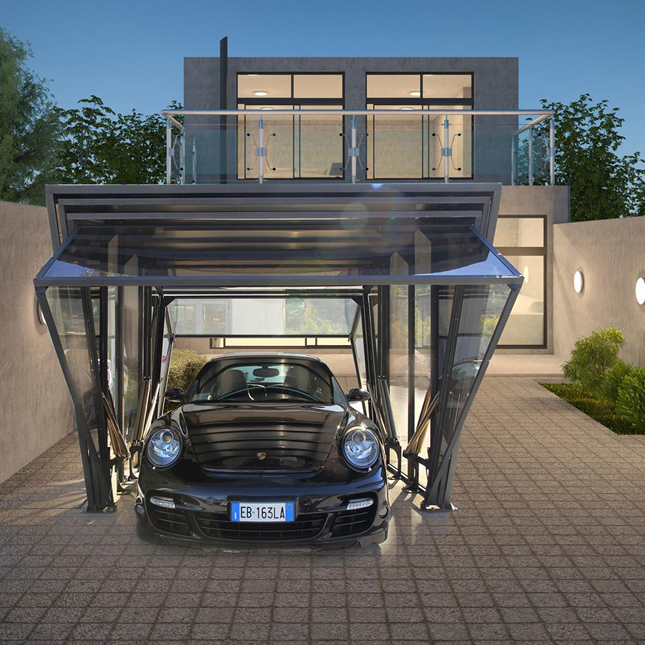 It's no secret that next to a house, a car is probably one of the biggest purchases many of us will ever make in our lifetime. The problem that many people face, however, is the lack of decent parking for their pride and joy. Some simply park it on the street, leaving their precious metal open to the elements--both natural and criminal ones.
Then there are those who are a bit more resourceful. While they don't exactly have a covered garage or carport, they pitch a makeshift tent that covers their vehicle from the sun. This may be quite handy, but a strong wind and other natural occurrences can still ruin a shiny paint or wax job. Thankfully, all this may just be a thing of the past, thanks to this new innovation called Gazebox.
The name is actually a play on words since the whole contraption is itself a mix of three things: a carport, a garage and a gazebo. Think of it as pitching a very secure tent for your car, yet it is something that has a lot more uses when you need it.
The Gazebox is made from special UV-resistant polycarbonate panels the keep out the sun's harmful rays. While the usual tent can do this, too, the Gazebox can likewise protect your car from bad weather. And with an anchor system that's fixed to the ground, along with durable side structures, you're assured of a safe garage for your precious ride. You can even customize the thing, lock it up, and operate it with a push-button garage door opener.
Continue reading below ↓
Recommended Videos
If the standard structure isn't cool enough for you, you can opt for some pretty nifty add-ons. These include an aerator, an anti-theft alarm, a compact vacuum cleaner, and a hail and rain detector (which might go crazy in our weird weather). If you're really loaded, you can even specify air-conditioning, so you can brag that you have a garage with regulated temperature.
Now get this: When you need the space for a party, the Gazebox is the perfect place to hold that shindig. As mentioned earlier, it is covered and secure. All you need to do is drive your car out and you've got the space to carouse! Speaking of space, the Gazebox can be specified in a wide range of dimensions and styles, all suited to your needs and budget. And it only casts a small footprint so finding a suitable spot won't be a problem.
Who knows? This might just be the next big thing in parking.
Photos from Gazebox's Facebook page