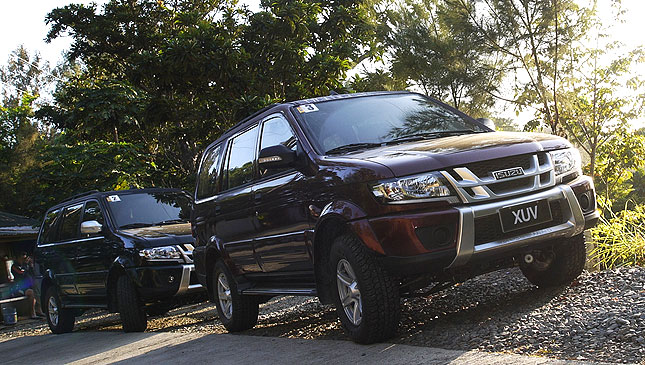 Somehow, a long provincial road trip seemed a fitting introduction to the "new" Isuzu Crosswind. Mostly because, like the Crosswind, towns like Baler appear timeless. Sure, there's the veneer of modernity there, but underneath it's still a sleepy rural town.
Beyond that, there were so many Isuzus on the snaky mountain roads between Nueva Ecija and Aurora that half my pictures included Crosswinds that weren't part of our convoy. Probinsyanos love this vehicle, period. That said, the new front end is a nice touch, stepping back from the angularity of the previous one for a smoother, more contemporary look.
I found myself driving the XUV AT variant on the outbound trip. Normally, I'd be irked to be driving an automatic Crosswind on such a fine trip, but after a few hours in the saddle, my only complaint was that it was darn difficult to overtake in the mountains with just 85hp and a four-speed automatic transmission. But then, with such lovely scenery, why would you want to drive any faster?
The company was likewise pleasant. Along for the ride were Isuzu Philippines executive vice president Takashi Tomita, senior vice president for sales Art Balamadrid and marketing head Joseph Bautista. Much of the trip was spent gossiping about news, events and just about everything under the sun.
Continue reading below ↓
Recommended Videos
With extended lunch breaks, numerous photo stops and the like, the trip rounded out to about five hours by the time we had taken our last pit stop at Hillocks, a picturesque café nestled in the Sierra Madre mountains, just half an hour away from Baler. Surprisingly, I didn't feel saddle-sore at all. The "flex-ride" system, introduced a while back amid criticisms of the harsh ride of the XUV and the Sportivo, really did work.
Sorry, Crosswind connoisseurs, this "new" iteration is not a return to the fabled 2001 XTO variant, which floated like a waterbed. But it's nearly as good. It maintained excellent body control through both twisty mountain passes and rock-strewn construction zones, as we worked hard to keep pace with the lead Sportivo, driven by Isuzu's jack of all trades, Hermes "Chairman" Canon.
We got to Baler by mid-afternoon. Aside from the big red "Baler" sign made of 4ft-high letters planted in front of the municipal hall, the place looked as old as time itself. After a visit to "Peanut Butter Queen" Aling Pacing, and a stroll along the beach to admire waves that none of us were brave enough to surf, we sat down to a lovely dinner and sing-along session. No, nobody sang 'My Way'. There was also a short ceremony, but Isuzu was preaching to the choir. Several of us are (multiple) Crosswind owners. Yes, probinsyanos as well.
The following morning, I drove photographer extraordinaire Mikko David out to the lighthouse for some shots. It was five in the morning, dark and freezing cold. We set out in the manual-transmission Sportivo, while Joseph, Chairman and Tomita-san followed us in the automatic XUV. It was a lovely drive, and we made it up to the PAGASA weather station before the beachfront opened. Being the first people to see the sunrise is always a special moment.
After an exhausting walk along the beach to climb up to the lighthouse, which looked more like a monument to Voltes V than an actual lighthouse, we drove back to the hotel for breakfast. Everybody was packed and ready to go, and we were still trying to choke on the (excellent) crêpe and bacon.
On the way home, we found ourselves rushing to get back. It was a weekday, and there were meetings and events that people needed to attend. But not before we stopped for some souvenirs. Baskets, bags, plants and chairs were all swallowed up easily by several Crosswinds already loaded with passengers and baggage. I would have gotten the suggestive cowgirl statue, but I didn't think my wife would have appreciated a 5ft wooden penis sitting in our living room.
I drove the XT variant with Joseph, a man hired away from another AUV manufacturer in the '90s specifically to oversee the Crosswind program. The miles flew by as we reminisced over the endless special editions, trims, paint schemes and toys (VCD players, massage chairs, karaoke machines) that graced the Crosswind lineup over the years. Joseph related how, for instance, a special tie-up with KelSeat allowed them to offer high-quality contrast-stitched leather in the past. I still recall the supple black leather and neon-green stitching on our old XTO with longing fondness.
Laugh if you will, but such touches of whimsy helped sell over 100,000 Crosswinds over the past 19 years. Beyond that, ruggedness and reliability found favor with many OFWs and mariners. For these men out of time, it's like a loyal family pet that never grows old. All the "first-year glitches" were ironed out over a decade ago. It's also nice to have an engine that can survive with minimal care and maintenance--and which is still current, no matter what decade you finally return home to stay.
But maybe not for much longer. The venerable 4JA1T engine won't meet incoming Euro 4 emissions regulations in its current form. We debated whether Isuzu would continue Crosswind production with the D-Max's excellent new 2.5-liter engine, or would replace the Crosswind with an all-new model. One thing we agreed on: There will probably never be another AUV as rugged, as dependable and as timeless as the current Crosswind.
Mind you, I have half a mind to pick a brand-new one up when they're finally discontinued. That is, if our 250,000km-old unit finally gives up the ghost.
I doubt it ever will.
Photos by Niky Tamayo