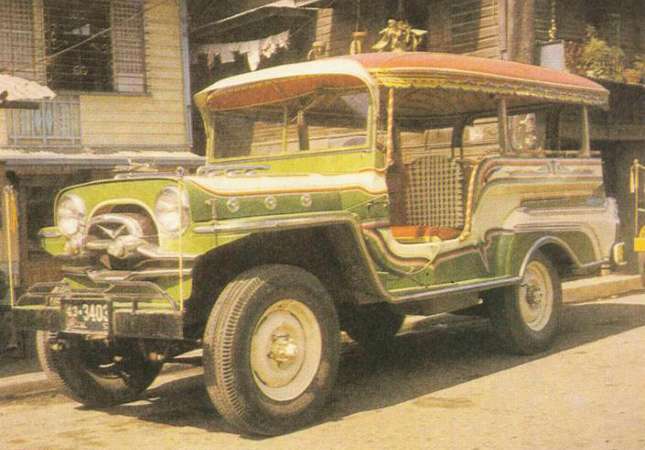 The public-utility jeepney or PUJ, known as the auto-calesa or AC before the war, has been with us for a long period of time. Sooner or later, however, the plan to impose the Public Utility Vehicle (PUV) Modernization Program by 2018 will make the PUJ a relic of the past.
ADVERTISEMENT - CONTINUE READING BELOW ↓
The term auto-calesa first appeared in 1910. Twenty-two economy cars were imported and rented out to the average commuter for P2 an hour—much cheaper than the P6 to P8 hourly rate of garage vehicles. An enterprising Filipino made public his idea of marketing another AC in 1932 as a cheap alternative to taxis, which had been growing in number since 1928. His new mode of transport was based on the DKW transporter popular in rural Germany. By joining its chassis with a local carriage, one could manufacture a low-priced public carrier. The concept vehicle was eventually marketed by the DKW-AC Company.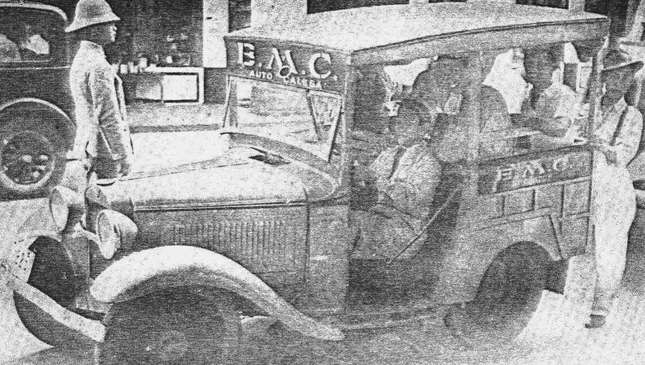 ADVERTISEMENT - CONTINUE READING BELOW ↓
Recommended Videos
Bacharach Motor Company (BMC) studied this design and introduced a safer, more rigid version in the mid-'30s. Installing a tartanilla carriage with 2+2 seating on a 1934 Austin Bantam front cowl and chassis, the company presented the BMC-AC (above), a better PUV with easier passenger entry and exit.
Immediately after the Pacific War in 1945, functioning vehicles in any form were highly regarded by the riding public. Surviving ACs were seen being used beyond the normal passenger and load limitations. Other pre-war cars with converted trunk areas to accommodate more passengers were also seen traveling around Manila. Note the 'sabit' passenger waiting for the vehicle to move forward.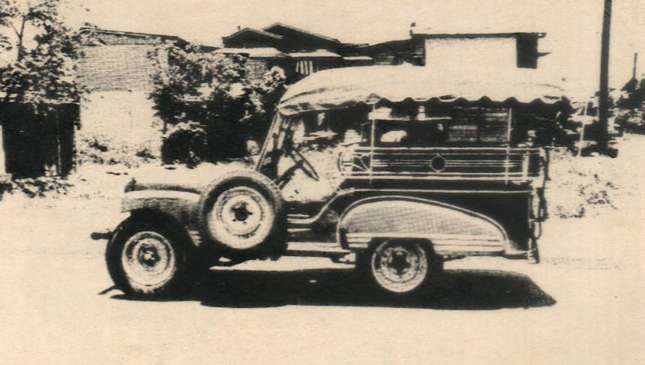 ADVERTISEMENT - CONTINUE READING BELOW ↓
It was only in 1946 that a semblance of uniformity for PUV designs came about. By then, surplus military jeeps and weapon carriers have been sold to private entities and converted into carriers with two rows that seat 10 passengers each. The original design of the jeep was such an unbelievable success that to this day, it has not been drastically altered.
Local manufacturers lengthened the chassis and changed the engine, with many PUJs switching to diesel power by the late '50s. Perkins, Peugeot, and Mercedes-Benz dealerships made the conversions possible, but brand-new European engines were gradually replaced with cheaper surplus Fuso and Isuzu diesel motors in the '70s.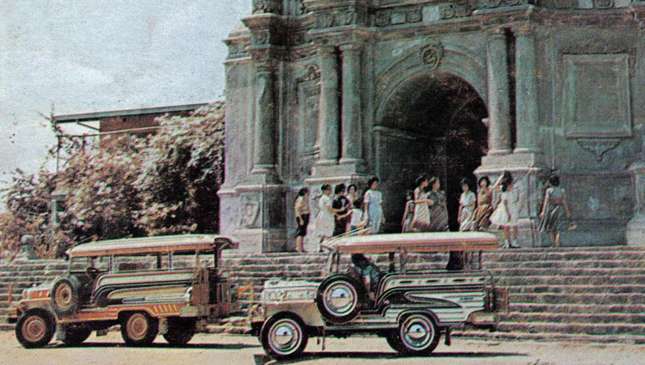 ADVERTISEMENT - CONTINUE READING BELOW ↓
Meanwhile, jeepney folk art has been evolving since 1946. Monochromatic body colors were replaced with two- or three-tone schemes. Rear pontoon fenders were replaced with fins, Dagmar bumpers, and grille scoops in the '50s. Stainless-steel inserts in the form of floral designs, stars, and body moldings also appeared. Additional accessories like hood ornaments, side mirrors, and hub caps were added in the '60s. Jeeps with stainless-steel body panels arrived around 1971. Locally made wheels, horns, and spot lamps came in the '80s. Some Novaliches to Manila air-conditioned units even appeared during the decade.
Today, PUJ exteriors have panel murals normally depicting family portraits, religious icons, sceneries, movie and anime characters, dream cars, and dream girls. Appearing during the late '60s, funny caricatures and slogans ("Upong seksi lamang po," "God knows Judas not pay"), stickers, radios and tapes are still around.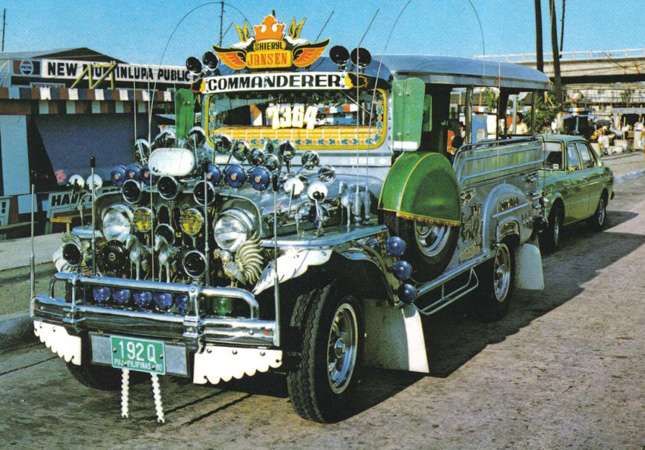 ADVERTISEMENT - CONTINUE READING BELOW ↓
The unique features that made the Philippine jeepney an international icon might be gone in a few years. Let's hope that the modernized units will incorporate some of these, so that they may still be seen and appreciated by future generations.