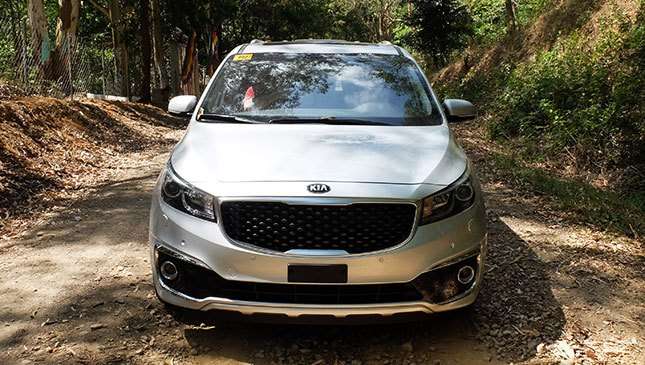 We're assuming most of you guys are headed out of town for the upcoming Holy Week break. Whether it's out to the beach for a weekend under the sun, or to far-flung provinces to visit the relatives, you've already committed to suffering traffic hell to make the most of your precious vacation.
With that in mind, we beat you guys (and the forthcoming sea of cars on NLEX) to it by driving to nearby Bataan, for a quick Araw ng Kagitingan getaway to Mt. Samat with the Kia Carnival. This van is the premiere Korean hauler in the market. Long story short, we fell in love with the premium seven-seater, which turned out to be the perfect barkada getaway vehicle. Here are a few reasons why:
Continue reading below ↓
Recommended Videos
1. So much room for activities. If you read that in Will Ferrell's voice, kudos to you. If not, then you need to watch Step Brothers right away. The Carnival's interior and luggage space is incredible. I counted seven full-grown adults, a dog in a crate, two cases of canned drinks, a cooler or two worth of food, several weekend bags, and there was still plenty of room to spare. This car looks huge and feels even bigger from inside.
2. A barkada that charges together, posts together. There are charging and USB ports from cockpit to hatch, letting all three rows charge devices simultaneously. Bonus: They're all placed conveniently and neatly concealed, too. Finding juice inside this cabin should pose no problem at all.
3. Everything's in its place. Finding cupholders for your drinks or places for your devices is a cinch, as there are plenty of them scattered throughout the vehicle. The center console features a practical design and sliding compartments, allowing driver and front passenger to charge their gadgets free of obstructive cables.
4. What does this button do? It's a question you're going to ask a good number of times sitting inside the Carnival. There's a lot of automation incorporated into this vehicle—from the two sliding rear passenger doors to the pair of sunroofs up top, as well as the rear hatch. By the way, don't forget to remind new passengers to let them work their magic and not force anything.
5. It's home away from home…on wheels. Kia endowed the Carnival's cabin with comfort and convenience from front to tail. Of course, the captain's chairs and excellent NVH levels are the main draw here, followed by the spacious third row and easily adjustable seats. The three-zone AC system does a stand-up job of cooling every inch of the interior, entering and exiting is a cinch, and the driver's seat gets adjustable lumbar support as well. Materials are top-notch and there's more than enough space to move around. Frankly, we wouldn't mind living in this thing.
6. Safety first. Drivers and passengers get a plethora of airbags and safety tech. The minivan packs parking sensors all around, a cross traffic warning system, traction control, and blind spot detection among other safety features.
7. It's a performer, too. The Carnival you see here packs a 3.3-liter V6 engine capable of 276hp and 336Nm, so there's plenty of oomph for overtakes. And to think we were at full capacity, too. It handles well, and has a turning radius smaller than its size might lead you to think.
8. It comes at a cost, though. We averaged under 7km/L in highway driving conditions, and that's already on Eco Mode. Take that figure with a grain of salt though, because this unit hasn't been broken in. It's fresh off the port. Oh, and it has a P2.8 million price tag. But from our experience, you're getting what you pay for.