The recent reveal of the Kia Stinger at the 2019 Manila International Auto Show (MIAS) was pretty big news, and for good reason: For every sarcastic "Mata-traffic lang yan sa EDSA" comment that a performance-car story gets, you get one that expresses appreciation of a fine automobile regardless of its price point or perceived impracticality.
But about that latter point—is the Stinger actually an impractical car? We get that it's expensive (the expected retail price is P3,325,000), but as a mode of transport, can it seat passengers comfortably, particularly in the rear? It's marketed as a grand tourer-esque car, after all. So, we decided to hop into the display unit at MIAS to find out.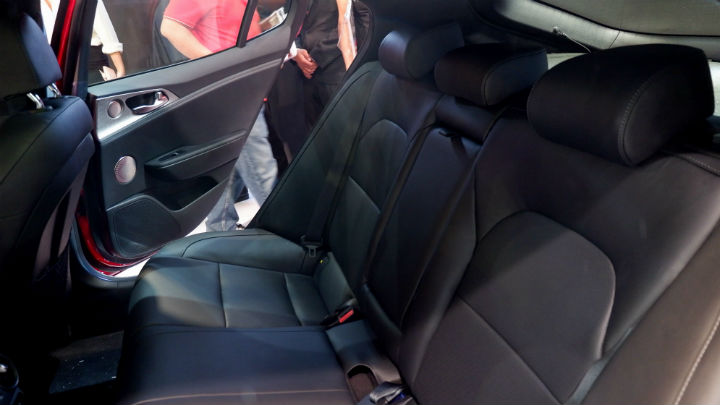 Continue reading below ↓
Recommended Videos
The good news is that the Stinger's cabin feels just like that of any other compact car—roomy for your average four-door fastback, in other words. Entering through the rear doors is easy enough, and the seats are angled to give occupants ample headroom. Legroom isn't too bad, either. We imagine it'd be pretty comfy back there over a long drive, provided your seatmates haven't been too eager to hit the buffet.
We have to comment on the dashboard while we're at it. We know that Kia's gone all European in this era of Peter Schreyer, but the Stinger is perhaps the most Euro-like model we've seen to date. Everything from the flowing dash to the circular aircon vents and the stubby shifter would look right at home in a Mercedes-Benz or an Audi. Impressive stuff.
Are you excited for the Stinger to land in local dealerships?