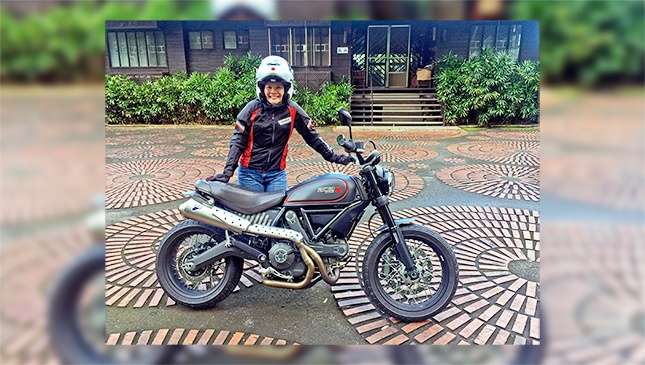 It all started with me back-riding with my husband, Pat. After several long trips with him, he noticed that I back-ride well (if there is such a thing), and said that I would most likely ride a bike well and encouraged me to take lessons so I could ride on my own.
ADVERTISEMENT - CONTINUE READING BELOW ↓
Since I enjoyed riding with him so much, and the idea of riding my own bike was an exciting one, I thought: "Why not?!" And so I took lessons at the Honda Safety Driving Center and took (and passed) both their basic and intermediate motorcycle safety riding courses.
Then the search for my own bike began, with Pat making sound inputs as to what the best options for me would be. I wanted a nice-looking naked bike, and initially thought about getting the KTM Duke 390 so my husband and I would have matching brand bikes since he rides a KTM 1190 Adventure.
But we thought that going with a higher displacement motorbike, between 700cc to 800cc, would be better to avoid upgrading later on.
So my choices were now narrowed down to the BMW F700 GS, Ducati Scrambler, and Yamaha MT-07. Of the three, I have always been partial to the Scrambler.
Whenever I would try any of the three bikes, I found the seat height and weight of the other two somewhat intimidating. Standing only 5'2," I felt more confident on the Scrambler because of its size and the manageable 31.1-inch seat height. I had also read good reviews on it for being a good option for a beginner's and lady's bike.
I also liked the retro look of the Scrambler compared to the Yamaha XSR900 and the Kawasaki W800 which both have availability issues.
The Scrambler is a light and nimble bike that's stable and easy to handle. It gives me power and speed when I want and need it whether it's on straight roads or twisties. I've taken it on two long rides already and I am impressed and satisfied with its performance.
I also found the tank size is another significant criteria in choosing. It was a bit difficult for me to clip the tank of the W800 and XSR900 with my legs when cornering. With the Scrambler's slim tank, there's no problem.
ADVERTISEMENT - CONTINUE READING BELOW ↓
Aesthetics-wise, it's a good-looking bike with simple and classic lines and, more important, Pat would always say: "You look good on the Scrambler!"
Last Christmas, my dream of owning my own motorbike became true. Pat bought me a second-hand, customized Ducati Scrambler Urban Enduro 800cc. It looks sexy with its black/gunmetal gray hue. When we purchased the bike, I had the red Ducati red color painted around the side panel to give it a slightly feminine touch.
For P680,000 and only about 4,000km logged in on the odometer, Pat and I knew it was a good buy. I could not have chosen a better bike for me and my riding style, and I am more than happy with my choice.
To my dear husband, thank you very much for this awesome Christmas gift!