Lego has come a long way from its humble beginnings. The Denmark-based toy manufacturer has come up with just about everything--from simple construction toy structures to complex designs, which feature real-life functions such as gearboxes and steering mechanisms. Now it looks like the company is taking the building game to a whole new level with the Mercedes-Benz Arocs 3245 scale model, one of the world's most complex Lego vehicles ever made.
The Arocs 2345 model, a joint project by the Lego Group and Daimler AG, features an advanced Mercedes-Benz Arocs frame and suspension system, steering, drives and lifts. The truck is composed of over 2,700 parts, including Lego power functions and pneumatic actuators. The model is 31cm tall, 5cm wide and 54cm long. Now that's some serious building!
Mercedes-Benz Trucks marketing manager Andreas Gruber says that he is happy with how closely the model resembles the real thing. "The key priority we discussed with the Lego designers was getting the design, scale and advanced functions as similar as possible to the original Arocs 3245, including adding as many iconic details in from the real Arocs to the Lego model as possible--handrail, step-up, wheel chock," he shares. "It was very important to us that everyone would immediately identify the Lego Technic model as the Mercedes-Benz Arocs 3245. They have accomplished that."
To ensure that the Arocs 3245 model would resemble the real thing as closely as it could, Lego senior marketing manager Niels Henrik Horsted and his team visited the Mercedes-Benz Trucks production facility to soak in as many details from the assembly line as possible. "Our ground pillars are authenticity, functionality and challenging and engaging building," he explains. "Whenever we design a new set, our aim is to give Technic builders a stunning model that looks as detailed as its real-life version as possible. It should have all the main functionalities you would expect. And we strive to introduce inspiring new ways to build with the Technic elements. Our version of the Arocs 3245 fulfills that in every way."
ADVERTISEMENT - CONTINUE READING BELOW ↓
If Lego's attention to detail isn't enough to convince enthusiasts to build the Arocs 3245, they'll be happy to know that the model can also be built into a completely different Mercedes-Benz Articulated Construction Truck. So guys, if you're looking to do some hardcore Lego-building anytime soon, the Mercedes-Benz Arocs 3245 just might be the model for you.
Below is a photo of the real thing (which looks more like a Tonka truck because of the paint job).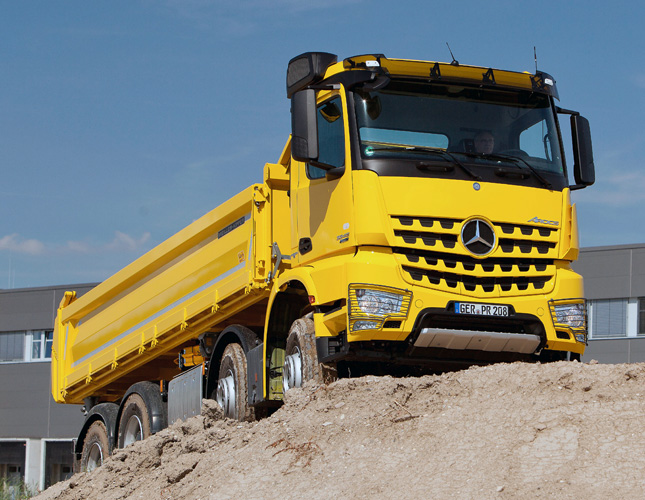 ADVERTISEMENT - CONTINUE READING BELOW ↓
Recommended Videos