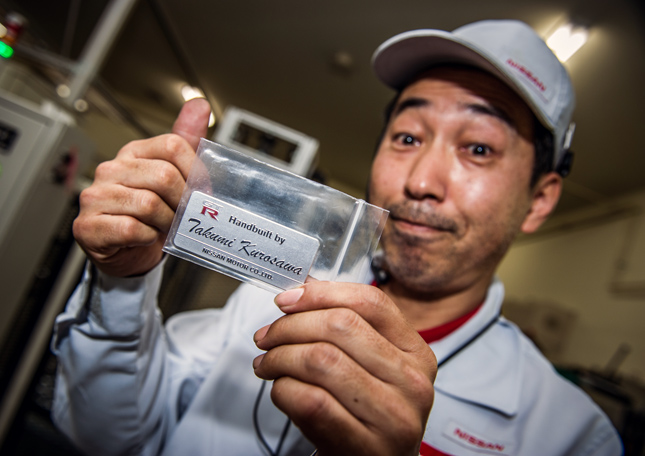 We know that the Japanese have a high regard for their craft. Think Jiro Ono in Jiro Dreams Of Sushi, who has dedicated most of his life to whipping up the best of the popular Japanese delicacy. The same goes for their cars, apparently. The men who build the Nissan GT-R are solid examples of that fact.
So when we were told that we'd be visiting the Nissan Yokohama plant, and that we'd be getting a tour in the very facility where the GT-R is built, we knew we were in for a treat. Usually, this kind of activity is not open to the public, and we were privileged to have been granted access to this special tour.
The sports coupe's engine is hand-built by a takumi, a master craftsman who assembles the mill of the robust GT-R. There are only five such mechanical artisans in the world right now, and we met one by the name of Takumi Kurosawa. (Yes, this takumi is named Takumi.)
We asked Kurosawa-san why these engines are solely built by hand, and he likened a takumi's fingers to sensors. They are more precise than machines could ever be. Of course, becoming a master craftsman is not easy. "There are people who can never become a takumi," explained Kurosawa-san. He did not go into detail as to what the requirements of becoming one are, but we can only imagine how demanding and tedious it must be. Surely, an outstanding amount of discipline and dedication is part of that.
Continue reading below ↓
Recommended Videos
Unlike a typical manufacturing plant where there's an assembly line filled with machine-aided workers who install a particular car part, only one person works on the GT-R's engine. That is why you'll find the takumi's signature on the vehicle's motor.
We also found out that before the engine gets sent to the body assembly, it has to pass a quality inspection of 73 items. Only when it meets the requirements of all 73 points will the engine move on to the next step of the build.
So the next time you admire a GT-R, know that it took a highly skilled takumi to expertly build its source of propulsion.
NOTE: One of the engines shown below was built by Kurosawa-san's colleague, Tsunemi Ooyama.
Top photo from Nissan; all other photos by Stephanie Asi-de Castro