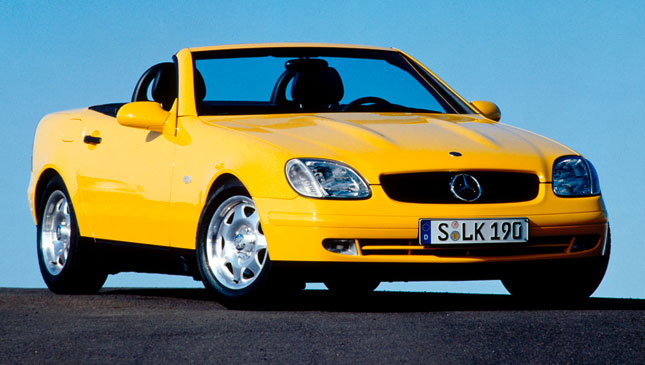 In April 1996, Mercedes-Benz altered the world's view of its brand. At a time when the German marque was best known for its stately sedans, along came the SLK.
The car, whose name is acronym for German words that mean "sporty, light and short," heralded the beginning of a new era for Mercedes-Benz. Apart from being sporty, this little roadster boasted a metal folding roof that combined the joys of open-air motoring with the safety of a closed hardtop. This essentially afforded owners year-round bliss, no matter what the weather was.
This year, the SLK celebrates its 20th birthday. Since it first broke cover as a concept car back in April of 1994 at the Turin Motor Show, and again as a production vehicle two years later (also in Turin), the SLK has sold more than 670,000 units over the span of three iterations. This success can be attributed to the numerous innovations and equally varied choices buyers. The first-gen R170, for instance, was available as a naturally aspirated SLK200, as well as a supercharged duo of SLK200K and SLK230K variants. Those that wanted a bit more oomph opted for the SLK32 AMG with its 354hp motor.
In 2004, the second-generation SLK entered the scene. This new model played on the strengths of the Mark I, but added a lot more flair and some motorsport pedigree to the mix. The R171 had the striking front end of the SLR McLaren supercar, not to mention that of the Mercedes-McLaren Silver Arrows racing car. Add to this a range of options that included the supercharged SLK200K, the SLK350 and the first SLK with a V8--the SLK55 AMG with 360hp.
Beyond the sporty demeanor, the SLK is well-remembered for the host of innovations it offered. One was the Airscarf, a neck warmer that blew air out of the front seats. This helped keep passengers nice and toasty even while driving with the top down in cold climates. Another nifty feature was the rear window that folded along with the VarioRoof. This made it easier to stow, not to mention cutting down on space and weight.
In its latest bid to win new buyers, Mercedes-Benz continued the SLK's streak by coming up with the third-generation SLK in 2010. This one was a more stylish take on the little open-top that sits lower than its SL brother, yet loses none of the latter's flair. And in the latest attempt to organize the Merc family, you may recall that this compact beauty has just been renamed the SLC. This further reinforces its close association with the equally sporty and compact C-Class.
It may be 20 years old, but the SLK (now SLC) remains as youthful as the day it first rolled out the doors of the Mercedes factory. Happy birthday, SLK (or SLC, whatever)!