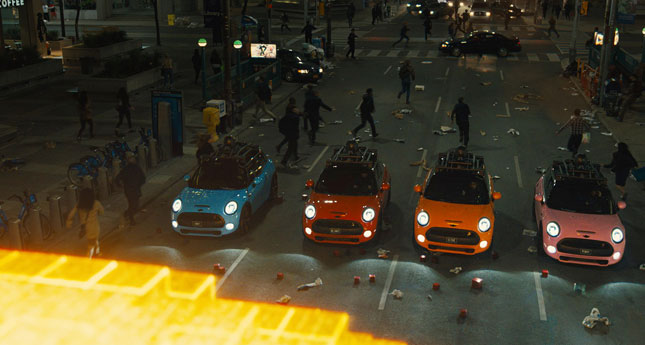 To say that the Mini Cooper has become a cult favorite is an understatement. Fans around the world just love the car to no end--both old and new models. If you consider the car a celebrity, well, you're actually not far off, either. Remember the movie The Italian Job? Three souped-up Mini Coopers ran underground just to get the gold (literally).
Well, the little nimble British icon is back in Hollywood. This time, it's out to save the world. And we're not just talking about bad guys here: Aliens are the Mini's new enemies. Sony Pictures will be releasing its latest movie Pixels, which stars Adam Sandler, Peter Dinklage, Denis Akiyama, Josh Gad and the Mini Cooper S. The sci-fi comedy features a mix of funny lines, thrilling action scenes, high-octane chase scenes, and a slew of video-game characters from times past. Those who are old enough may recall such greats as Pac-Man and Donkey Kong. Now, they will be coming back to life on the big screen.
Director Christopher Columbus got his inspiration from an animated French flick by Patrick Jean, which likewise paid tribute to the aforementioned classic '80s arcade games. In Pixels, extraterrestrials misinterpret signals from old video games like Space Invaders. Seeing the world as one big video game, the aliens mistakenly think that our world is out to wage war against them, and quickly send troops to destroy us. And we're not simply talking about ordinary foot soldiers here. They send oversized Donkey Kong and Pac-Man figures that turn everything they see into--you guessed it--pixels.
Continue reading below ↓
Recommended Videos
To save the world, the US government deploys a special team composed of four individuals who are highly skilled in '80s arcade games. This gives them an edge, as they know what it takes to win against Pac-Man and his cohorts. Of course, the four have to travel in style, and this is where the Minis come into play. They are specially designed Mini Ghosts--four Mini Cooper S hatchbacks dressed up as the four ghosts from the Pac-Man video game.
Paying homage to the original Mini Cooper of 1959, the Mini Cooper S three-door hatchback retains the classic shape and styling cues that made the vintage car a runaway success around the world. Apart from this, the engine, suspension and other bits give the car a nimbleness and agility that other cars can only dream of but never quite achieve. And in this latest flick, the car's style and excellent handling will once again be highlighted as it comes out to save the world.
See how the Mini Cooper S saves the world when Pixels comes out in cinemas later this year. Meanwhile, watch the trailer.
If you're viewing this on a mobile device and can't see the video, please click here.