Subcompact econoboxes spend most of their lifespans as daily-driven beaters, but in Minnesota, USA, a 2014 Mitsubishi Mirage went far beyond doing that—and we're talking literally far, to the tune of covering 667,105km (414,520 miles) in just six years. As it says on the side of the car in the main image, that distance is more than 16 times the diameter of our planet.
The Mirage was owned by Jerry and Janice Huot, who had initially visited their local dealer, White Bear Mitsubishi, to trade in Janice's Cadillac for a more fuel-efficient ride. "Right in the middle of the showroom was this little purple Mirage that got [18.7km/L]," Janice recalls. "I'd had an Outlander Sport and Montero Sport before and loved them, so it seemed like a good choice. We drove the Mirage home that day, right off the showroom floor."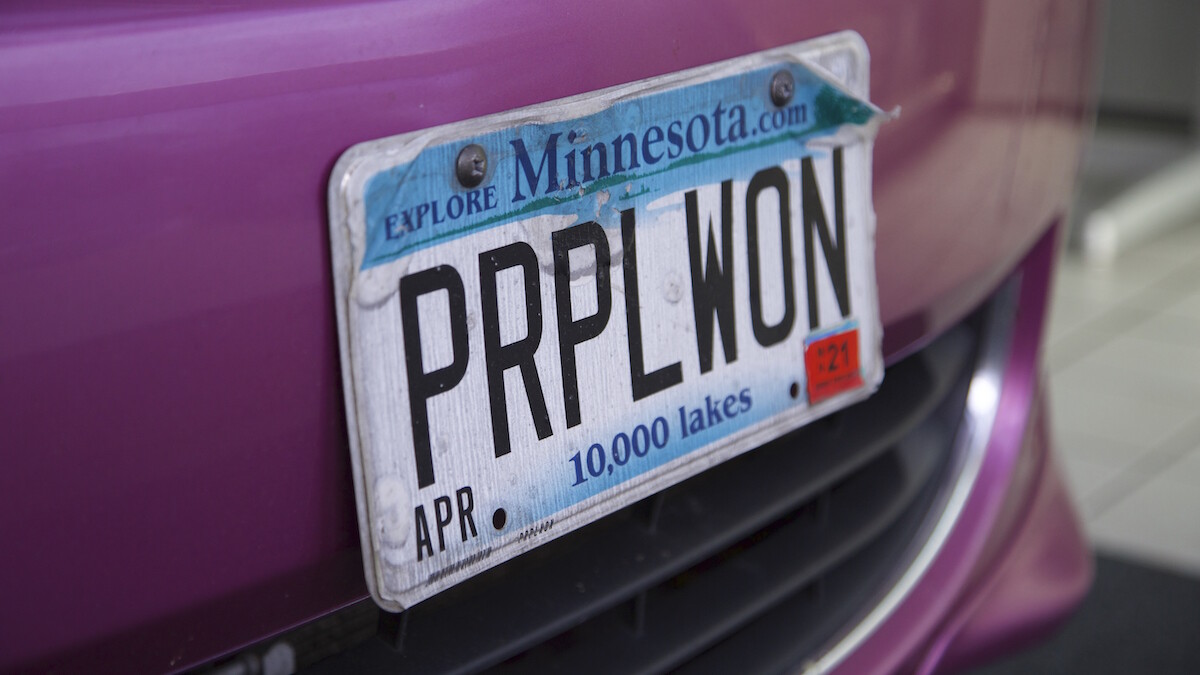 Continue reading below ↓
Recommended Videos
Following the couple's tradition of naming their cars, the Plasma Purple unit was dubbed 'Purple Won' after two local icons: award-winning musician Prince, and football squad the Minnesota Vikings. But far from being given the VIP treatment accorded to superstars and sport personalities, the Mirage was put right to work even through Minnesota's grueling winters.
"I am a courier," Jerry explains. "I deliver samples from various doctors' offices to labs, so I drive up and down the state and around town in Minneapolis all the time. The Mirage never missed a beat. It got me up and out of our gravel driveway, even in the middle of winter, when others got stuck in the snow."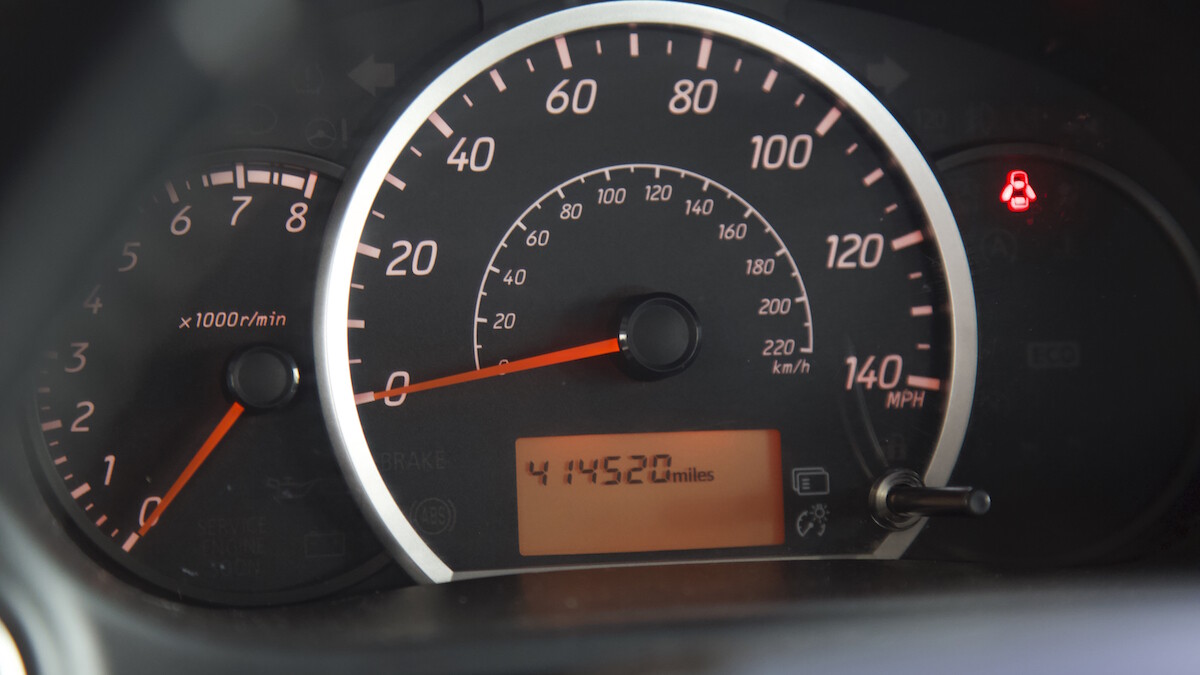 Despite also being used to "haul rocks and mulch," the car kept on racking up mileage without any major issues. "All we did was routine maintenance," says Jerry. "We had to replace the wheel bearings sometime after 150,000 miles (around 241,400km), and the starter motor was replaced at somewhere between 200,000 and 300,000 miles (roughly 321,870km and 482,800km), but that was all covered under warranty. Otherwise, regular oil changes seemed to do the trick."
And they would have kept the car if it weren't for an offer from the dealer principal of their dealership. "When he heard about how many miles we had on the car, he said he wanted to use it for advertising," says Jerry, "so he worked with us to get great deal on a new 2020 Mirage."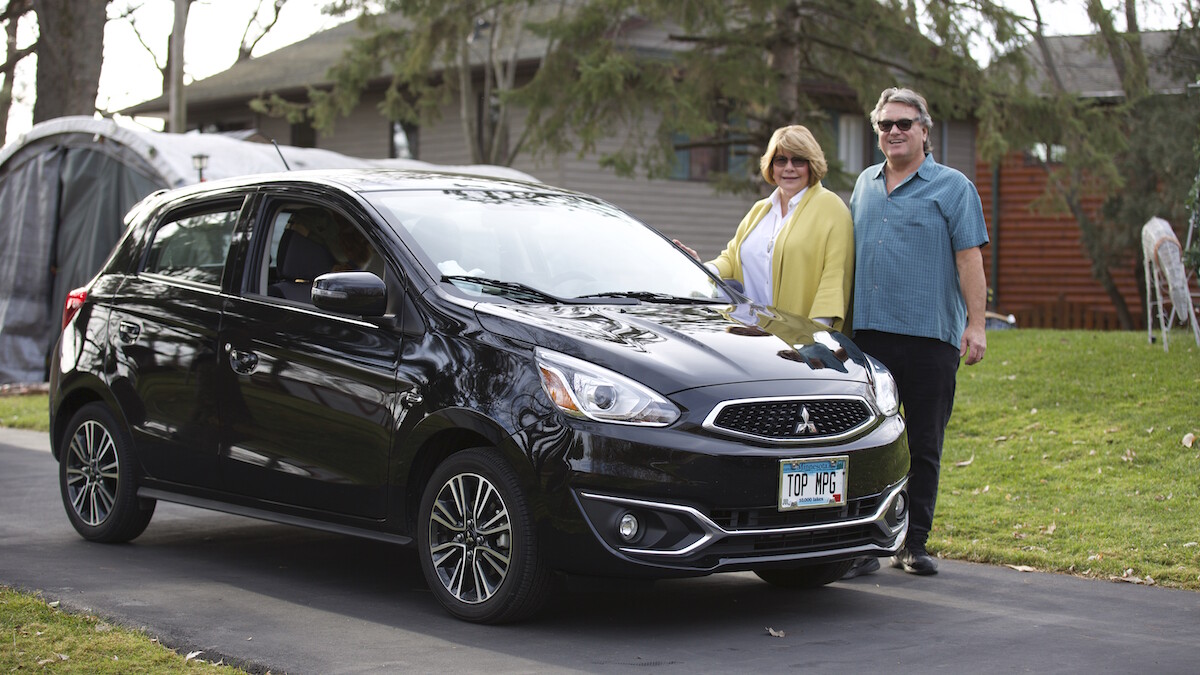 But as much as they love their brand-new ride, named 'Top MPG,' the Houts still look back fondly on Purple Won. "For me, there are a lot of great memories, but one of the best was when Jerry dressed the car up to look like a Minnesota Vikings helmet for my birthday," remembers Janice. "He got a set of magnetic Viking horn decals made for the car, and we stuck them on the doors during football season."
"The Purple Won was the first new car I'd ever owned, and it was absolutely the best, totally dependable and economical," says Jerry. "We still miss it. As long as Mitsubishi keeps making the Mirage, I'll own one."