Many people remember Kia Pride as that cheap little Korean car from the '90s. It was the perfect example of basic transport designed to get you from point A to point B. Powered by a carbureted 1,139cc engine that produced 69hp, this little econobox was actually based on the '80s-era Mazda 121, and it was also sold in some markets as the Ford Festiva (not to be confused with the Euro Fiesta).
In the 2000s, the Pride was replaced by the larger Rio. We at Top Gear Philippines are feeling a bit nostalgic about the '90s, so we began to wonder what a modern-day Kia Pride would look like. The Pride hatchback's styling may be basic, but its little design details gave it its own character. Our goal was to capture the look of the original car, but update it with Kia's modern styling.
Up front, we gave it the Korean brand's trademark tiger-nose grille flanked by large upright headlights; this is complemented by a large lower intake. As with the original Pride, the nearly flat hood slopes down. Blacked-out Soul-style A-pillars give the car a modern look without altering the familiar Pride silhouette.
Moving on to the side of the vehicle, we gave it distinct blistered fenders that blend in with the character line, like in the '90s model. Door handles have been upgraded to beefier contemporary pull-out units. We kept the low beltline and the large windows, but cleaned up the greenhouse area by minimizing the B-pillar shutlines and eliminating the door-mounted quarter window.
Continue reading below ↓
Recommended Videos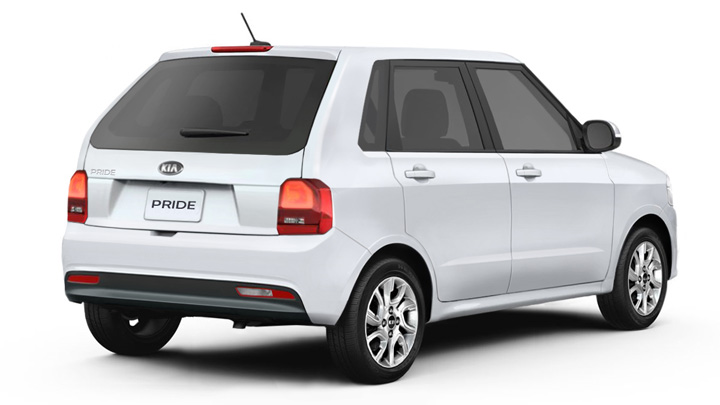 The taillights are more chiseled modern interpretations of the original clusters. The rear license-plate recess is now more angular, while the rear wiper is now mounted on the backlight for a cleaner look. The side shutlines of the liftgate have been moved to the back for a neater appearance. The matte-black faux diffuser that houses the rear foglight and reversing light visually slims down the rear end.
Our modern Kia Pride will use a slightly widened Picanto platform. Mechanical and electronic components as well as safety equipment can be shared between the two models. Exterior dimensions are estimated to be 3,640mm by 1,635mm by 1,505mm. While it's only marginally bigger than a Picanto, the modern car's boxier shape allows it to maximize interior space and cargo room. Under its hood is the Picanto's 82hp 1.2-liter Kappa in-line-four gasoline mill. This powerplant can be mated to either a five-speed manual transmission or a four-speed automatic tranny.
If Kia were to build a modern Kia Pride, would you consider it? Please leave us a comment and let us know what you think.