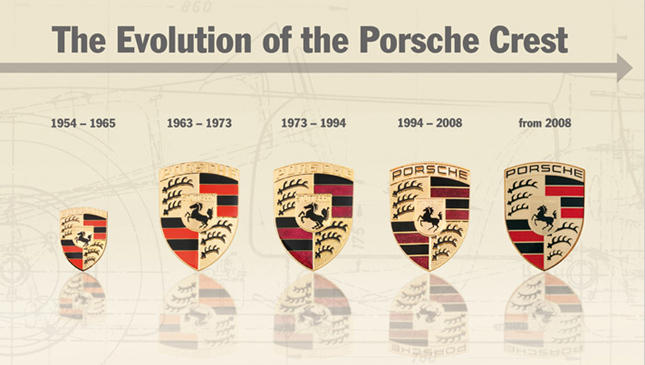 An emblem is a car brand's identity--it aims to make the brand identifiable and memorable to an audience. Associating that emblem with personal experiences is achieved by how an individual connects with it, and the importance of a brand through the impression of a badge results in aspirations, making the brand significant.
Ever wondered how the Porsche crest came about, and what it means? At regional and global Porsche events, a unique item relives the story of the sports car brand and is laid on the table for guests to appreciate--a napkin.
Let's brush up a bit on German history to understand the elements in the Porsche crest.
Stuttgart, the birthplace of Porsche, is derived from the Old High German name stuotengarten--"stouten" meaning "mare" (which later became "stud" in contemporary English language, meaning the breeding of horses) and "garten" simply meaning "garden." This explains why a black prancing horse has been the focal point in Stuttgart's coat of arms since 1286. This coat of arms bears significance to the company. Aesthetic changes were applied over time, all the way up until the late 1930s.
The Free People's State of Württemberg, of which Stuttgart is the capital, was divided into two states after Germany's defeat in World War II--with France occupying Württemberg-Hohenzollern, and with the capital being transferred from Stuttgart to Tübingen. The United States, meanwhile, occupied Württemberg-Baden, where Stuttgart remained as the capital.
Continue reading below ↓
Recommended Videos
Four years later, in 1949, the Federal Republic of Germany (commonly known as West Germany) was formed. On April 25, 1952, both states of Württemberg and the region of Baden joined to form the state of Baden-Württemberg. That very same day across the Atlantic, at a restaurant in New York, Ferry Porsche draws the initial badge of his sports cars as suggested by Max Hoffman, Porsche's first importer in the United States.
Porsche was already emerging as a sports car company with its release of the 356 in 1948. The first models, which were built until the next year, were essentially prototypes made of aluminum and built in Gmünd, Austria. Production moved to Zuffenhausen, Germany, in 1950, and the 356 had a steel body from then on.
The company crest was introduced on the steering wheel of the 356 Pre-A model later in 1952, after Ferry Porsche approved the final study. Two years later, the badge appeared on the hood handle of the Pre-A. In 1958, the hubcaps of the late-model 356 A were badged in time for the 356 B just a year later. When the first 911 (Type 901) was introduced in 1963, it sported a larger crest.
Although a Porsche is recognizable even without looking at the crest, the latter definitely completes the connection.