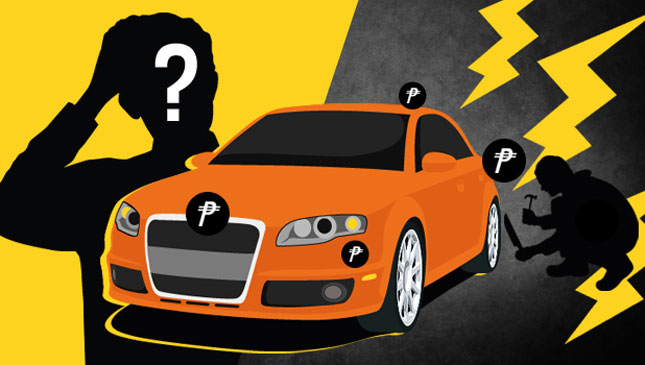 "Sir, kailangan na palitan yung transmission ninyo," the service advisor told me.
I'll never forget those words, because they were what made me conclude what many people had been warning me about for years: Car maintenance can be very expensive if you're gullible.
It was around seven years ago, and my car back then was a 1999 Honda Accord with 80,000km or so. Not long after the 80,000km oil change and service, the automatic gearbox had begun acting up, doing the herky-jerky in traffic and occasionally refusing to change gears. So I brought it back to the casa and was told that it needed new transmission fluid; I also asked for a new transmission filter.
Two days and P4,000 later, the transmission actually felt worse. Now it refused to engage in Drive, and I was in danger of getting stranded in EDSA traffic. I barely managed to limp the car to the office and angrily called the casa. So a few hours later, the service advisor came to the office and haughtily showed me the empty cans of transmission fluid to prove that he had, in fact, replaced it.
I asked him about the filter, but then he explained to this idiot of a customer: "E, sir, hindi napapalitan ang filter niyan kasi nasa loob ng housing." Then I was told that there was nothing for it but to replace the transmission.
Continue reading below ↓
Recommended Videos
Ballpark figure? Around P150,000. Holy crap. This, after spending for the transmission fluid and labor that turned out to be futile efforts. Or spend only half as much: "Sir, pwede ka kumuha ng remanufactured na transmission--P75,000 lang, plus labor."
So I had an eight-year-old car with less than half the mileage of most US-market Accords, and I was being told that the original transmission was so terrible that it had gone kaput at 80,000km? I called up (Top Gear Philippines technical editor) Ferman Lao of Speedlab, who patiently listened to my tale of woe. "No problem," he said. "Sounds like it needs an overhaul. Bring it over here and we'll get it done in a few days."
All for less than P40,000, and while this was still a small fortune to me, it was a helluva lot better than the casa rates. In fact, I felt so good about the deal that I had them overhaul the power steering pump as well for another couple of thousand bucks. The car came back better than ever, and I resolved to never visit that particular casa ever again.
We know that with relatively small margins on the cars, dealerships make the real money off the service, the parts and the in-house financing. Just think of how many people have been suckered into buying new parts because they didn't know better and had this blind trust in the dealership. Aftermarket repair shops, on the other hand, make money off the parts they sell at a big margin as well as on labor.
After that sorry episode, I changed brands and was quite pleased with the outcome. While I still go to the casa for routine servicing, the service adviser doesn't mind that I go à la carte from time to time. Things like wheel alignment and rustproofing are things I've never availed of, but I don't mind the slight premium on other services if only for the convenience. My Suburban, meanwhile, gets serviced at the Shell station I've trusted for years (Fast Wheels on Sucat, in case you're wondering).
Yet shady dealerships aren't the only culprit. Toss them in with money-grubbing repair shops, who will more often than not determine that the only way to fix a problem is to replace as many parts as possible in a shotgun strategy.
Curious if my experience with vehicle maintenance was not an isolated case, I asked around if other people had gotten burned by their dealerships or by their erstwhile favored repair shops. Here are some anecdotes:
* At 115,000km, there was a screeching noise emanating from what I thought might be one of the belts of my SUV. I brought it to the repair station--one with a lot of branches--and got an estimate for a whole bunch of belts and other things to the tune of P30,000. I brought it over to another shop that correctly diagnosed it as a failing water pump. The cost was actually higher, but at least it was for the correct replacement!
* We brought our van to the casa for overheating issues. They replaced the coolant and additional items, but told us they found nothing wrong. On our way home, the van was still overheating. We then contacted a mechanic friend who found that our vehicle had a cracked cylinder head.
* The usual: "Sir, you have to buy the oil from us. Otherwise, your warranty will be voided."
* Someone I know was told that his car's transmission would be all right since it had just been replaced with another customer's. After asking around some more, I learned that this particular shop was known to swap parts between customers.
* A long time ago, I left my toolbox in my car when I had it tuned up in a shop I used to frequent. The mechanic or his assistant had a field day sifting through the contents. I never thought about it until I needed to get a screwdriver. When I asked the mechanic, all I got was: "Wala akong alam diyan!" I never went back to that shop again.
* How about a shop that replaced several items on my car, yet at the same time my brother-in-law with the same car only needed to have them repaired?
* My car was having overheating issues, so the mechanic suggested I remove the thermostat. Big mistake! The engine overheated a few days later, and then I had to have it overhauled along with replacing the radiator and some other cooling system parts.
So, what's your favorite repair shop or casa horror story? Do tell.
Artwork by Billie Cowper