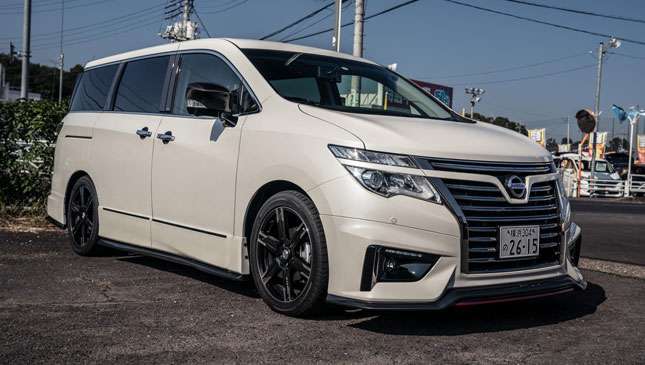 What do we have here then?
A slice of majestic JDM multi-purpose vehicle magic. Otherwise known as the Nissan Elgrand. Here, in racy Nismo trim.
Hold on, what's a multi-purpose vehicle?
Oh to be young. MPVs are a dying breed. With the increased consumption of crossovers and the rise of the now ubiquitous SUV, the poor MPV has become remarkably unfashionable to both marketing departments and consumers. Which is a shame, as we love a good ol' MPV.
They were all the rage in the late '80s and '90s. Thanks to monstrous amounts of interior space and flexible seating structure, MPVs offer limitless opportunities to rearrange your captain's chairs. You can basically turn them into a rolling whatever-the-hell-you-want. Mobile office? Sure. Peripatetic Pilates studio? No problem. Indoor picnic arena? Easy.
Continue reading below ↓
Recommended Videos
They're still mad for them in Japan. The Toyota Alphard, Vellfire, and Honda Odyssey are all popular and stiff competitors to the Elgrand which first came onto the scene in '97, followed by the second gen in '02. This third-gen has been around since 2010 and facelifted many times. And this Nismo has had a sprinkling of sportiness added to make it stand out amongst the rest.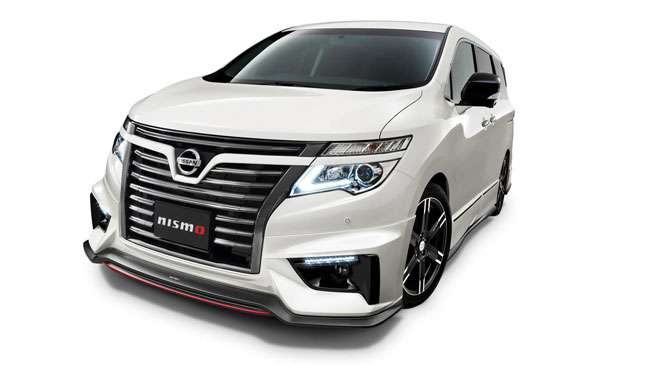 Sorry, who are Nismo?
It's Nissan's in-house outfit responsible for going fast. Established in 1984, Nismo was founded to bring Nissan's privateer racers and factory-backed cars under one organization. It's responsible for taking the GT-R into GT racing, both domestically and internationally, and a couple of years back had a stab at a full-house LMP1 car—the ill-fated, soon swept under the carpet, front-engined, front-wheel-drive GT-R LM. Since then, it's branched out, and now uses its racing smarts to sprinkle the Nissan road car portfolio with standalone go-faster options a la AMG, M Division etc.
Since launching the Juke Nismo in 2012, the road-going Nismo brand has ambitiously made seven full-fat products over the last few years, as well as light trim packages for domestic markets, like the luscious Elgrand luxowagon. It's part of a big plan to become profitable enough in order to self-fund its racing programs, perhaps to feel less guilty about spending a mountain of yen on a defective and over-ambitious LMP1 program.
So what's been done?
Well, it's not a car specifically developed by Nismo—like the Nismo GT-R—rather a normal Elgrand Highway Star (you've got to love Japanese car names) decorated with sporty accessories that you can pick and choose from a Nismo catalogue.
Even so, they're pretty serious, and turn it into the sportiest MPV on the planet this side of the crazy Renault Espace F1. You can have an ECU developed for track work, complete sports suspension kit, new zingy exhaust, and bigger 19-inch wheels and tires. Plus lots of aero bits.
To make things easier, Nismo has packaged parts into kits, handily named 'Kit A' and 'Kit B'. Kit A is what'd be known as "New York's Finest" at Yellow Cab—aka everything. Kit B is largely aesthetic, with lots of faux carbon trim, including a chin spoiler, wing mirrors, pillars, silly diffuser and spoiler. All of which is finished in the classic Nismo pinstripes.
What does it drive like?
You need to adopt a Japanese mindset when driving to appreciate this car. You have to do everything with a state of honor. And, if possible, in white gloves.
First off, it's big. Really big considering most of Tokyo's streets are flooded with kei cars conforming to the strict dimensions dictating that they can be no longer than 3.4m and no wider than 1.5m. So coming in at just under 5m and 1.85m respectively, it's a giant, making it quite hard to slither through the inner city.
It's got a giant engine up front compared to what else litters Japanese roads too—a 3.5-liter naturally aspirated V6 with 276hp and 343Nm. In this day and age of small-capacity turbo engines, it's an interesting lump to use. It feels purposeful and smooth, but a bit naughty to be in a car like this. Yet it feels hamstrung by the droney Xtronic CVT transmission; you never get the best out of the engine as it whirs its way up and down the rev range in a constant state of confusion.
You sit like you're in a van and the steering is non-adjustable for reach, and quite heavy. Unsurprisingly, the sports suspension is firm and there's hilariously little roll when cornering. But a 20mm suspension drop and that massive Boba Fett bumper give the Nismo serious curb appeal.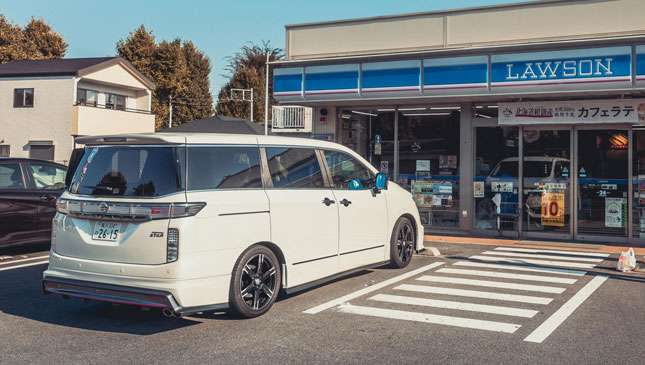 Does it work as a people carrier?
Head inside and the seating arrangement is rather spectacular. Up front are two giant, squidgy La-Z-Boys complete with adjustable calf rests. Behind, two more captain's chairs and a third row of three, so there's seating for seven in total. The people in the back are able to enjoy the 11-inch flip-down monitor in the roof, which, at the time of release, was the largest factory monitor available worldwide.
With a 71-liter fuel tank, the Elgrand can while away miles in comfort. Just don't let its sporty styling fool you into thinking it's a track hound. Its doorstop shape should tell you that much at least. Coming in at around P3 milllion equivalent in yen, it's a wonderful chariot for any speed-inclined luxo chauffeur. We're just jealous we can't get it over here.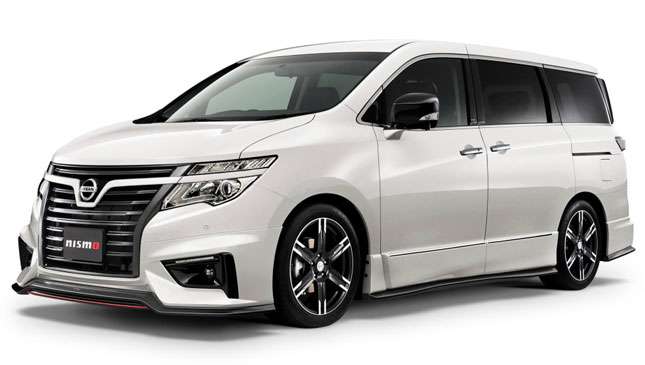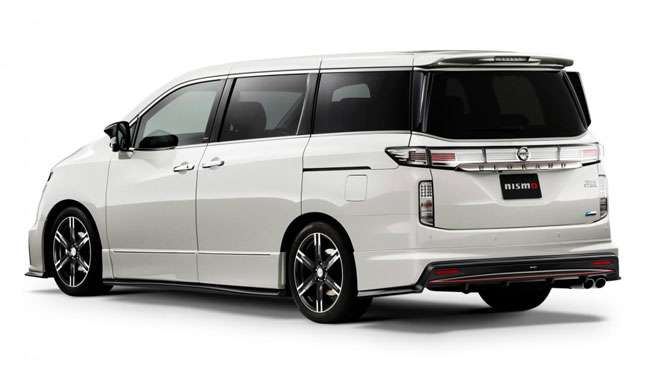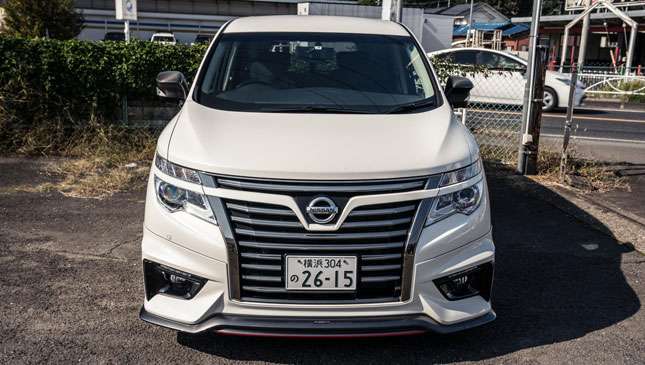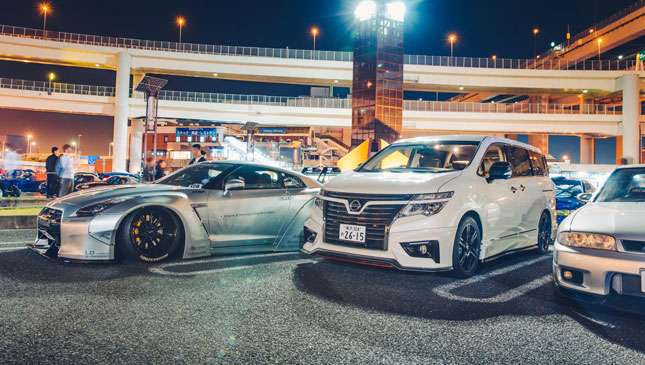 NOTE: This article first appeared on TopGear.com. Minor edits have been made.