Some years are bigger than others. On current form, 2018 is shaping up to be one that'll linger longer in the memory. But it still has some way to go if it's to beat 1968. Journalist Mark Kurlansky managed to get a weighty, brilliant book out of it: 1968: The Year That Shook The World. The Paris riots, the Prague Spring, the Tet offensive, the assassination of Martin Luther King... the '60s dream was under attack, the mood febrile. Culturally, it was significant too: Stanley Kubrick's 2001: A Space Odyssey blew minds, The Beatles' White Album was released, Led Zeppelin formed.
On opposite sides of the world, the car world also felt a notable ripple in the Force. In Turin, the prodigiously talented Giorgetto Giugiaro and his business partner Aldo Mantovani formed Italdesign. In Tokyo, Nissan showed the first GT-R, a potent reimagining of the Skyline saloon that had begun life as a model made by the Prince company (now a footnote, it merged with Nissan in 1966).
ADVERTISEMENT - CONTINUE READING BELOW ↓
Italdesign would go on to create the VW Golf, Fiat Panda and Fiat Uno, among countless other far-reaching cars and concepts. The GT-R, meanwhile, would transmogrify across six generations, losing the Skyline name but becoming one of the pillars of a thrilling and occasionally abstract Japanese automotive subculture.
Now they meet, and how. This is the GT-R50 by Italdesign. Nissan's senior vice president for global design, Alfonso Albaisa, takes up the story.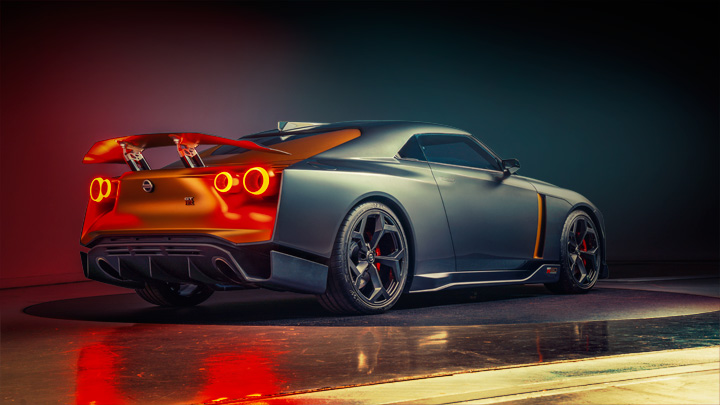 ADVERTISEMENT - CONTINUE READING BELOW ↓
Recommended Videos
"We were approached by Italdesign just before the Geneva Motor show in 2017 with a proposal to make 'something special'. They showed us their creation Zerouno [the first Italdesign Automobili branded car] at the Geneva show, and walked us through the business of making a limited series and how it could work for some of our iconic cars. We thought about it a bit and they came to Tokyo some months later. The idea to make 50 limited vehicles celebrating 50 years of both the GT-R and Italdesign came from that meeting."
We like those kinds of meetings. Italdesign, of course, is now wholly owned by the Volkswagen Group, Giugiaro having relinquished his remaining 10% in 2015. Its head of design is former Lamborghini man, Filippo Perini, although it's important to note that its engineering capability is just as relevant here. In fact, while Italdesign developed, engineered and built the car, the GT-R50's extraordinary visuals are the work of Nissan's London Paddington and San Diego design outposts. It made its debut at the Goodwood Festival of Speed in July (itself celebrating its 25th anniversary), and was one of the first cars I spotted when I arrived on site. Well, you couldn't miss it.
ADVERTISEMENT - CONTINUE READING BELOW ↓
Gold. Gold is definitely a thing on the GT-R50. There's an expanse of it on the car's nose, executed in such a way that it looks as though it belongs to another car altogether that's trying to push its way through. It's there in the 'samurai blade' cooling outlets behind the front wheels, and again in the rear of the car, to such an extent, says Nissan, that it appears as a separate modular element in the structure.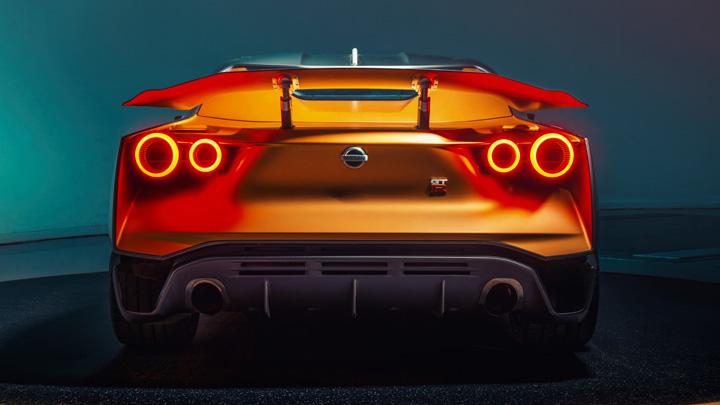 ADVERTISEMENT - CONTINUE READING BELOW ↓
"Not only is it a 50th-anniversary color, gold is used in F1 and other performance machines due to its heat-defecting properties," Albaisa says. "We played with this and used it to represent the inner structure of the car. It is a kind of car within a car."
The effect is set off in dramatic fashion by twin rear lights that really do look like they're floating free. A huge rear wing and diffuser anchor the GT-R50 in aerodynamic reality, but in every other sense, this is a genius mash-up of European sensibilities and Japanese anti-design. Wasn't that kind of the point of all those Skylines?
"Actually my former boss, Nakamura-san, mentioned to me during the development of the current GT-R that if someone complimented him on the car's beauty, he'd failed. What he meant was that the GT-R's mystique and its very DNA is that of a beast. It's brutal in appearance but science-like in its precision. Of course, I find this to be essential as well, and there is a Japanese aesthetic that is a must. That said, it must come naturally because the GT-R is an accumulation of many necessary things. However, integration and refinement are not always conscious parts of the design process.
ADVERTISEMENT - CONTINUE READING BELOW ↓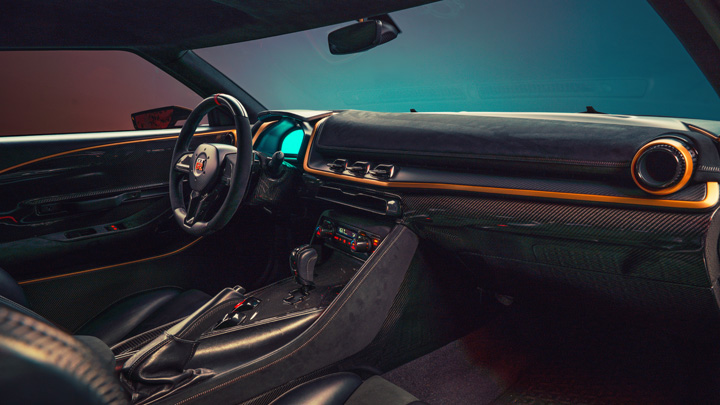 "There is something unique and surprising about living in Japan," Albaisa continues. "The sources of inspiration for designers of everything from fashion to automobiles to buildings, are somehow isolated from the rest of the world. That said, the world receives and embraces these designs with great curiosity."
ADVERTISEMENT - CONTINUE READING BELOW ↓
Very true. And now enhances it. Like every car designer who breathes air, Italdesign is a lodestar for Nissan's Cuban-born American design boss. "My generation of designers grew up with Italdesign design books and Giugiaro as our iconic hero," he says. "His ability to touch and shape so many aspects of design is a continued source of inspiration for me. Lately, the Maserati Boomerang is on my mind all the time. But frankly, there are too many to mention."
The GT-R50 is further proof that the world's HNWs' hunger for individuality is driving a new era of automotive 'bespoke', one that has echoes in the Italian carrozzeria tradition that partly inspired Giugiaro in the first place. "Yes, I fully agree," Albaisa says. "I believe as great things become more and more attainable, rarity or objects with a narrow story are the expressions of today. When Italdesign came to us, I was aware and frankly loving watching this return to bespoke around the world. But I never thought about our role in this return to the coachbuilder genre."
ADVERTISEMENT - CONTINUE READING BELOW ↓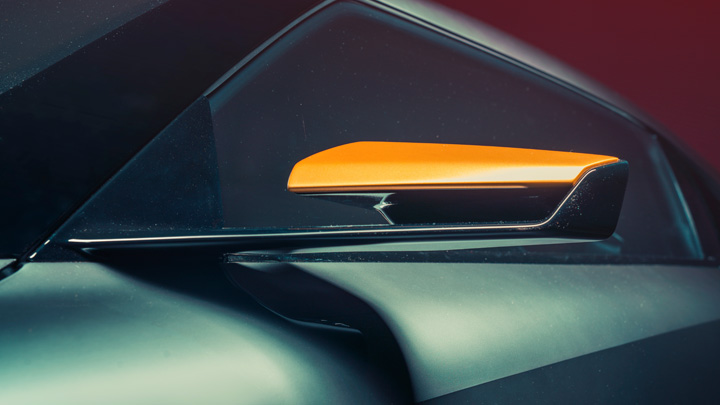 It's still a GT-R, though. Pretty much the ultimate one, as you'd hope for a car whose starting price, if (when) it goes into limited production is approximately £800k (P56.6 million). This is a full-blown Nismo machine, with a hand-made 3.8-liter V6 making 712hp and 800Nm, featuring high-flow, large-diameter GT3 comp-spec twin turbos, enlarged intercoolers, heavy-duty crankshaft, pistons, connecting rods, reworked intake and exhaust, beefed-up dual-clutch gearbox and a reinforced differential. The rear suspension uses Bilstein continuously variable dampers, there are huge Brembo brakes and Michelin Pilot Super Sport rubber wrapped around 21-inch carbon-fiber wheels.
ADVERTISEMENT - CONTINUE READING BELOW ↓
The GT-R50 may not be 'pretty'. But it's pretty magnificent.
NOTE: This article first appeared in Top Gear's  September 2018 issue.