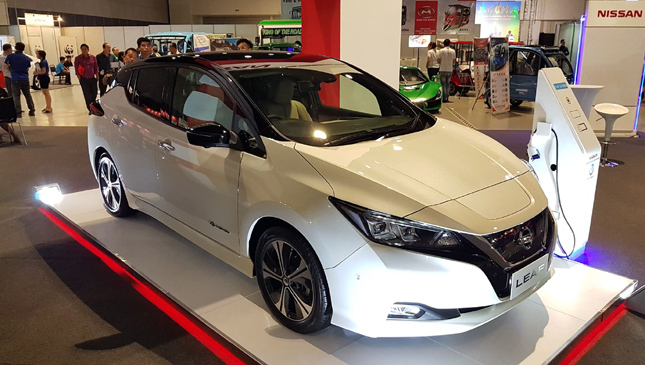 Those of you who who've already dropped by this year's Philippine Electric Vehicle Summit at the SMX Convention Center will undoubtedly have been drawn to the Nissan Leaf proudly on display at the Japanese carmaker's booth.
While it's already been announced that the EV will be making its way to several markets in the region, the Philippines isn't one of them. Not yet at least.
Nissan's global director of EV business, Nicholas Thomas, was present to give a walkthrough of the Leaf at the summit yesterday. We caught up with him following his presentation to ask what exactly it would take to make selling the Leaf locally feasible moving forward.
Continue reading below ↓
Recommended Videos
Our takeaway from our short conversation with Mr. Thomas? It basically boils down to three things:
1) There needs to be more demand
Mr. Thomas was very upfront about the manufacturer's strong desire to bring the Leaf to Philippine shores, saying it'll push through as soon as there's demand for EVs locally. "Seven countries in ASEAN will receive the Nissan Leaf in the near future. We're still studying for the Philippines specifically as well. As long as the customers want it, then we'll bring it here. No problem," he told us.
2) There's infrastructure, but it has to become an integral part of society
The idea that there's no infrastructure for EVs in the Philippines was described by Thomas as "sometimes a bit of a myth." According to him, 90% of EV charging is done at home by simply plugging a vehicle into a socket.
"You're holding a phone in your hand, you have charging infrastructure for that at home. It's a plug in the wall," he explains. "The charging infrastructure for an electric vehicle is exactly the same. I take my car home, I plug it into the wall. I have a charging socket at my workplace, and I charge it at my workplace. I have all of the electricity that I need."
Thomas added that what he believes we should work on is placing chargers in places people travel to on a regular basis—to make it more accessible and to integrate it into people's daily lives: " What I want to work on is shopping malls. Places where people are already spending time. Let's integrate some low-level charging in there. That makes owning an EV that much easier. That's how we can really get this revolution running."
3) There must be cooperation from all parties involved
"The adoption of EVs is all about cooperation," Thomas told us. "We have to bring the most exciting and most advanced vehicles, we are doing that. We're introducing the Leaf in many markets. But we need some strong cooperation from the government in terms of making the right economic conditions for customers, to make the cars attractive to them."
The exclusion of EVs and hybrids from the additional excise taxes brought about by the Tax Reform for Acceleration and Inclusion Act, or Train Law as it's more commonly referred to, is a decent start. But as Mr. Thomas said, there needs to be more demand. Are you interested in seeing the Nissan Leaf on Philippine roads? We know we are.