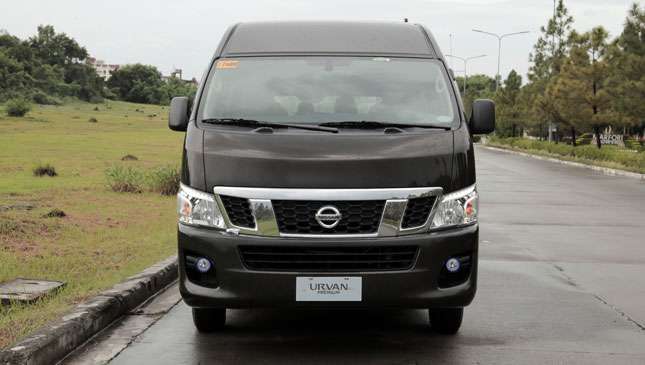 Manila's roads are some of the most congested on the planet. Yes, we know you're aware of that. We just figured we'd remind ourselves because we're masochists that way.
Kidding aside, there's only so much we can do about how bad our capital's situation is. And one of things you can do--at least if you have the money (and a driver)--is to buy yourself a nice, spacious van to escape some of the pains that come with traffic hell.
If you're thinking the same thing, we think the Nissan Urvan might be one of the vans you should consider. Here are a few reasons:
Continue reading below ↓
Recommended Videos
1) You have options.
Minus the new 'Cargo Van' variant, you can choose between a 15-seater, 18-seater, or a Premium model with either a manual or automatic transmission. Obviously, if we're talking about taking on Manila's traffic, you'll want to look into the last of the aforementioned--there's smoother fabrics, and the availability of an automatic gearbox.
2) There's plenty of room.
The 15-seat and Premium variant has a layout that makes the most out of the available space inside, providing maximum legroom. Headroom is excellent, too, with smaller passengers able to stand straight inside without any issues. Lastly, the large sliding doors make entering and exiting the van easy.
3) This is one 'cool' van.
You know how people always say Nissans have the best air-conditioning systems in the business? Well, the Urvan is a testament to that reputation. The Premium models come with 14 aircon vents that can combat traffic-filled summer days with the oh so sweet relief of cold, cold air. So crank that AC to max, put your legs up, and doze off (if you're the passenger).
4) This hauler can get you to places.
Underneath the hood (and driver's seat) of this 2,190kg beast is a hardy 2.5-liter turbodiesel that puts out up to 127hp and 356Nm of torque. It might not seem like too much, but it provides this van with just enough to get the job done. As Jason Tulio, our writer who reviewed the van, puts it: "You get the feeling that it can handle all the cargo that its space can accommodate." Nice.
5) You can customize it.
Ever dreamt of Manila-proofing an enormous van? If yes, we think the Urvan will make the perfect candidate. Put in a kickass sound system, captain's chairs. and a huge TV. Hell, perhaps add a bed and fridge while you're at it. With this much space inside, anything is possible.