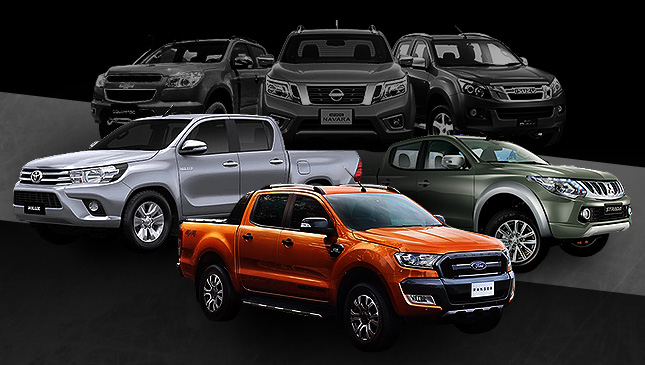 The past few months of the pickup wars have been hectic, to say the least. The new Mitsubishi Strada came out in March, followed by the all-new Toyota Hilux in July, and the updated Ford Ranger less than a month later. Obviously, the hype surrounding these three trucks had been at a boiling point, with fanboys from all three parties occasionally instigating flame wars on our Facebook page.
The three new pickups entered a truck market that had already been extremely competitive as it was, thanks to the presence of the Chevrolet Colorado, the Isuzu D-Max and the Nissan Navara. With a current total of eight pickups on the market--including the Mazda BT-50 and the Foton Thunder--choosing one has never been more difficult.
Don't worry, because we're here to help you out. We'll do that by providing you with the main specifications of the top-of-the-line variants of the Colorado, the D-Max, the Hilux, the Navara, the Ranger and the Strada. And so, below are comparative tables of the six pickups' technical specs. Of course, we'll be the first to tell you that nothing beats a proper test drive. But before you trek to showrooms to conduct a more thorough kind of car-shopping, we figure that mentally taking notes of these pickups' highlights wouldn't hurt.
Continue reading below ↓
Recommended Videos
Whatever model you choose from this group, we know you've arrived at your decision well-informed. Share your decision by taking our poll below. Have fun comparing!
[poll]633[poll]