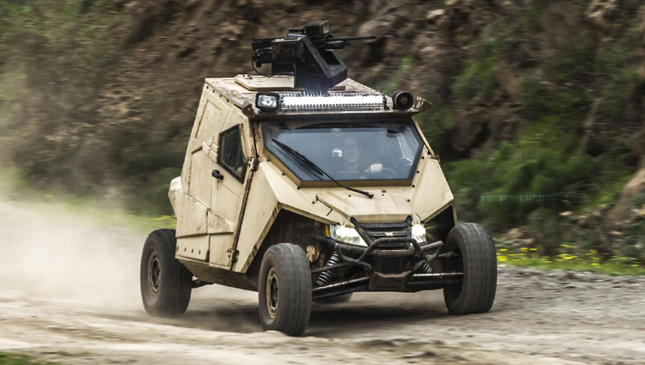 The problem with a tank is that it's the size of a tank. Obviously that's generally an advantage, what with tanks needing to do tankish things like carry massive guns and literal tons of armor, but they're notoriously bad at wandering around without accidentally crushing buildings and squashing landmarks.
The same physical restrictions also mean that they're not very sprightly and generally terrible to parallel park, and you tend to inform everyone nearby that you're on the move just by starting up. So what do you do if you're a back-country border guard or anti-smuggling operation that has to deal with people who react badly—with guns—to you interfering with their operations? You get yourself a Plasan Yagu, that's what. A tiny armored car that is basically Judge Dredd's weekend quad.
Built by composite and armor specialists Plasan (the people that made the carbon bits for the Viper ACR, Corvette C7 Stingray and Ford GT500KR), the 'ultralight tactical armored vehicle' Yagu is based on an Arctic Cat Wildcat 4 1000, so it's not very big. It's got a 95hp 1.0-liter V-twin and an auto gearbox with selectable two or four-wheel drive, as well as an electric front diff lock and decent ground clearance and axle travel, so it can clamber about with ease.
Continue reading below ↓
Recommended Videos
But what it's also got, is 360-degree B6+ level armor that, for the first time, has 3D surfacing rather than the usual completely flat panels. Which means it looks a lot cooler than the usual armored box, and opens up the idea that armored cars might actually have an element of styling rather than simple utility. It's also got an integrated drone and a remote-controlled light weapon system mounted on the roof, which makes it a touch serious. But if you're chasing armed drug smugglers through the bush, it also makes a heap of sense. The scalpel to a tank's hammer.
The armor is all composite—think carbon fiber, aramid and kevlar sandwiches—which keeps the Yagu's weight down to reasonable levels: under a ton and a half and relatively narrow means it's easily air-transportable, handy when you need to get somewhere quickly. The same modest dimensions means that it can get about in urban areas without causing a fuss—one of the things it's supposedly good at are 'stairs'—and a free-flying or tethered drone means that the three man crew can scout ahead without actually sticking a head out of the window.
Which is useful, seeing as the windows don't actually open. It's also a bit less heavy-handed than a full-on tank or armored car, much cheaper to run, easier to operate and maintain, but still with a decent level of protection for the occupants. It also comes, as standard, with air-conditioning. Which basically makes it perfect for the school run.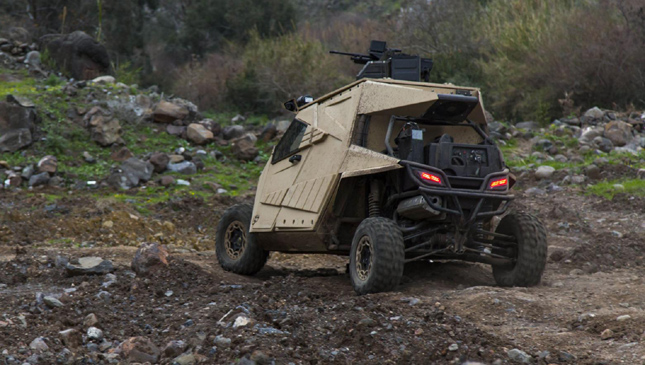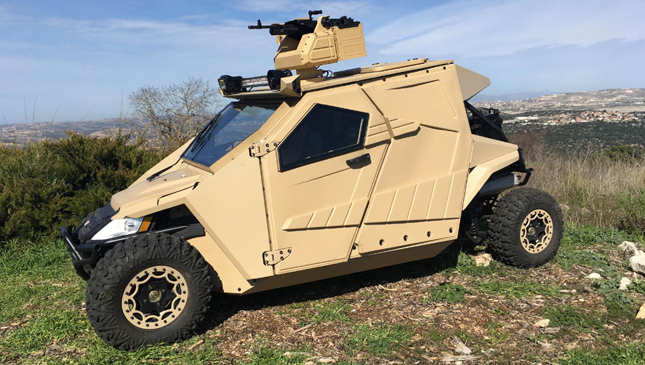 NOTE: This article first appeared on TopGear.com. Minor edits have been made.