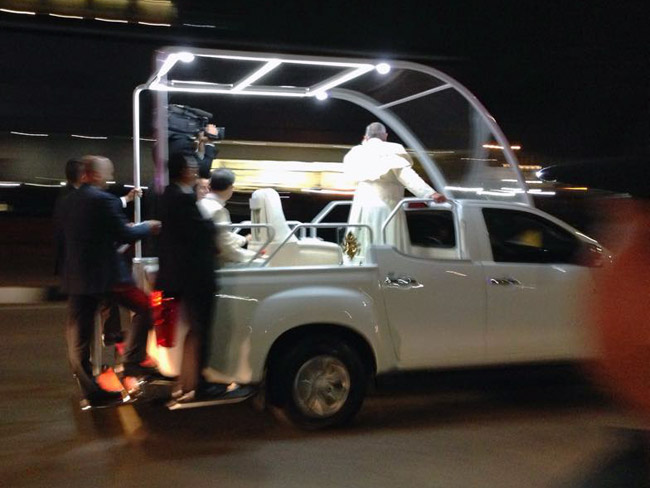 In a country whose population is still predominantly Roman Catholic, the arrival of the church's head is a red-carpet event. Which is exactly the case with Pope Francis's ongoing Philippine papal visit. Over here, he's a bona fide rock star, with thousands of adoring fans patiently lining the streets just to catch a glimpse of him. And this presents a real concern for the government, as the pope invites security risks wherever he goes.
This prompted the authorities to provide a special lane for the pontiff's exclusive use, where his Popemobile can cruise unimpeded. We've seen videos--which we've posted on our Facebook page--in which the pope's convoy is shown moving fast, allowing Pope Francis just enough time to wave at the crowd as he passes them.
In these photos, the pope is visible from the back of the Isuzu D-Max Popemobile, joined by a couple of VIPs (who we presume are high-ranking figures in the Catholic Church). And then hanging from the rearmost portion of the cargo bed is a group of security men, who look suave in their suits but don't appear to be in any mood to exchange pleasantries with strangers. (Read: These men will probably shoot you if you so much as make a motion to dash toward the Popemobile.)
Continue reading below ↓
Recommended Videos
In the past, security personnel would walk around the slow-moving but bulletproof Popemobile. But since Pope Francis famously doesn't like bulletproof Popemobiles, the security around him needs to be so much tighter. Apart from the pontiff's own security detail, we need not mention the countless cops the PNP has deployed to stand guard along His Holiness's path.
So, if you plan on stalking the Popemobile to see the pope in person, just remember to stay in the designated viewing area. Break the protocol and you will have to deal with those men in black.
Photos from Aeus Reyes