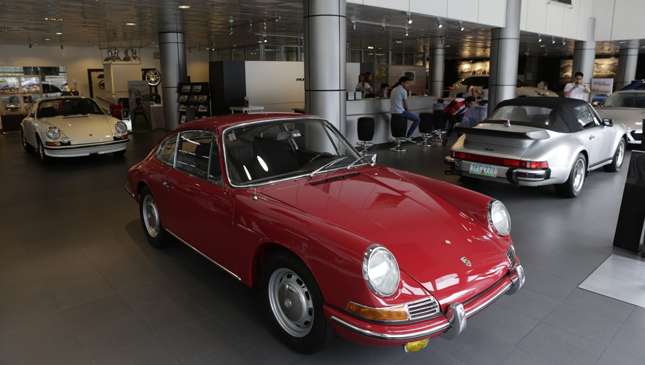 What's not to love about a cars-and-coffee style gathering? It's light and casual, with a hot meal and a cup of joe bringing everyone close together with the cars as the center of the conversation.
PGA Cars, the authorized distributor of Porsche in the country, recently organized a classic Porsche get together at its showroom along EDSA. While the latest models are normally on display, classic Porsches were the center of attention—a 912, a 911S, and a 911 Turbo (930) Cabriolet—three models that bring you back to the '60s, the '70s, and the '80s. For a Porsche enthusiast, what better way to spend a Saturday morning?
Continue reading below ↓
Recommended Videos
The 912 contributes a unique story to the 911's history. Produced between 1965 and 1969, it was the sports car manufacturer's entry-level model. With the substantially more expensive six-cylinder 911, the 912 was introduced with a 1.6-liter four-cylinder engine. To keep the price down, the 911's standard features were stripped off. Even with two less cylinders, performance and handling proved to be impressive still. On top of that, 911 looks and a price tag closer to the 356 made the 912 successful. This example in Ruby Red is a 1966 model with an output of 86hp.
The 911S is a 1973 F-Series. Its 2.4-liter flat-six engine delivers 190hp and is coupled to a five-speed manual transmission. Capping the look are the chrome window trim, black trim around the front and rear lights and on the bumpers, foglamps, a chin spoiler, and 15-inch Fuchs wheels. For many 911 purists, a late 911S such as this is considered to be the foremost classic 911.
The 930 Cabriolet is from 1988. It has a turbocharged 3.3-liter flat-six, delivering 282hp and 392Nm. It's mated to a four-speed manual transmission. A 930 Cabriolet is a rare treat; not a lot were produced, which means you don't often see one. The 930 ran until 1989 and was finally given a five-speed manual transmission on its last year. For those who are in their 40s, this was the bedroom poster of their generation.
Some facts about these three classics: Prices for the 911S escalated a good number of years back and simply became so expensive and unattainable. Funnily enough, this had a major effect on the 912 and the 930. According to a classic Porsche enthusiast, these two have the highest growth increase in the last three years.
We hope more of these gatherings will be held because seeing such examples of these classics is refreshing. Not only do they have so much character, they also highlight the company's rich history.