A few weeks ago, Porsche Asia Pacific invited us to Sepang International Circuit in Malaysia to try out its latest crop of hybrid-powered high-performance vehicles. In itself, that seems like an oxymoron: Since when are hybrids considered high-performance? Well, when it's a Porsche, I found out performance is always at the top of its priorities!
The twist? It was going to be a nighttime track day, which, as Porsche Asia Pacific PR boss Calista Tamjabong-Peck told us, would give media a chance to experience a slice of what the Le Mans 24 Hour drivers experience during their evening stints at the famous Circuit de la Sarthe in France. Flat out into the dark. Yeah!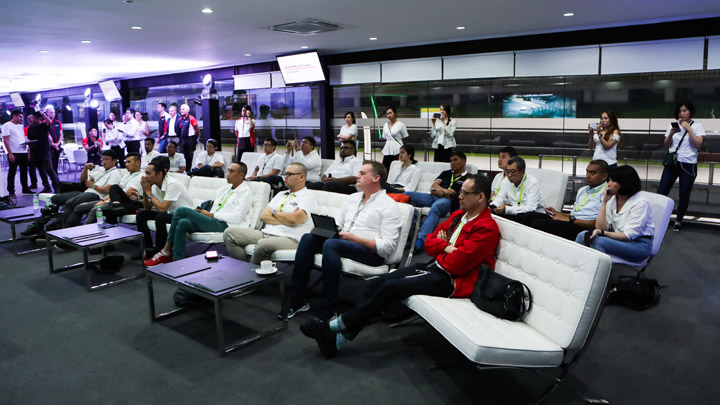 Continue reading below ↓
Recommended Videos

In reality, Sepang's brightly lit full GP layout is lit up like a stadium at night, so darkness wasn't a real factor. But it did highlight the effects of high-performance, high-speed driving on one's body when we're usually ready to call it a night. Activities began past 8pm, starting with a short lecture on Porsche's electrified future, with actual driving commencing at 9pm.
Porsche also took the time to explain its electric strategy in the near future. By 2025, the German carmaker foresees that half its vehicle model range will be electric-powered, thus the brand is investing heavily in the electrification of the automobile. This, ahem, 'e-nitiative' includes hybrids, plug-in hybrids, and fully electric vehicles (EVs). Thus, Porsche is investing 700 million euros (P42 billion) in the construction of a new assembly facility in its Zuffenhausen complex, just outside of Stuttgart. 
The all-new structure is for the Taycan, Porsche's upcoming all-electric crossover, and potentially other future electric vehicle models. Once online, the new facility will also generate an additional 1,200 jobs immediately to help in the manufacture and assembly of the Taycan.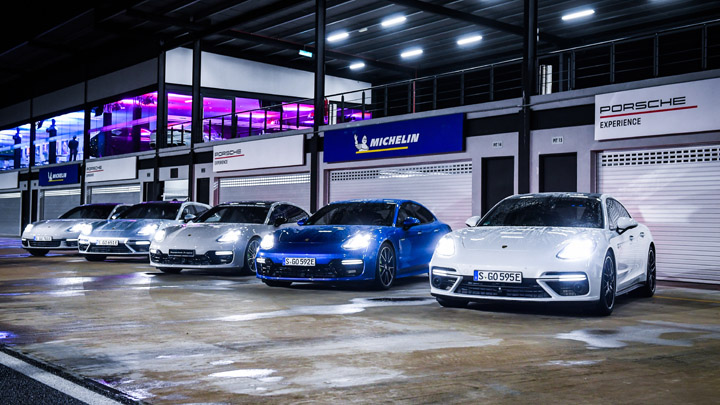 Our first driving activity was a slalom behind the wheel of the all-new Porsche Cayenne E-Hybrid at the northern paddock, the main pit area used by the Formula 1 and Moto GP teams. The kicker was that the runs would only be done in full electric mode. We would be graded based on our smoothness, speed, and consistency.
The challenge, aside from hauling a big, heavy, and seemingly cumbersome SUV through the cones, was to avoid hitting the said cones and to prevent the gasoline engine from starting up. But thanks to the electric motor's immense torque at low RPM, coupled with the Cayenne's impressive and intuitive rear-wheel steering axle, the slalom was a breeze! It really helped tame the Cayenne's massive curb weight and footprint, literally making the big SUV feel like a sports car half its size and weight. With 462hp and 700Nm of torque delivered to all four wheels via an 8-speed automatic transmission, the potential to be a real road monster is there indeed!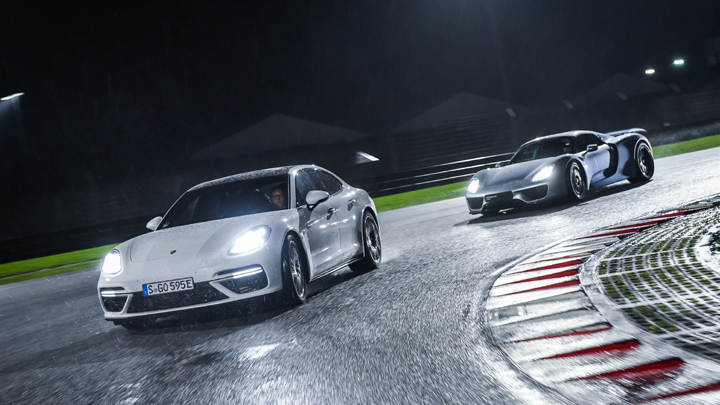 Next up was guided lapping sessions around the full GP track. I picked the Panamera Sport Turismo, simply because wagons look sexier and more sophisticated. While a guided lapping session might sound boring, when the entire width, length and crazy speeds of Sepang Circuit are utilized, the chances of crashing, overcooking it, or simply getting lost in the high-speed sequence of corners will make you want to follow someone!
And as expected, the Panamera Sport Turismo Turbo S E-Hybrid, despite being more suited for high-speed Autobahn blasting, felt right at home with excellent acceleration, braking, cornering, and—thanks to torque-vectoring—unreal cornering capabilities. We were hitting 200-210kph on the twin straights, and maintaining easily over 160kph through the high-speed sequence Turns 4,5, and 6, then slowing down under high side loads at the scary Turns 11, 12, 13 and 14, before hitting the first of the two straights. It was an awesome experience indeed. And with a stratospheric 680hp and 850Nm, channeled to all four wheels via a new 8-speed PDK dual-clutch transmission, the Panamera demanded loads of respect, even with the PSM traction/stability control button left on (or as we like to call it, the PLEASE SAVE ME button).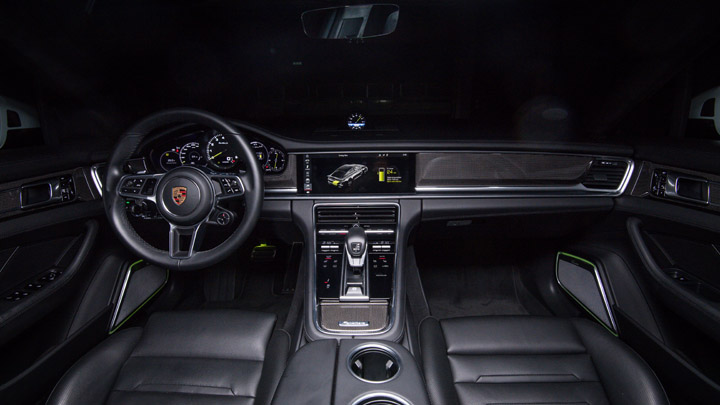 Last but not least, we did hot laps in Porsche's seminal 918 hybrid hypercar, the first production sports car to break the seven-minute barrier on the infamous Northern Loop (Nordschleife) of the Nurburgring.
Driven by Porsche's lead driving instructor, Matthias Hoffsuemmer, it was the most intense, white-knuckle rollercoaster ride I have ever experienced! Acceleration, braking, and cornering were on a totally different level from anything I have ever known. The Porsche 911 GT3 Cup car I rode a few months back with full racing slicks cornered and braked just as hard, but the 918 Spyder's acceleration, aided by the electric motors, was like a jet-assisted takeoff from every corner. Even at five years old, with 887 hp, all-wheel drive, a carbon-fiber tub for a chassis, and a 7-speed dual-clutch transmission, the 918 Spyder remains a potent weapon on both road and track.
I did everything I could to relish the experience, but as I literally staggered out of my car, I barely made it to the toilet before I threw up. That has never happened to me in my 14+ years as a motoring journalist. And yes, I'd jump in again in a heartbeat.
If the performance we witnessed here is any indication, Porsche's electrified future will indeed be interesting, if not exciting to say the least.