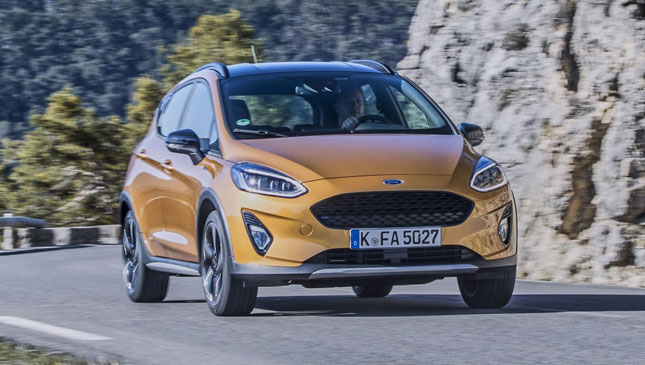 What's so active about a Fiesta Active?
The way Ford talks, it's the active things you do in it. It can take you slightly further up the bumpy track toward the sort of outdoor pursuits that fill the pages of car brochures. It's 18mm higher on its springs than a normal Fiesta, and its wheels are set 10mm wider. It's protected from the bashings of nature by plastic lower-body cladding. Up top we find roof rails—fully lifestyle compatible.
Four-wheel-drive then?
No chance. Though to be fair it does have an off-road traction-control mode that allows more slip, helpful on gravel and mud. But it's little more than a low-budget attempt to climb gingerly onto the crossover bandwagon.
So it's just a contemptible piece of fakery.
Actually I found it strangely appealing, if not for the reasons its name and styling try to project. No, the Active feels like French subcompacts are meant to feel.
ADVERTISEMENT - CONTINUE READING BELOW ↓
You're going to have to explain that.
The Active's jacked-up suspension bestows it a really agreeable supple ride. It wafts along over poor tarmac with more grace than subcompacts usually manage.
The suspension and tires are also decently quiet (something the French cars seldom manage).
In its own sneaky way it's actually pretty quick across the ground. It absorbs bumps rather than being knocked off course by them. Plus it actually has plenty of grip on tarmac. We tried one with the top engine, the 140hp 1.0-liter EcoBoost. It can accelerate quite smartly. The 0-100 time is 9.4 sec, and the engine is cheerily flexible and the six-speed's gearshift slick.
That doesn't sound like a small crossover at all.
Nope, most of them are a bit hopeless to drive. They're either wobbly or wooden. The Active is quite fluent.
How did they manage that?
For a start, although higher off the ground, the body is the same weight and size as the subcompact's, so the chassis and engine aren't having to deal with bloat. Second the Active isn't just a simple jack-up job. It has redesigned front knuckles to keep the suspension geometry on point. Credit also goes to special hydraulic bump-stops in the dampers, which is what rally cars have.
So there's no disadvantage to the high lift?
We wouldn't go that far. The steering's a bit short on feel, and the brakes are slightly grabby.
Will it substitute for a small crossover?
No. Its not as roomy in the back seat or boot. Dimensionally it remains just a regular Fiesta on the inside. Even among subcompacts, the back seats of a Polo or Jazz are roomier.
By the way it looks just like the regular Fiesta in there too, except for some slightly rucksack-looking seat fabric. That's no hardship. These days Fiestas are smartly trimmed and are well-sorted in their switchgear and screen interface. The infotainment works well. The front seats are fine, and they adjust widely so anyone there should be comfy.
Okay. So it's trying to radiate a lifestyle image, but it turns out to be a poor crossover substitute because it's not roomy enough. It hasn't got AWD anyway. It isn't quite as good to drive as a normal Fiesta. It's veering towards the pointless isn't it? Who's it actually for?
It's for anyone who wants a relaxed but roadworthy subcompact. Probably many of them getting on in life, people who aren't as supple as they once were and are glad of the higher hip-point as it's less strain on their own hips. Or folk who want the plastic protection from supermarket cart impacts. Or are more concerned with going up-curb than off-road. The tropes of this active-lifestyle car are most applicable to a passive one.
Notwithstanding I feel uneasy in a car that pretends to be one thing when it's another, I'd rather enjoy driving about in this handy and comfy little thing.
NOTE: This article first appeared on TopGear.com. Minor edits have been made.