North America, Europe, the Middle East, and Southeast Asia. That's four different regions in just two days. No, we weren't busy jet-setting across continents. The busy churn (and, more important, meager budget) of a humble motoring journalist would never allow it.
Let us explain. The four regions represented the four distinct vehicles during Nissan's global light commercial vehicle (LCV) test drive, which we attended.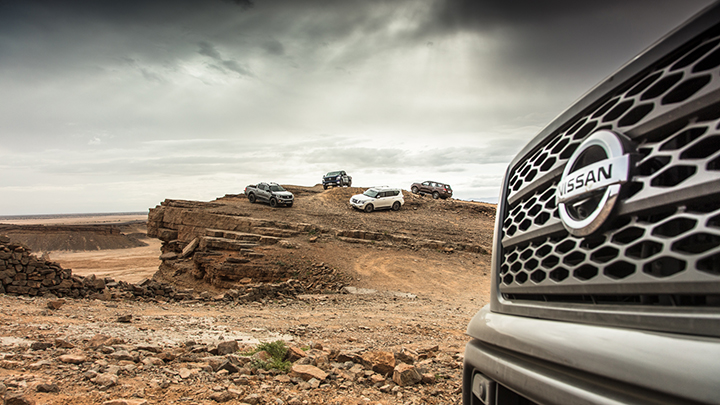 From the United States of America, we have the Nissan Titan. At over 5,800mm long, it'll take you a good minute to take the entire thing in visually from end to end. It's as American as a Nissan pickup will ever be—from its gigantic frame to its V8 engine, right down to the compartment under its rear seats which has been built to store firearms, among other things.
Next up, we have the Navara. But it wasn't any regular old Navara—what we had were AT32s built in collaboration with off-road specialist Arctic Trucks. These come fitted with underbody protection and enhanced suspensions, and only recently made their debut in the UK.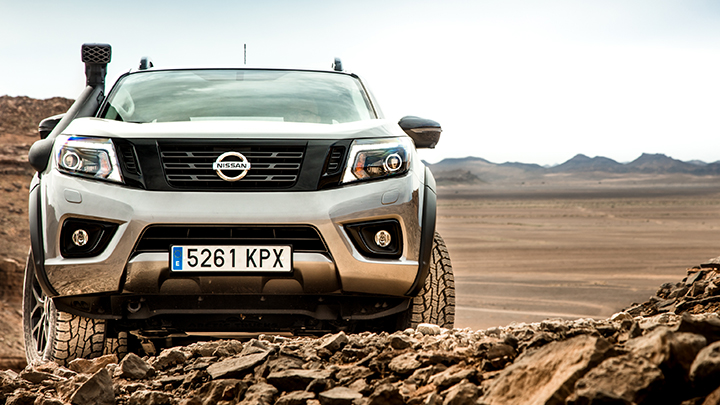 Then of course, we have the mighty Patrol—one of the Middle East's most enduring dune bashers. Available packing a V6 or a V8, this Nissan is about as capable off-road as premium SUVs come. We've heard much of this vehicle, but experienced very little as test units are difficult to come by in the Philippines.
And last but definitely not least, the Nissan Terra, a product that needs no introduction, really. Launched earlier this year, this is the Japanese carmaker's first crack at a proper midsize SUV. And if sales figures are anything to go by, the company seems to have done rather well for itself.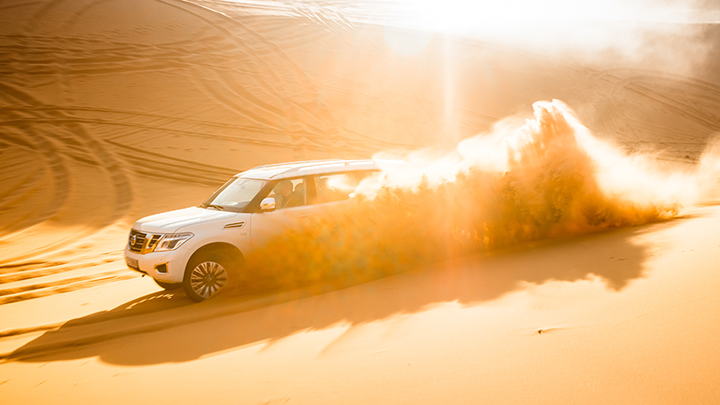 We're here to sample each of the abovementioned offerings, and Nissan couldn't have chosen a better setting in which to do so. The outskirts of Er-Rachidia in Morocco, which borders the Sahara Desert, have much to offer: rocky plains, towering dunes, and dirt-covered flats. The area is as known for its diverse terrain as its jaw-dropping views, so much so that a 400km section of it was part of the Dakar Rally back in 2006 and 2007.
Enough talk. Let's get to it.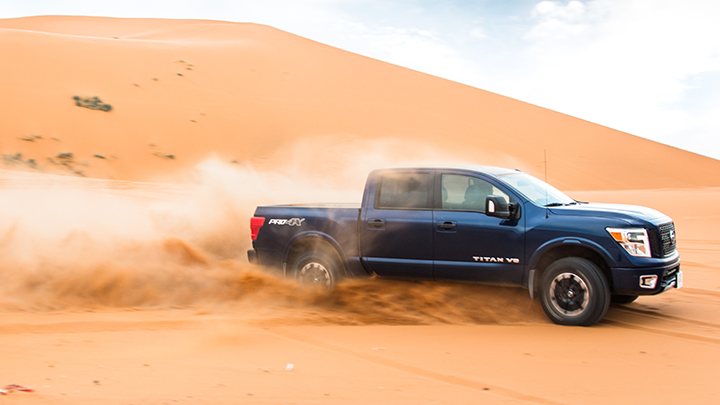 To be frank, the Titan is a relatively new experience for us. And it's one we're slightly torn over, to be honest. Its powertrain is ridiculous fun: It's not every day a Filipino has the pleasure of driving a full-size pickup, more so if it's one packing a 5.6-liter V8 capable of 390hp and 534Nm of torque.
Pushing down on its accelerator can be too entertaining for its own good. On one hand, that output allows its more than 5,800lb curb weight to push up dunes effortlessly. It also comes in handy when trying to save yourself from getting stuck. But on the other hand, it can be easy to get carried away with it—as we saw a few drivers do, powering out of one precarious situation just to end up in another.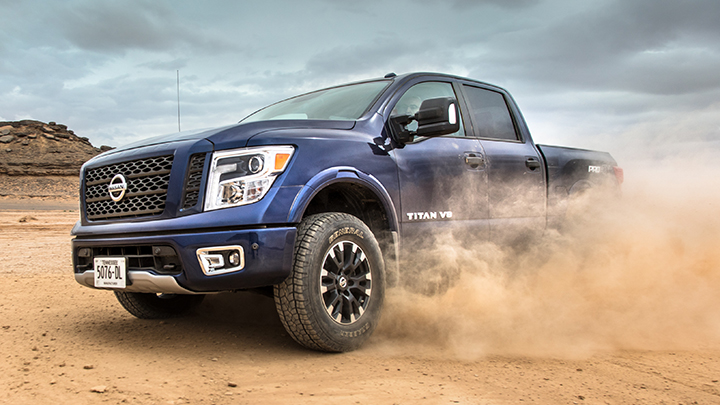 Some of that uncertainty as you power out we'll have to attribute to its steering. It's light, and it becomes almost numb as you're maneuvering at speed over surfaces like fine sand or soft mud—kind of a problem when you're trying to figure out which way your wheels are pointed.
Still, while the Titan might not be the easiest to drive of the bunch, it's certainly one of the most entertaining thanks to the novelty of its size and the roar of its V8 engine.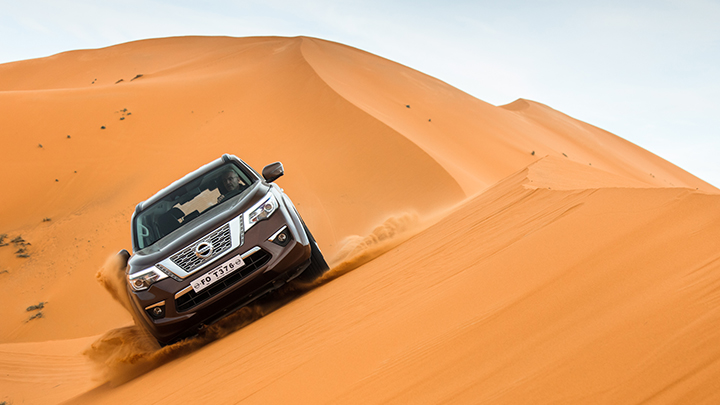 We're calling it: Tons of car buyers are going to opt for the Nissan Terra's 4x4 variant, only to own the vehicle without ever switching to 4 high or 4 low. It's a shame, because as we found out here in Morocco, this is a very talented offering. It handled itself quite well, whether on dirt, rock or sand.
The units we were driving were flown in straight from the Philippines, so everything here—from its Navara-esque dashboard to its 2.5-liter turbodiesel engine (187hp and 450Nm)—is what we're getting locally.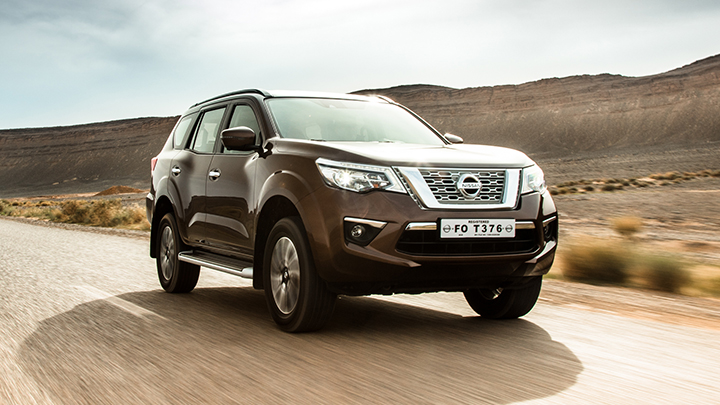 And by everything, we do mean everything. For some reason, we ventured forth behind the wheels of Terras equipped with highway tires—kind of an issue when you're, er, not on the highway. But the thing is, we barely noticed. Had we not been given a heads up by Nissan personnel, we might've finished the day thinking we ran on all-terrain rubbers.
With the exception of the expensive Patrol, the Terra is also the most family-oriented model here thanks to a seven-seat configuration, decent interior, a good amount of features (it even comes with a 360-degree around view monitor), and a relatively comfortable ride on dirt roads. Not a bad choice to represent our market during the drive.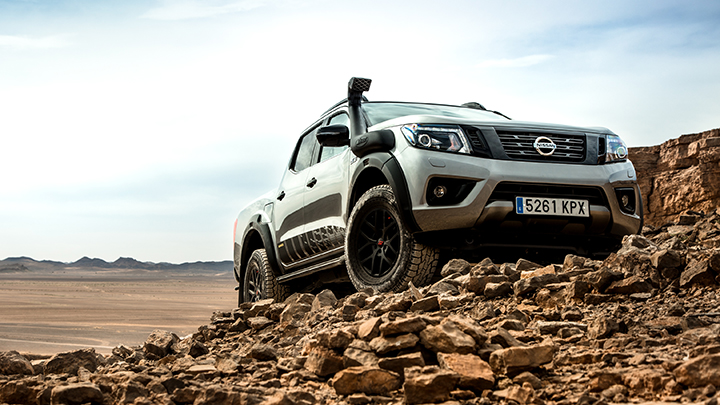 I have to admit, there might be a tiny smidge of bias here. My family has owned a Nissan Navara—albeit a 4x2 variant—for a little over a year now, and we absolutely love it.
After driving this one, though, the AT32 variant also dubbed the 'most capable Navara ever,' it's clear we made the wrong decision: We should have opted for the 4x4.
Sadly, that day's drive was bittersweet as the AT32 is Europe-only. We can't have the snorkel, we'll have to settle for the regular bodykit, and we'll have to do without the bespoke Arctic Trucks suspension and extra 20mm of ride height. No 32in tires (hence the '32' in its moniker) either. Oh well, we enjoyed it while it lasted.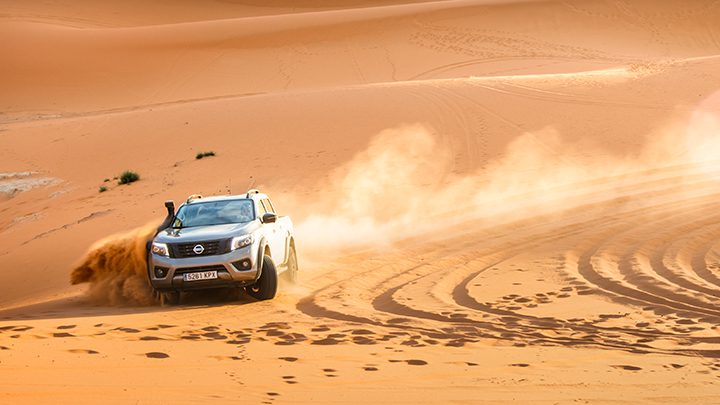 The raised ride height increases the vehicle's maximum approach angle by almost five degrees, and up in the dunes, this Navara was noticeably the easiest to maneuver. Thank its tires for that, as a wider diameter combined with just 15psi meant there's considerably more surface area.
The power and torque felt as you would expect of its 2.3-liter turbodiesel—more than sufficient, and more than enough to climb any dune we encountered. But in the right package, more power could always use, well, more power—which brings us to the final vehicle for today's adventure.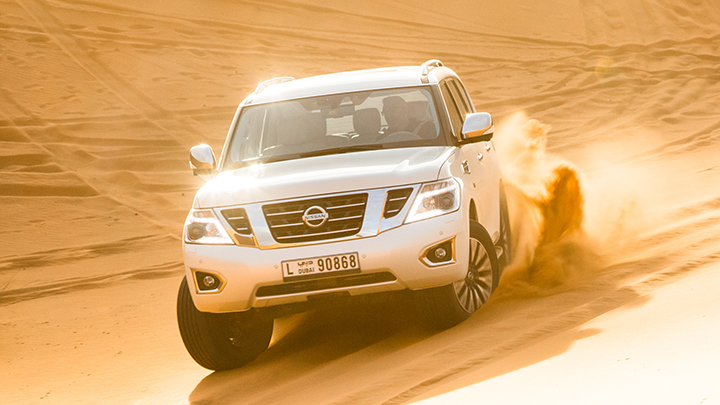 Finally, our personal favorite, the Nissan Patrol with its 5.6-liter V8 engine and silky-smooth ride. This is the ideal off-roader, and the prototypical dune basher that you've no doubt seen on YouTube flying through the sands of the Middle East.
Frankly, the Patrol felt like it's gliding. It provided us with by far the best ride quality on this trip, thanks to its Hydraulic Body Motion Control System—a four-wheel independent suspension that's noticeably plusher than the Navara and Terra's double wishbone/five-link setup (which is pretty comfy in its own right), and makes the Titan feel turbulent.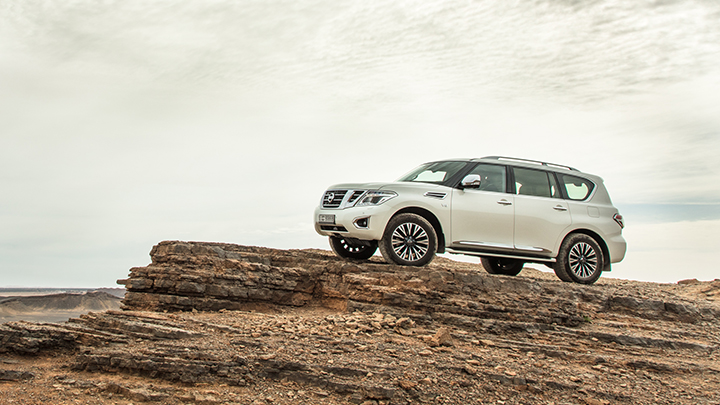 Personally, we consider the superb ride to be the main reason one would want a Patrol in his or her garage. It's the ice cream in Nissan's banana split. But the V8 and its 400hp and 560Nm of torque? It's the banana, the whipped cream, the chocolate syrup, and the big, fat, shiny cherry on top, as we found out going flat-out, hitting well past 160kph on a long stretch of leveled desert dirt.
Out in the desert, the Patrol was an experience unlike any other. The Titan is immensely powerful, but it's a beast that's considerably less polished than Nissan's Toyota Land Cruiser competitor. It's the Patrol's refined ride that gave us the confidence to really push it.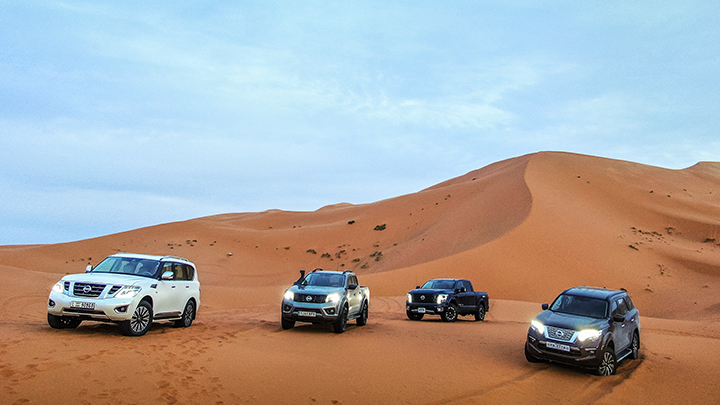 Two days with these four cars was much too short. The Terra? It'll go back to the Philippines, waiting for a test drive. The same goes for the Navara, albeit minus all the Arctric Truck goodies it's wrapped in at the moment. But the other two? I may never end up driving them again—at least not for a very long while.
The Titan just doesn't add up for me, with its thirsty V8 and massive frame. And the Patrol? Like we said, the chances of getting hold of a test unit locally are slim. And let's not even get into my chances of actually buying one.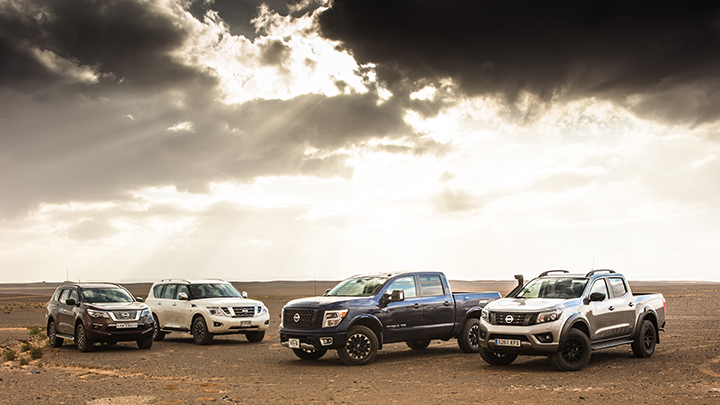 But out there in the the Sahara Desert, none of it mattered—prices, market placement, and practical sensibilities. Nada. Out there, all four speak the same language. And until we meet again: Yalla, yalla, yalla!